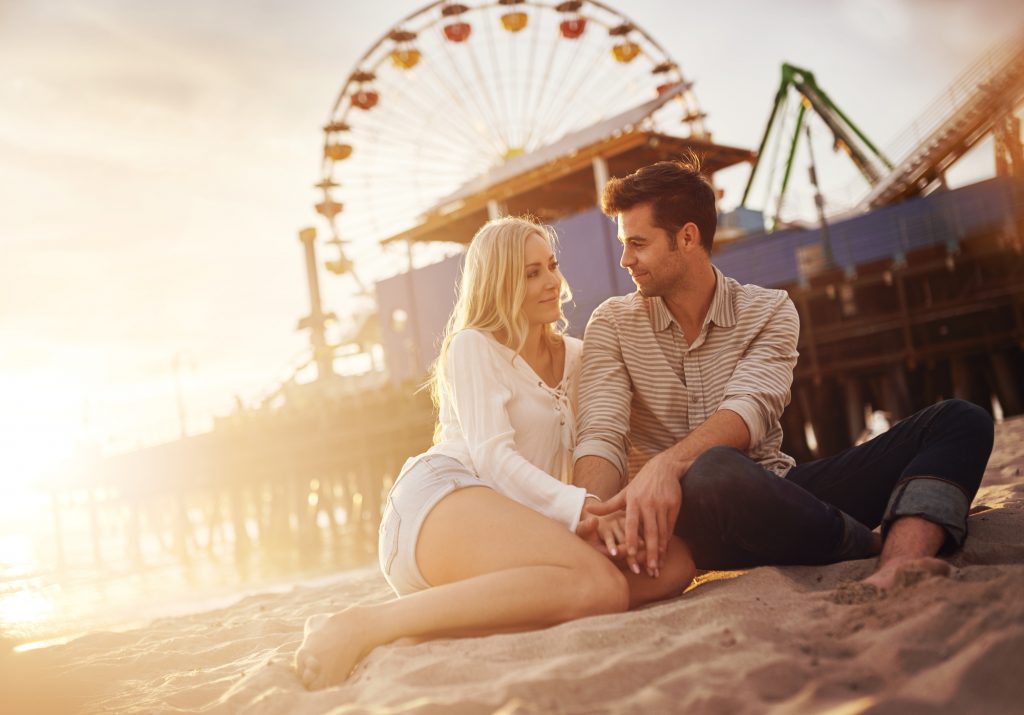 If you want to really knock the socks of that special someone, a romantic California getaway is the way to do it. Here's how to plan an unforgettable trip.
Are you looking for a romantic vacation with your special someone?
It may be tempting to surprise her with a vacation but that's a mistake. What if she doesn't care for the destination you pick and can think of 10 places she'd rather visit?
Instead, include her in the planning and surprise her along the way during your vacation.
If you want to create timeless memories, we suggest a romantic California getaway. It contains the perfect backdrop for love – the ocean, mountains and plenty of wine.
Maybe you're not ready to leave your city for good, but you sure could use a vacation. Here are three unforgettable destinations for your California vacation.
Santa Barbara
Santa Barbara almost makes you feel as if you are in another country. Nestled against the sea, the local architecture pays homage to their Spanish colonial history. One of the first things you notice is the plentiful Mediterranean-style white stucco buildings and red-tile roofs.
Take a walk along State Street to experience art galleries, fine boutiques and restaurants offering award-winning local wines. But the prize of the downtown area is the "Funk Zone." It's part of the Urban Wine Trail and it's where you can sample amazing vintages at every turn.
Forget about a hotel. Santa Barbara is a bed-and-breakfast town. Many offer beach cruisers so you can take a stroll along the beach trail. Simpson House Inn is a romantic choice with pristine grounds and in-room breakfast in bed service.
Yosemite National Park
No trip to California is complete without some time at the breathtakingly beautiful Yosemite National Park in California's Sierra Nevada mountains.
The park is well-known for its ancient sequoia trees, which stretch to the sky, and its glorious panoramic views. The best place to see it all is Tunnel View, the iconic vista overlooking Bridalveil Falls and the famous cliffs of Half Dome and El Capitan. You're very likely to see a mountain climber or two on the face of those granite behemoths.
Yosemite Village offers shops, lodging and restaurants. The Ansel Adams Gallery features the photographer's black-and-white prints which capture the beauty of Yosemite Valley.
Stay at the Chateau Sureau for a European-inspired lodging experience. This 5-star hotel sits on nine acres at the gateway of the park. The rolling hills are reminiscent of the French countryside for a romantic getaway she'll never forget.
Napa Wine Country
Wineries are inherently romantic and California's Napa Valley features more first-class wineries than you'll find anywhere in the country.
Start your day with a romantic air balloon ride, overlooking the valley in all its glory. On a clear day, you can see all the way to San Francisco.
With so many wineries, where do you start? We suggest the Cape Dutch-style architecture of Chimney Rock and Rutherford Hill. Create lasting memories with your special someone touring the wine cave and picnicking in the gardens.
When you get hungry, downtown's Oxbow Public Market offers plenty of local gourmet food. For adventure, take a ride on the Napa Valley Train, a vintage locomotive with a restaurant which makes stops throughout wine country.
Wrapping Up Your Romantic California Getaway
A romantic California getaway can add variety and spice to your relationship. It's the perfect cure for relationships which are stuck in a routine.
California provides the perfect backdrop to create lasting memories. Bonds are improved through shared joy, laughter and experience. You'll find these in abundance in the ocean, mountain and wine countries of California.
For more great adventures, please check out our blog.