After confirming my stay at Hotel Kempinski in Aqaba, I knew that the service was going to be next level, as I received a detailed email asking me whether I had any questions, or special requests and I was assured that the "Lady in Red" would look after me during my stay there.
When I rocked up to the hotel in Aqaba, I was greeted at reception by a Lady in Red from the Philippines called Cellini. Her knowledge of the local area was right up there with the locals and every time I spoke to her I felt in capable hands. The confidence in my "Lady in Red" was much needed as I was only there for a flying visit of 2 days and I wanted to make sure that I got the most out of my visit by seeing the famous Wadi Rum.
Hotel Kempinski fixed me up with a reliable driver than would to take me there and back during my stay – all of this before I even got to my room!
My Room
So let's talk about that! I'm not stranger to luxury, so it's a major compliment to Kempinski when I wax lyrical about a bedroom!
All in white, with a massive bathtub with glass on the side so that I could look out into the beautiful Dead Sea whilst playing with my rubber duck. :p
Needless to say the water temperature for that and the shower was piping hot – absolutely perfect!
When I wasn't in the bath in my room (admittedly a rare occurrence) I could get a more up close and personal view of the sea and the hotel's facilities.
Hotel Facilities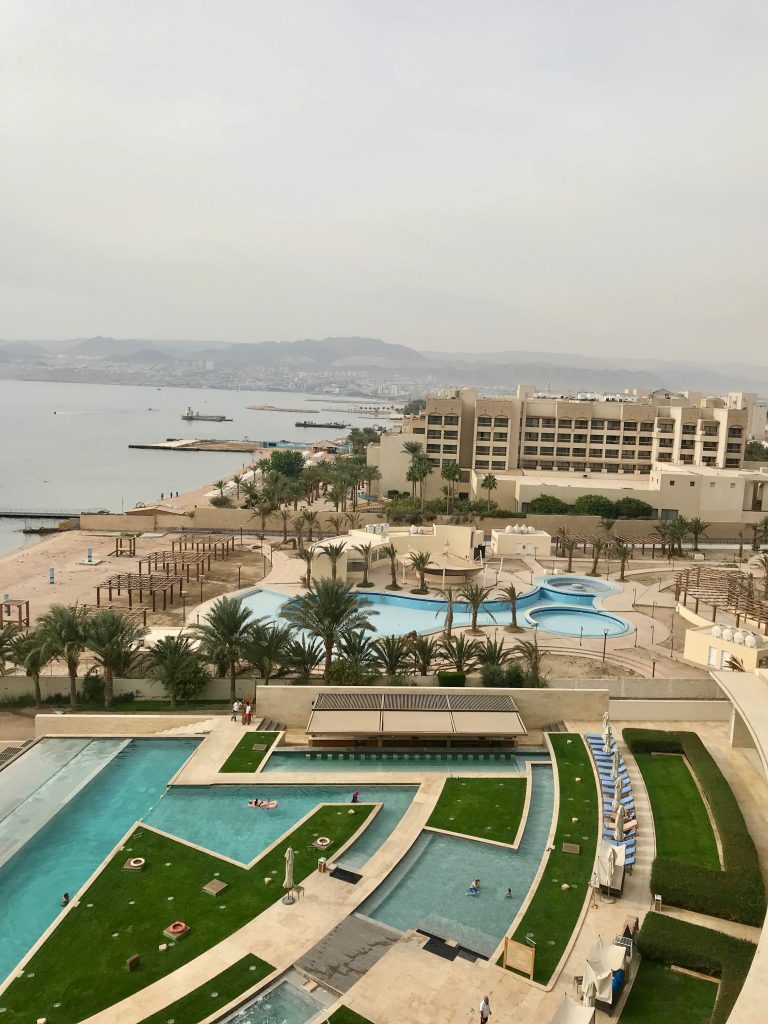 The hotel is not just an average place to rest your weary head after a day of sight seeing – it also has a fantastic spa service, tennis courts, a celestial pool and a very decent gym!
Food Options
Gluten free? Vegetarian? Halal? Kosher? Born again Miso-soup-atarian? Legendary vegan? Not a problem! Breakfast is a grab-it-yourself buffet which caters to all cultures and creed.
In the evenings they have a theme for dinner and it's also a buffet. It was Italian and New York theme when I was there and the pasta was spot on!
Service
Kempinski clearly prides itself on the welfare and good time of its customer. Every time I went for breakfast, they sent a pixie in to clean up my mess and I always returned to a shining, sparkling show room!
They even have a night service where staff knock on your door and ask if you need anything.
First Class Service
I loved my trip in all of Jordan and I suggest you don't miss out on Aqaba if you decide to visit. And of course – treat yourself to a stay at Kempinski Hotel Ishtar Dead Sea.