Whilst taking a speedboat tour of the paradise that is Langkawi, I genuinely felt that something was missing. The boat was crowded, the photo-taking opportunities were hopeless and although I enjoyed the day out – I didn't feel complete. I wanted a better feel of the ocean and to properly take in the views, or to put it in a more direct and honest way – I was insanely jealous of the people on Jet skis!
Watching the people get all giddy on these motorised beasts of the ocean, while I sat like a tin of sardines in a little boat was like watching the cooler kid in school taking my childhood crush to the prom, while I sat with a girl who "just wants to be friends."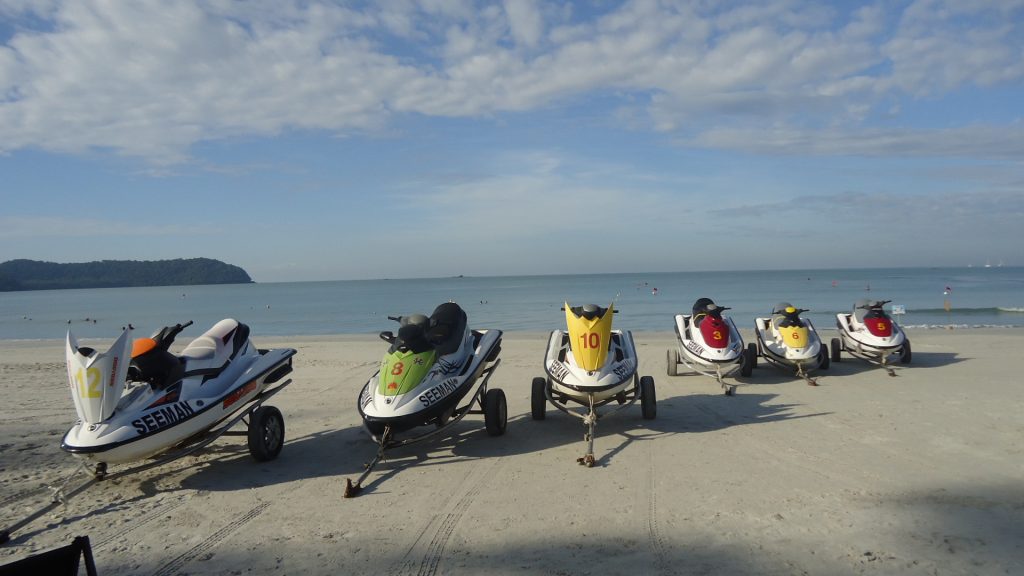 A week after my not-so-bad boat trip, I decided to fuel my jealousy in a positive light and that it was my turn to be the envy of the sea. And so I opted for a tour with Seeman Watersports, a jet ski operating company based on the beach of Pantai Cenang. I agreed to take the four hour tour, but first I had to wait for a safety briefing from the staff.
This was of course not good for my impatient testosterone levels, but I couldn't help being impressed by their attention to detail and their obvious attempts to prevent any accidents. The staff really highlighted the fact that jet ski users simply must use the jet ski passage, it's no coincidence that Seeman Watersports have the best reputation within their industry in Langkawi for safety and professionalism.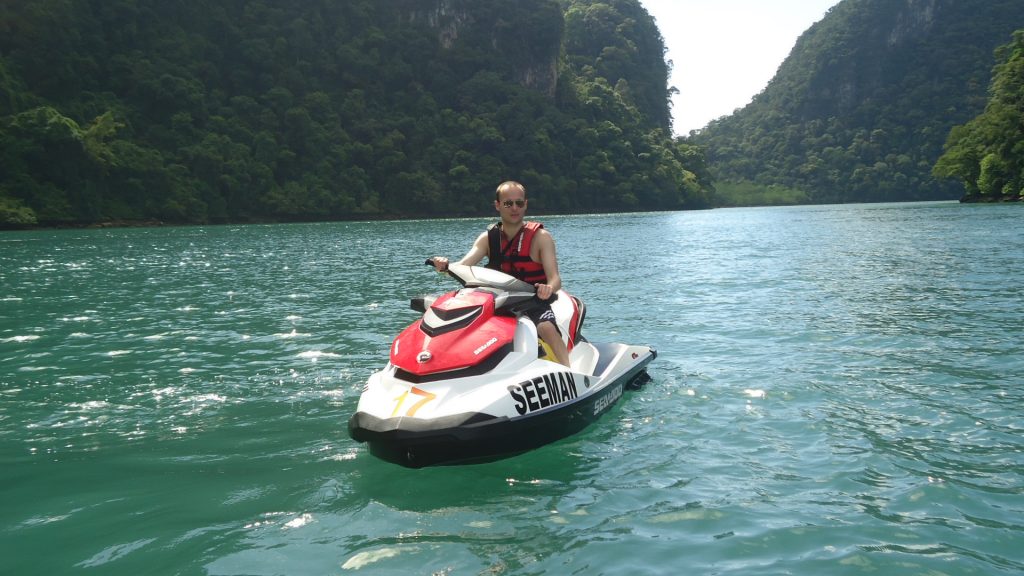 I was relieved that Alex, my jet ski tour guide only briefly showed me how to use the the machine and let me take over pretty much straight away. I instantly gave it full throttle, no foreplay necessary when speed is involved, going the top speed of 60 miles per hour straight away – crashing the beast against the waves.
It felt a lot faster than 60 mph would feel on the road, because the jet ski flies off the surface of the when you hit a wave. Make sure you hold on tight and gents – let's just say you may need balls of steel 😉 After slightly quenching my thirst for some adrenaline, Alex signalled for me to turn left into one off the ninety nine islands of Langkawi; Dayang Bunting Island.
Pregnant Maiden Lake
The island is home to a lot of  wild monkeys who love to play fight with each other and look mischievously cute. Some people will exaggerate and tell you that they will try and snatch your food, but this is not true. The only people who I seen have trouble with this were idiots who antagonised them, or people who left their bags of food hanging. These are wild creatures who survive on opportunity, don't be stupid and you'll be just fine.
Pregnant Maiden is famous for its fresh water lake which is in the middle of the island. Even though there is an opening to the sea, miraculously no sea water comes in. You can swim and dive in it if you like, the trip to the lake involves steep steps that shouldn't be a problem to the generally fit and well-able body.
If you are a lover of fish foot treatment, you'll get a free remedy as the catfish come to (harmlessly) nibble your feet. *The catfish are in a completely separate lake near Pregnant Maiden, so this is completely optional.*
The story of Pregnant Maiden is as follows:
A man elf fell in love with a lady elf, and to have his wicked way with her and get into her hot elf pants – he wiped a mermaids tear on her eye. (Come on lad's we've all done it before, yeah?) They then had an elf baby who then died and was consequently buried in the lake.
Singa Besar Island
Singar Besar is an unspoiled beauty which boasts a unique geology consisting of 500 million year old stones and it is just beyond stunning. The main focus of this area is the eagles that inhabit this area of the ocean and in this part of the tour and we got to feed them. Pieces of chicken were thrown into the sea and watching the eagles swoop down right before your eyes, elegantly taking the chicken in their claws and back up to the cliffs was like watching a form of art.
After eagle feeding we stopped for a bit of peacocking – and by that I mean taking self-indulgent photo's of us showing off on the powerful beasts of the sea. Alex also pointed out the formation of neighbouring islands called 'sleeping woman' as that's exactly what it looks like from that viewpoint.
Beras Basah Island
After racing over to Beras Basah, taking in the clear water, clean sand, the beautiful blue sky – we visited this island for about an hour and soaked in the utopia which surrounded our existence. The beach looks good for a swim and has little waves, perfect to just sit back and float in. Although you get tea, coffee and some other stuff, there isn't much else, so make sure you bring snacks on this tour.
Intan Kecil Island
I lost my snorkelling virginity on the final island of the tour and although the water was quite misty, there was still plenty of opportunity to see the tropical marine life that danced around my body, and of course – clear enough to watch out for jelly fish! From Intan Kecil Island, you can get to soak up stunning views of neighbouring and far away rocks. My only complaint of the tour is that the couple I was with seen a dolphin on two occasions – I was going too fast and getting a bit carried away to catch a sight of Flipper.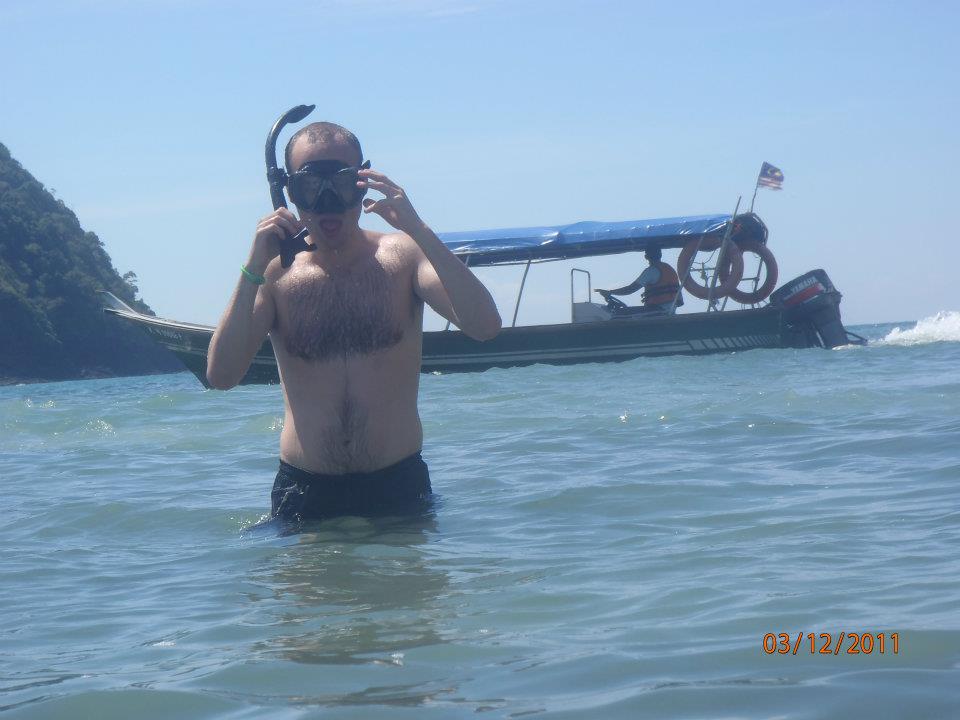 On the way back, my sun burnt baldy head was extremely sad to be ending such a captivating tour and so off I sped back to the mainland, soaking up every last bit of beautiful nature through each of my senses.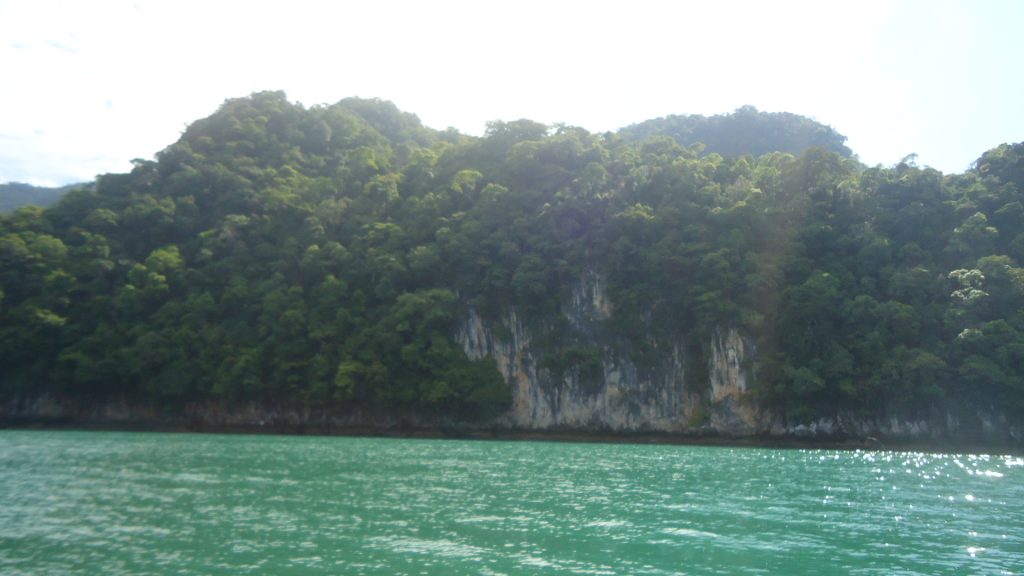 Final Thoughts
The balance between driving the jet ski's and actually stopping off to see parts of Langkawi that I'd never see on foot, was absolutely perfect. I never once felt rushed, or that bored at any point of the four hour tour. I feel that the jet ski tour excels at showing you places that you'll not get to see by boat, whilst taking extra care to make sure you get plenty of use on the jet ski machine.
Seeman Watersports tagline is; "your free time should always be your best time." I feel that this is extremely accurate and this experience is one of my most positive travel adventures so far. Seeman Watersports also offer: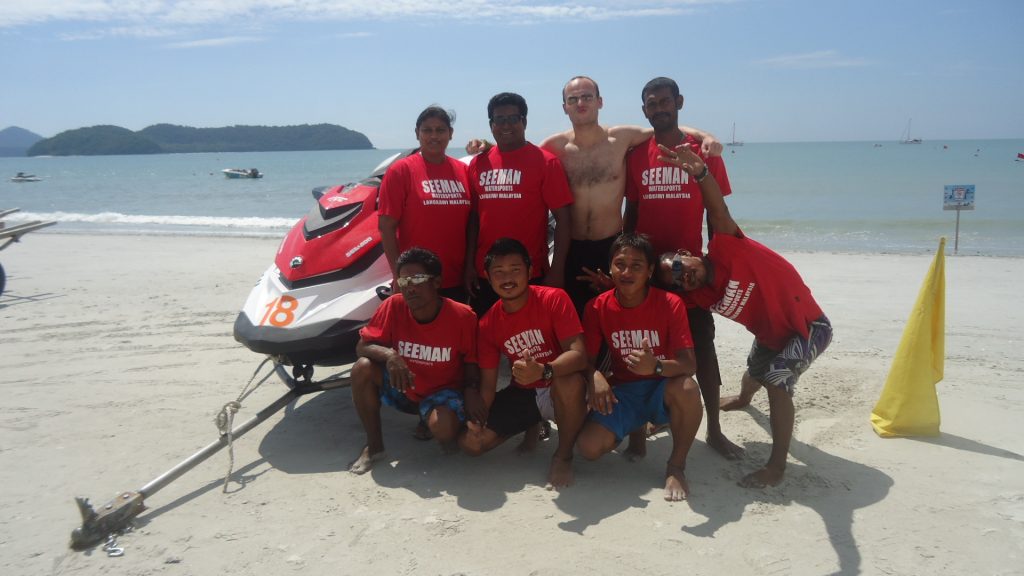 I'll definitely be back to sample the rest, if I ever return to Langkawi. If you are ever thinking about taking this tour, befriend Seeman Watersports on Facebook and also follow them on Twitter.
I received a complimentary tour from Seeman Watersports. As usual, all opinions and recommendations are my own.