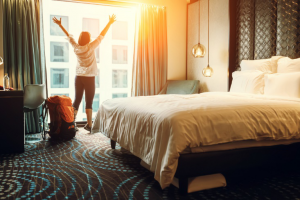 "Travel more" is a common theme people use as their New Year's resolution each year, but many don't follow through with this wish because they find costs are too high for them. This is particularly the case if their preferred destinations and trips involve things like long-distance flights, additional transport costs, fees for exclusive tours, and luxurious hotel stays.
Typically, one of the biggest expenses of a vacation, or a long-term trip, is accommodation. Even if you limit yourself to more budget properties, it can still add up quite quickly. If you want to have more travel adventures this year then, you need to find ways to stick to your budget and still enjoy hotel stays. Here are some ideas you can follow to get a better deal on accommodation in 2018, and beyond:
Take Advantage of Loyalty Programs
For starters, keep in mind how many loyalty programs there are out there which can make it easier for you to enjoy discounted or even free nights away. There are airline miles, credit card rewards, hotel programs, and various other types of schemes on offer.
For a lot of people, a great option is building up loyalty points by paying monthly expenses on a credit card, and then paying this off before interest starts accruing. You do need to do your research by calculating annual fees and other costs, to ensure the value you receive is worth it, plus it's important to be able to pay the card off each month so you don't pay more in interest than the loyalty value you receive, but if these things tick the right boxes, you may find yourself racking up enough points for free or vastly discounted accommodation stays in no time at all.
Keep a look out for banks offering substantial bonus points for signing up for a card, too, or for spending a certain amount of money over a set period. These kinds of promotions can enable you to earn enough points almost immediately for a free stay.
In addition, if you fly regularly for your work or other reasons, you should look at the airline programs available. Fly with the same company often, or with airlines within the one program, and you could earn substantial points or reward miles over a year which you may then be able to convert into accommodation stays or even free flights.
Similarly, lots of hotels have their own loyalty programs, especially chains like Fairmont, Kimpton, Sheraton, Hilton, and Wyndham. Again, if you travel for work throughout the year and can arrange to stay with one chain each time, you could soon accrue enough points to exchange for free nights away, upgrades, discounts, or other freebies and extras.
Compare Prices
Next, if you want to save money, you should be making the effort to compare prices, rather than just booking the first hotel you see or the one you've stayed at in the past. These days, there are dozens of handy comparison websites (e.g., Expedia, Kayak, Orbitz, Priceline, Hotels.com, and Travelocity) which make it easy to find a cheaper price within a few clicks of a mouse. They compare prices for different accommodation providers side by side so you can immediately see the best deal.
Another online option is coupon-based sites such as Living Social and Groupon. Through these avenues you can find heavily discounted hotel deals which have become available because of the group-buying power of the firms. Note that, for last-minute deals, you can also sometimes buy cheap rooms off people who have to cancel their stays on the day, or within 24 hours of their booking period.
While all these types of online options are great, don't forget that sometimes you can get an even better price if you contact a hotel directly, because this way they don't have to fork out a commission to a third-party booking agency to get your business.
Many hotels will price match, or drop their rates for stays that same evening if they have empty rooms. All it takes is to do a search online, for the area you're after accommodation in, e.g., "hotels near Niagara Falls, Canada," and then find choose your shortlist of preferred hotels, and call, email, or Live Chat with them to get their best deal. Some of them may also have a choice of all-inclusive packages which are great value for money and include things like airport transfers, meals, tours, parking, and use of on-site facilities such as a spa.
Sign Up for Alerts
Lastly, if you want to ensure you never miss out on the best offers available, sign up for alerts. This can be through hotel newsletters (which often contain deals which aren't found elsewhere or which are on a "first in, best dressed" basis), or via booking sites which have a service that lets customers know when there has been a price drop on a particular hotel or for a certain date. It's a good idea to follow your favorite hotel chains and boutique firms on social media sites, too, because this can be the place where limited-time offers are first advertised.