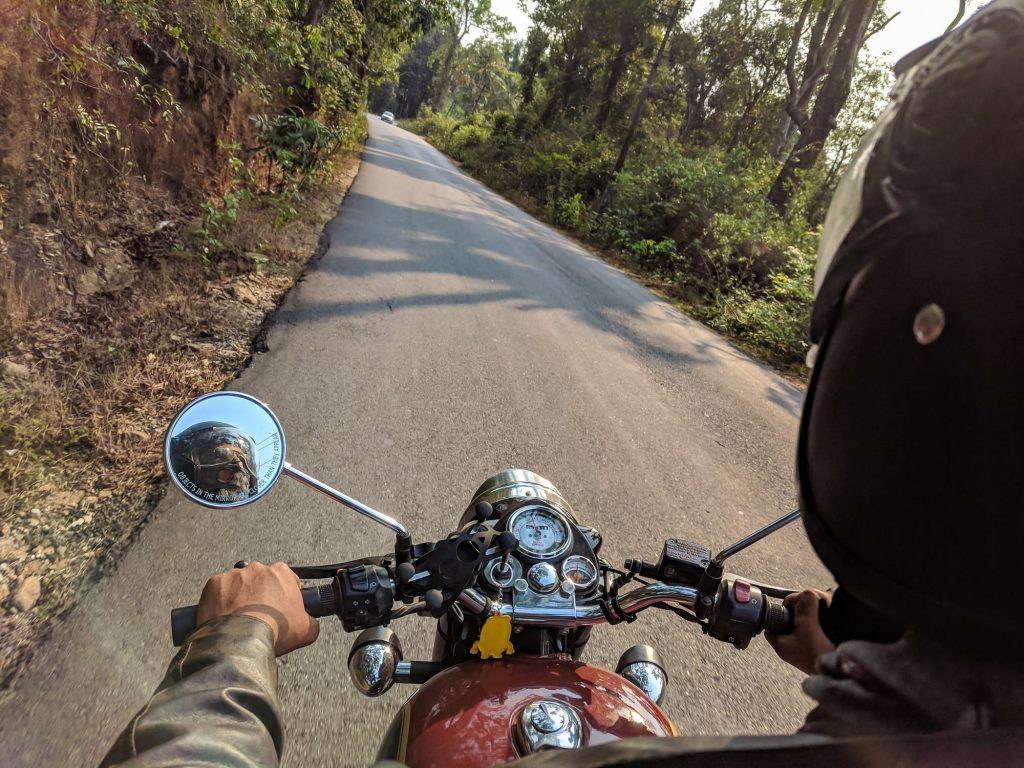 Yes, it's completely possible to take a long distance road trip on your motorcycle. In fact once you try it, you probably won't want to go back. But it does require some careful planning. Take a look at this guide to learn how to prepare for your long distance motorcycle road trip.
There's nothing better than hitting the open road for an adventure on your motorcycle. With the wind in your hair and the horizon calling you onward, traveling by motorcycle is a little slice of heaven.
But before you put on your helmet and slip on your boots, keep in mind that the best way to ensure a successful motorcycle road trip is with a little bit of careful planning. Here are a few tips to help you prepare.
How to Prepare for a Long Distance Motorcycle Road Trip
Yes, it's completely possible to take a long distance road trip on your motorcycle. In fact, once you try it, you probably won't want to go back. But is does require some careful planning. Take a look at this guide to learn how to prepare for your long distance motorcycle road trip.
Use Envelopes to Stay Organized
When you're planning to take off on a lengthy trip, one of the simplest ways to stay organized is to have one envelope for each day, containing cash, hotel reservation information, and any literature you'll need for that day.
This way when you need to locate documentation for a specific day, you can go straight to that envelope instead of digging through your bags.
Wear Earplugs
You're going to be traveling a lot of miles with the sound of your bike and the roar of the wind in your ears. Earplugs come in a wide variety from cheap to fancy. We recommend packing along several pairs in case they blow out on in the wind or get misplaced. This is a simple product that will save your ears.
Be Realistic About Your Daily Travel Mileage
When you travel long distances on a motorcycle, some days will be highway days where you can chew up a lot of miles. But other days you'll likely pass through some very scenic areas that will slow you down.
A smart traveler will learn to expect to cover fewer miles on more scenic days. Budget this into your travel schedule so that you're able to take your time and enjoy the scenery while also making sure you reach each lodging reservation on time.
Eat Meals at Off Times
Another part of keeping on schedule when traveling is to avoid burning too much time eating.
Restaurants can be busy places, especially at specific meal times like 8 a.m., noon, and 6 p.m.
One great way to avoid the crowds and to get in and out as quickly as possible is to stop for meals of non-peak times. The solution is to plan ahead so that your body is ready to eat at those times.
Prepare For a Quick Getaway Each Morning
The quicker you can get up and on the road in the morning, the better. The first thing we suggest for accomplishing this is to stay in the far of the next city each day. This way you can eliminate a lot of time fighting the rush hour traffic the next morning. So either book your room ahead of time or just push on to the edge of town before calling it a day.
Second, we suggest getting bags packed up and staged at the door before bed. Get out the clothes you plan to wear and have your bags ready to go so there will be minimal prep time before hitting the road the next morning.
Make Sure You Have a Spare Key
It's going to be bad news if you lose your only key. So have a least one spare and hide it somewhere on your bike. We suggest using duct tape or a zip-tie, or even swap keys with travel companions so that no one has to worry about getting stranded.
Make Sure You Hydrated
Motorcycle touring takes many travelers through hot and arid landscapes. And if you're not careful, hydration can become a serious issue. This is why it's a smart idea to carry some sort of hydration system on your bike.
This could be a backpack with a water bottle or a CamelBak system that makes it easy to take a sip of water anytime you get thirsty.
Check Your Bike Every Morning Before Heading Out
We realize you're going to be excited to jump out of bed and hit the road as soon as possible.
But a smart rider will take the time to check the simple stuff. Especially tire pressure and oil. The road takes a toll on motorcycles, and out in the middle of nowhere is a bad place for something to go wrong.
Make a pre-ride checklist and keep it within easy reach. This process should only take you a few minutes and could keep you out of serious trouble.
Bring a Motorcycle Cover
A good motorcycle cover can be folded into a small bundle and easily stowed. Covering your bike at night will keep it dry and clean. It will also discourage thieves from messing with your bike or your gear.
Another way to keep your gear safe and dry is with an enclosed motorcycle trailer.
Plan a Free Day
When you're on a long trip, it's a good idea to break it up by giving yourself at least one day per week of nothing. This is a day out of the saddle to recharge your batteries.
Just as the road can take a toll on your bike, it takes a toll on your body. You need time to walk around and to not be constantly thinking about making time to the next destination.
Sleep late. Be lazy. Meditate. Relax and eat some great meals, and give your body a well-deserved break.
Making the Most of the Open Road
Preparation is the key to enjoying your motorcycle road trip to the fullest. The better you plan, the more flexible you can be. Just remember that keeping up with the small details can make the difference between the trip of your dreams or a total nightmare.
It might sound fun to wing it all the way, but a little planning can make your life on the road even more fun.
Click here to learn about being a vegetarian traveler.