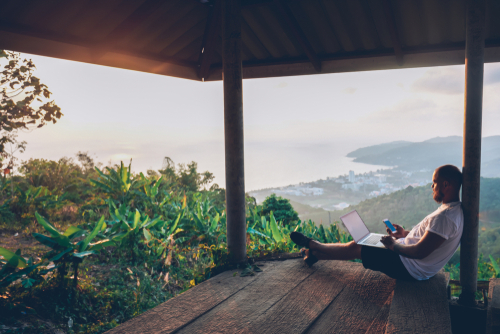 Travel blogging first got its start in 1994 when author Jeff Greenwald was asked by a book publisher to write a series of posts for its website GNN (or Global Network Navigator). Since then, countless blogs and websites dedicated to travel have sprouted on the Internet with some of their owners monetizing it so that they can secure funds for their next adventure.
But unless you've started a travel blog or website purely out of passion, you can't earn an income from it by relying on visitor traffic alone. You'll need to join the best travel affiliate program that you can find online and make money from your chosen blogging niche by doing the following:
1. Cater to travelers who book flights and accommodations on their own.
Some travelers book a vacation package deal where their chosen travel agency would offer them flight and accommodation at a combined and discounted price. But a vacation package deal limits a traveler to the conditions set by their travel agency, such as:
Staying at a hotel that the agency partnered with
Traveling for only a certainnumber of days as predetermined by the agency
Sticking to the itineraryof places to visit and things to do that the agency came up with for you
Traveling during peakseason
You can't make money at all by making these types of travelers as your website's target audience. Instead, aim for those travelers who prefer to book a flight and accommodation all by themselves. They'll most likely refer to your travel blog or website for information on cheap plane tickets, transient lodging, places that agencies don't include in their prepared itinerary, and off-peak months when they can visit a certain place.
2. Use keywords that your travel website's visitors are most likely to use in search engines.
Travelers looking to score the best deals when booking their flight and accommodation separately may use search keywords like "cheap plane tickets to Rome" or "affordable vacation rental in Florida," for instance. But when you use popular and general travel-related keywords in your content, you risk losing your target audience to more established travel blogs and websites that are also using an affiliate program.
You'll want to convince your travel website's visitors into booking a flight or accommodation via your chosen affiliate and not look anywhere else. You should thus use travel-related keywords that aren't as popular and yet can attract travelers' attention towards your travel website just the same.
Instead of "cheap plane tickets to Rome" or "affordable vacation rental in Florida," use a keyword that has nothing to do with booking a flight or accommodation but has to do with travel anyway, such as "things to see in Rome" or something even more specific such as "Disney World Florida rides and attractions."
3. Specialize in a subnichewhere you can stand out better than the rest of your fellow travel bloggers.
For your travel website to stand out from the rest of the competition, you should focus on a specific type of travel that others have not covered in detail. Here a few examples:
Cater to families who love to travel every once in a while instead of solo travelers.
Place the spotlight on extreme activities like zip line, skydiving, or base jumping that an adventure traveler can do in a certain tourist destination.
Offer advice and tips for fellow budget travelers like yourself on how they can make the most out of their travel money without spending a fortune.
Whatever your chosen travel subniche would be, you should possess enough knowledge and expertise about it as you want to earn the trust of your travel website's target audience and make them book a flight or accommodation via your chosen affiliate.
Conclusion
Throughout much of human history, chroniclers documented every travel that they're a part of, whether it be by land or by sea. Nowadays, they've been replaced by travel bloggers who roam around a certain country or even the world and write about their experiences in every place they visit. If your travel your website has a section for these, you can attract thousands of visitors each day, especially if you prominently featured lesser-known destinations. But online traffic alone won't get you the funds you need for your next travel. Thus, you should sign up for a travel affiliate program so that you can earn additional income out of your travel website.