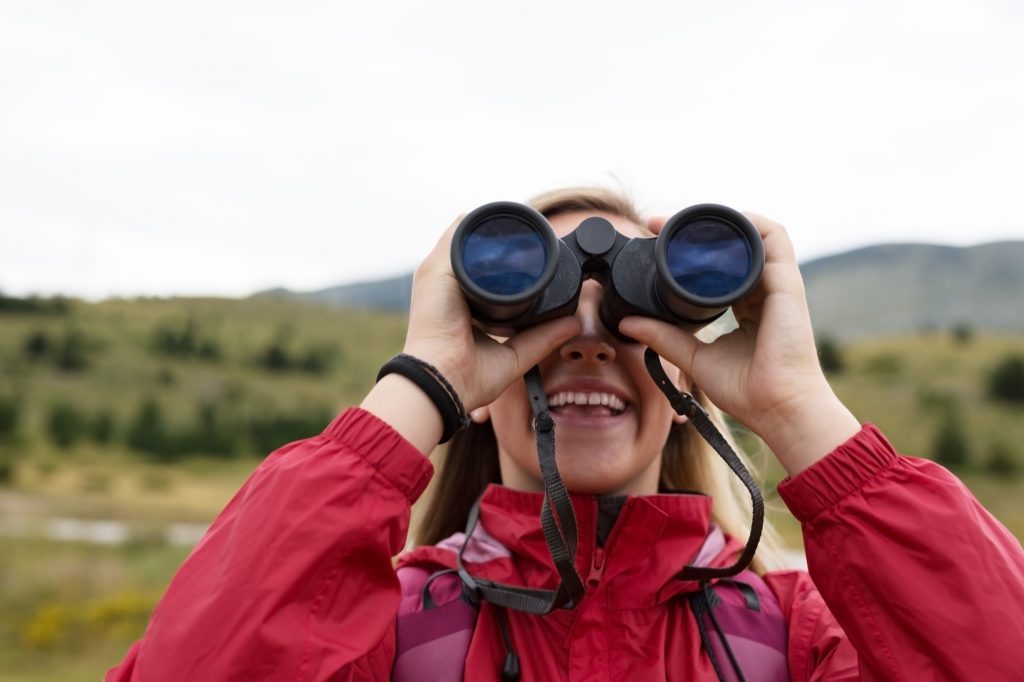 Want to vacation while observing nature? Going birding is exciting if you make sure to visit these 10 spectacular bird-watching sites.
How often do we truly take the time to relax and unwind? When was the last time you actually listened to the birds singing and enjoyed their unique songs?
In the hustle and bustle of our busy lives, we have a tendency to forget the small pleasures of nature.
Going birding may not be a mainstream vacation or hobby, but it can be very relaxing and even educational. For instance, did you know there are 914 bird species that have been found in North America?
There are many other interesting facts you can find out by going birding in these 10 places.
Going Birding in North America
The first thing to remember when going birding is to make sure you have the best binoculars you can afford. Without them, you won't be able to see the beautiful plumage or observe the birds behavior from a distance. A smartphone app designed to be a field guide will come in handy, too.
The Sky Island mountain ranges in Arizona are known worldwide for their variety of birds. They're called sky islands because these green-filled ranges rise from the desert like islands and are like an oasis of trees and wildlife.
One such location that is perfect for going birding is the Huachuca Mountains. This place is well known for its collection of hummingbirds including the Blue-throated Hummingbird, the Magnificent Hummingbird, and the Violet-Crowned Hummingbird.
Second is Cape May National Wildlife Refuge in New Jersey. This refuge's biggest tourist attraction is the migration of the birds that happens every fall.
Bird watchers can see birds such as the Cape May warbler, least tern, and the piping plover at the Cape May Wildlife Refuge.
Hawk Mountain, located in Pennsylvania, is a refuge for migratory birds of prey. This is the perfect place to go bird watching if you're a raptor enthusiast, and the chances of seeing a bald eagle or golden eagle are good, as well, depending on the time of the season.
For something a little further South, you could visit Riviera Nayarit located at the La Tovara National Park in Mexico. Depending on the year, this location has a colorful assortment of bird species that migrate from North America, and you can see them, plus do many other tourist attractions.
Going Birding in Central and South America
If you can afford to take an extended vacation or are lucky enough to be able to work from anywhere in the world, take a trip to South America and see the beautiful colors of the tropical birds. Unlike its Northern neighbor, South America hosts 3,487 different types of birds.
The Galapagos Islands in Ecuador are some of the most famous places for birding. It has a number of birds that are native to the region but a few that are endemic – meaning they are restricted only to that area.
The blue-footed booby is going to be a familiar sight on the island, followed by the red-footed booby. In May, an influx of the worlds waved albatrosses migrate to the island, and they make quite a sight for any visitors who choose to plan a visit at that time.
In Cuzco Peru, the Manu National Park holds 10 percent of the worlds avian species.
Over a thousand different types of birds live in these parts and many of the most commonly known birds to be seen in the park are the macaw and the parrot, as well as the parakeet.
Argentina's Ibera Wetlands is a perfect place for going birding. Especially since visitors get to bird watch on horseback or by boat and the variation in birds keeps things interesting. There are hundreds of species in the wetlands, and you'll see everything from kingfishers, to jaribus, and hummingbirds.
Boquet Panama has over 1000 bird species to observe in their cloud forests, along with trails that are easy for self-guided tours. The emerald toucan, hummingbirds, and the sulfur winged parakeet are among some of the birds you can see on this trail.
Going Birding in Asia
Traveling the world is a blessing indeed, and if you ever get the chance to travel to Asia, I suggest you do. Getting to experience diversity of culture and landscape is like nothing else in the world.
The first place to go bird watching in Asia is at Chitwan National Park in Nepal. Chitwan has 600 different kinds of birds in the area, and some of the ones you can see are the little egret, the honey buzzard, and the Alexandrine parakeet. All beautiful and exotic.
The Bharatpur Bird Sanctuary, also known as the Ghana National Park, keeps resident birds, as water birds that migrate into the area. 'Ghana' means dense after the forest that covers the refuge and houses the birds.
If you want to see indigenous birds, the best times to visit are from August to November. If you're interested in seeing the migratory birds such as sarus cranes and grey herons, you should visit the refuge between the months of October and February.
Going birding in Sulawesi, Indonesia is incredibly easy with its sheer number of the endemic bird population. There are a great number of night birds in the area such as ochre-bellied boobook, the cinnabar boobook, and the Moluccan Owlet-Nightjar.
Only recently have tours for the Sulawesi and Halmahera area become easier and more accommodating for guests, even now there are still long walks and few places to stay in the area. However, it is a beautiful place with plenty of bird watching to make up for it.
Why You Should Do it
There is a world that is full of beautiful things waiting for you to take the next step and see them. Whether it's a nice, long vacation or finally taking the leap of faith and working for yourself, so you have the time do the things you dream of doing.
Check out my blog if you want to see more inspiring stories about traveling and see how you can do find your freedom, too!