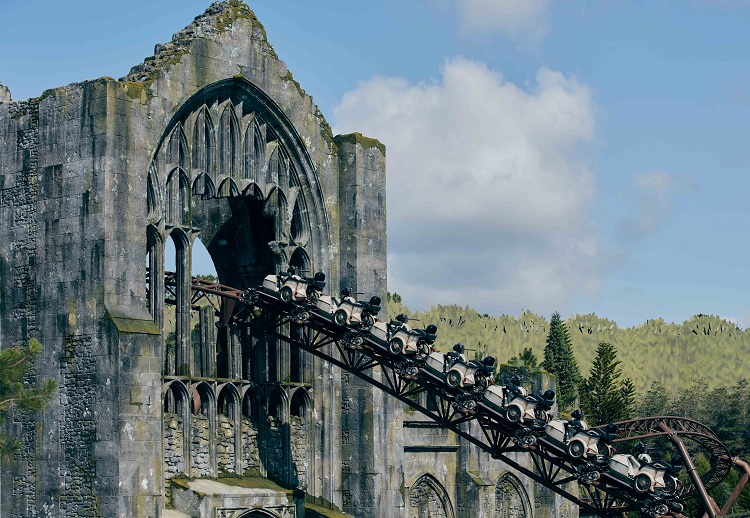 By Mikey Miller
Attempting to plan a weekend getaway for you and the rest of your guy friends? If you're located on the East Coast, look no further than Universal Orlando. This incredible theme park in sunny Florida is could be the perfect getaway for you and the boys. Not only is it the perfect place to relive your childhood – featuring rides and lands themed to everything from Spiderman to Jurassic Park and even Harry Potter – but the resort and surrounding CityWalk area are also full of plenty of opportunities for "adult" fun, too. To help make your stay easier to plan, here is a list of the must-do activities for your Universal Orlando guys weekend getaway.
Ready to book your trip? Book in advance and save on your Universal Orlando tickets – including a deal that allows you to buy 2 days, get 3 days free – before you go.
What better place to stay with the boys than Universal's own Hard Rock Hotel? You and your friends can immerse yourself in the establishment that prides itself on being "made for music." With palm trees as far as the eye can see, you can hang out in the 12,000-square-foot hotel pool, where you can also relax on a sand beach and participate in volleyball matches and ping-pong tournaments, work out at the Body Rock Fitness Center, tee off at the Grand Cypress Golf Club, or drink and dine at the hotel's multiple restaurants, bars, and marketplaces. Additionally, you can take advantage of several Universal Orlando theme park benefits, including skipping the regular lines and complimentary delivery of merchandise you buy to your hotel room, if you stay on Universal grounds.
Go on a bar crawl in CityWalk
Make sure you and the rest of the guys try out all of the beer (or other alcoholic beverage of your choice) that Universal Orlando has to offer by going on a bar crawl in CityWalk, a section of the park that Universal calls "The Epicenter of Awesome." Instead of rides and classic theme park attractions, CityWalk is essentially a city that has been transplanted into Universal, which features a wide variety of highly themed spots to enjoy a night on the town. Some of the bars you might want to check out include the Lone Palm Airport, VIVO Italian Kitchen, Jimmy Buffett's Margaritaville, Bob Marley—A Tribute to Freedom, Antojitos Authentic Mexican Food, Pat O'Brien's, NBC Sports Grill & Brew, The Cowfish Sushi Burger Bar, and the Red Coconut Club.
Nerd out at Harry Potter World
You don't want to go to Universal Orlando without channeling your inner Harry, Ron, and Hermoine. You and the gang can live out all your Hogwarts dreams at Universal's Wizarding World of Harry Potter. Harry Potter World is comprised of two different lands, Diagon Alley and Hogsmeade, and you can enjoy what both have to offer. Be sure to get your fix of Butterbeer (sold at most of the restaurants in the park), check out Olivanders (is there really a better souvenir than your own unique wand?), and ride the Hogwarts Express from land to land and back again. While you're at Harry Potter World this summer, you absolutely have be one of the first to ride the all-new Hagrid's Magical Creatures Motorbike Adventure, a roller coaster celebrating Hagrid and his love of the creatures in the Wizarding World, which just opened on June 13.
Cool Off at Volcano Bay
If you're looking to beat the heat during your stay in Orlando, you can't do much better than Universal's Volcano Bay. This Hawaiian-themed waterpark oasis might look and feel like paradise, but thrill-seekers, fear-not – it has plenty of high-octane water rides on offer, too. From the Honu ika Moana (a raft waterslide that ricochets you off a giant halfpipe) to the 125-foot Ko'okiri Body Plunge and even the hybrid slide-and-ride Krakatau Aqua Coaster, there's no shortage of opportunities to challenge the scaredy cats in your group. Plus, this park offers an assortment of tropical adult beverages to enjoy, so liquid courage is also in excellent supply.
Step into Jurassic Park
Is there anything cooler than seeing dinosaurs coming back to life? When you plan your weekend getaway to Universal with your pals, you have to make sure you put Jurassic Park on your itinerary. Although this part of the park is beautiful, you must always be on your toes, for reptilian danger is constantly prevalent. At the Raptor Encounter, you can visit the raptor, who is notoriously known to be the most intelligent dinosaur on the island, and hope that she doesn't grab you with her teeth. And on the Jurassic Park River Adventure, you can raft through the most perilous part of Jurassic Park, plunging an insane 85 feet in the process.