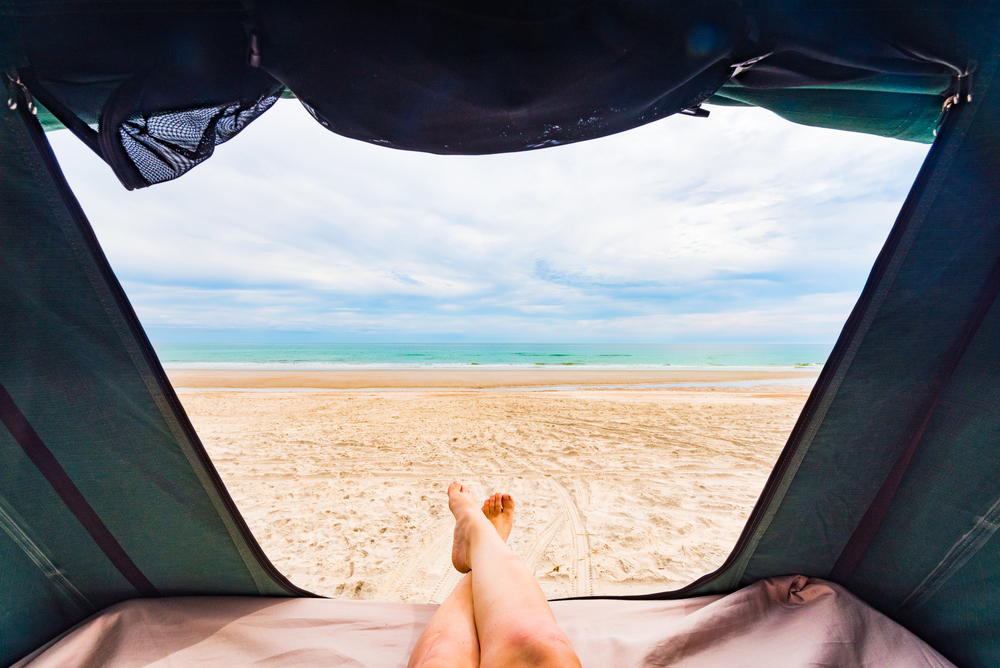 Camping in Queensland offers a lot of options for family fun. You can experience the great outdoors and explore the wonders that nature has to offer through various activities like swimming, hiking, and building your campsite. This blend of relaxation and exhilaration is perfect for any age group.
Island camping doesn't just mean heading to the beach–although there is no denying the beauty of Queensland's coasts. From hills to rainforests to waterfalls, Queensland boasts of beautiful types of island camping treats for families on vacation.
Keep reading for some of the best island camping locations in Queensland!
1. Cylinder Beach
Located on North Stadbroke Island, camping on Cylinder Beach is a family experience you and your family will never forget. The island has a number of swathes and sandbars. The camping site is located right on one of them.
At night, you can fall asleep to the sound of the ocean crashing against the shore. In the morning, when you and your family awake, you'll be greeted by an amazing view of the ocean. This campsite is also a hundred percent safe for kids because it's monitored by a lifeguard during all open hours.
2. Fitzroy Island
Fitzroy Island is a wonderful choice for family beach camping. The island's overall atmosphere is relaxing, making it a great spot for unwinding while enjoying the great outdoors. It is also quite accessible, as the tropical island is only a forty-five-minute boat ride from the Marlin Marina port in Cairns.
Fitzroy Island has an entire area on its beachfront devoted for beach camping. The assigned campground includes over twenty set-up tents, a designated shower block complete with the most up-to-date facilities, beachfront restaurants and personal cooking and eating areas for fans of the do-it-yourself trend. For the campers' safety, campfires are not allowed on the campground, but campers are encouraged to bring their own equipment so feel free to bring a couple of night lights if it makes some family members more comfortable at dark.
A big part of the appeal of camping in Fitzroy Island is having quick access to local attractions. You can just wake up, roll out of your tent and into the Great Barrier Reef. Various activities on the beach include snorkelling, diving, swimming, kayaking, and trail walking, among others
3. Noah Beach
Noah Beach is the perfect location between Queensland's beautiful view of the Great Barrier Reef and its awe-inspiring rainforests. It has clear water and powder-fine white sand as well as lush, green flora.
Campers can take their time to explore the water or spend their days hiking up the trail and exploring wildlife. Noah Beach is also one of Cape Tribulation's World Heritage Sites. You can bring a tent, an RV, or a camper to come and see where the ocean meets the rainforest.
4. Whitehaven Beach
Whitehaven Beach is one of the most popular beaches in all of Queensland. Sitting right on the Whitsundays, this campsite offers stellar views and amazing activities for the kids. This is one of the most premium camping options that Queensland has to offer.
Although it might seem pricey at around $7 per night, camping on Whithaven Beach is definitely worth every penny spent, considering its exclusivity. The campgrounds are enjoyed exclusively by paying customers–you can revel in the peace and quiet as you and your family gather around the campfire.
5. Charlie Moreland
Charlie Moreland is the Sunshine Coast's crowning emerald. The peaceful camping ground is only accessible by 4WD. It's remote and a perfect getaway for family bonding. It's also a great opportunity for kids to learn basic camping skills like pitching a tent and building a fire. Swimming is also an option because the camping ground is located right beside the creek.
The national park's main attraction is that the area is bursting with a plethora of beautiful bird life. Your family can also choose to go up the Mt. Allan fire tower. The hike is the island's main go-to activity. It is rigorous but the top of the trail offers hikers a 360-degree view of the lush landscape of the Conondale Ranges.
6. Nightfall Wilderness Camp
Nightfall Wilderness Camp is a wonderful glamping experience. If you and your family are looking for something a little bit more comfortable, then this is the camp for you. The camp offers beautiful, luxurious safari tents and organic, gourmet meals.
There are also nature spa activities like creating a bonfire and getting a massage by the creek. If you're looking for something a little bit more traditional, you can also choose to go and hike at Lamington National Park, which surrounds the camp site.
7. Tamborine Mountain
This beautiful camping site is caught between Cedar Creek Lodges and Thunderbird Park. As a result, campers get the best of both worlds. You can choose to go hiking, swimming, and biking–or you can choose to sit by the fire and relax.
There are also exciting activities for the kids. Thunderbird is also an adventure park which features a Tree Top adventure and horse-back riding. Cedar Creek, on the other hand, features more than ten swimming holes. It also features a glow worm cave for those who are a bit more adventurous.
8. Jardine River
Known for its waterfalls, the Jardine River campsite sits right on the tip of Northern Queensland, at the Cape York Peninsula. This campsite is for adventurous families looking for new frontiers. It's very hot and humid and the way up toward the Jardine River is only accessible by 4WD.
However, it's definitely worth it. Once there, you and your family can go swimming in the beautiful waterfalls and cook a delicious dinner by a bonfire. The amazing thing about Jardine River is how peaceful and remote it is. Families are sure to enjoy quality time together.
9. Carnarvon Gorge
Located in central Queensland, right at the heart of Carnarvon National Park, this campsite offers campers a gorgeous view of Queensland's rolling hills. The weather here is very temperate: cool and dry and ideal for families looking to explore Queensland's culture and history.
The campsite is surrounded by lush gum trees. The best times to go include Easter, Winter, and Spring. The weather is perfect and both flora and fauna are in abundance. However, if families choose to go during the summer, they also have the option of camping by Carnarvon Creek where they can enjoy a refreshing swim after a day of hiking.
Whether you choose to head to the coast or the rainforest or somewhere in between, taking your family to see the wonders of Queensland is definitely a decision you won't regret. Camping is a wonderful bonding opportunities for families. You can create memories while teaching the kids valuable life skills.
With a single vacation, you get an experience that is adrenaline-pumping, culturally-enriching, and refreshing. When planning for a trip to somewhere as environmentally diverse as Queensland, don't forget to be as prepared as possible.
Create checklists and emergency protocols to ensure you and your family have a great, worry-free time. Make sure to book your trip as far in advance as you can–this will give you time to prepare for the trip of a lifetime!