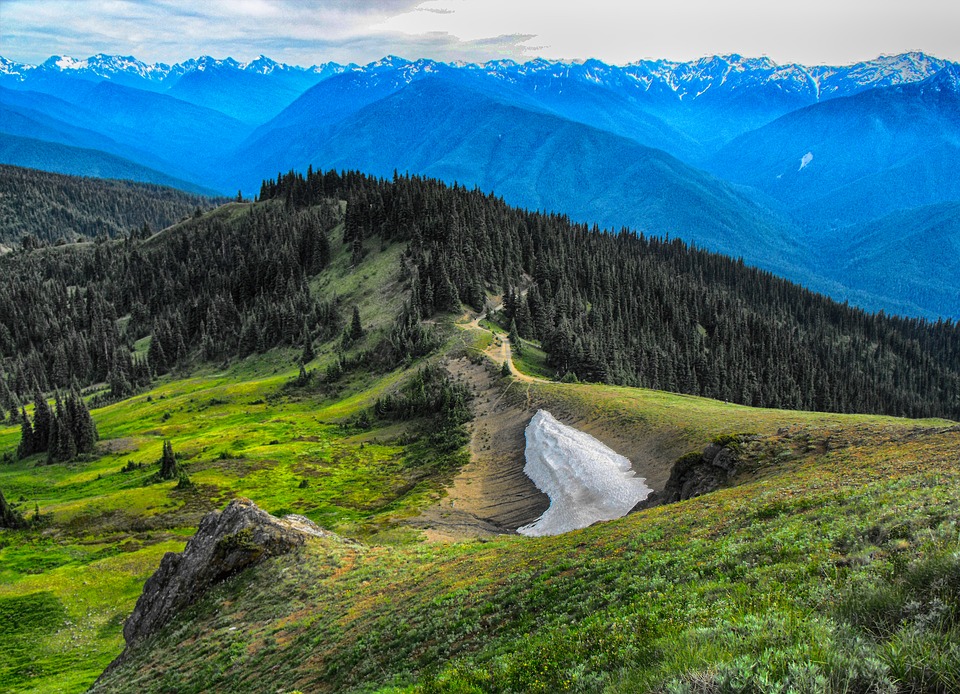 Most people tend to think of travelling to exotic, far-flung lands to find wilderness areas to explore, but there are vast areas of wilderness all over North America that you may not have thought of before. Thousands of acres of forest cover parts of the States and Alaska is almost entirely undeveloped. That means there are plenty of opportunities to experience the natural world and have adventures in remote locations right across the continent. The advantages are that the climate, language, and culture will all be less alien than in more exotic parts of the world, which makes the USA an ideal destination for a safe and comfortable wilderness holiday.
Camping
Staying in the wilds in America doesn't necessarily mean camping out in the middle of nowhere on your own in a tiny tent. There are all sorts of different ways to live on your trip, and none of them need to be too rudimentary. Campsites, caravans, and mobile home parks are numerous in all the great forests, and you will have a wide range of options as to how you wish to camp. You can get luxury tents with separate bedrooms that are easy to erect even when you're inexperienced, and the equipment you can buy for a camping trip is extensive. So if you wanted to give the campfire a miss, you could have a barbecue, portable oven and grill, and all the accompanying comforts of home in your outdoor haven. America is best known in camping terms for its huge recreational vehicles, which are basically mobile homes that you can actually drive around. If you're thinking of hiring an RV, make sure you'll be able to drive it, as they are big beasts that require specific driving skills. If you choose the RV option, you will have a home from home that you can move from place to place without incurring any hassle or stress, beyond being able to manoeuvre the beast!
Cabins and lodges
You might like the idea of staying in a wooden cabin or lodge in the forest, and this can be a splendid way of combining luxury accommodation with being in close proximity to the wilds. There are many beautiful wooden buildings on sites adjacent to wild areas, many with all the facilities you'd expect from accommodation in town, including internet connectivity. If you're wondering how lodges compare with staying in a hotel, do your research into Smoky Mountain Cabins vs hotels, and you might be surprised at the standard of accommodation in these rural locations. There are also many different styles of lodges and cabins available, so you could have a traditional chalet style lodge, a hunter's cabin, a tree-house, a ranch style building or a cabin on stilts.
Choosing your destination
The autumn leaves in New England are famous for their spectacular colour, and this time of year is peak season in this region. However, the beauty of the forests and lakes is just as impressive in the late spring and summer, and this is an ideal time to take your wilderness holiday. All the states of New England contain huge forest areas, plus a stunning coastline. Heading for the mountains will enable you to explore a different type of terrain, and there are some magnificent mountain ranges across America, such as the Rockies in Colorado and the Appalachians, which run the length of the Eastern states. You could opt for one of the famous parks like Yellowstone, which despite being a tourist hotspot still has thousands of acres of unexplored wilderness beyond the most well-travelled areas. There are many places to choose from, so do a bit of research and find out what facilities each location offers, the kinds of wildlife you could see, the sporting opportunities for mountain biking or horseback riding, the proximity of bodies of water or the sea, the climate, and the availability of any activities you might like to try.
Safety
Wherever you go in the wilds, you need to be aware of staying safe, and just because you're in a familiar, culturally similar place doesn't mean you can't run into trouble. The wilderness areas truly are wild, and most of them are still largely unexplored to any great degree. It's very easy to get lost in the forest if you stray from the track, and if you get turned around you could be wandering for miles in the wrong direction, becoming hopelessly lost. This happens every year in the States, where people leave the path they should be following and can't find their way back. The single best piece of advice is just to never leave the path, and be aware that even if you have your mobile with you, you may well not get a signal. Always take water and snacks when you go exploring, and make sure someone knows where you're going and when you intend to return. Make sure you observe the posted advice on encountering wildlife, especially in areas where there are bears. You also need to be aware of whether it's hunting season – you shouldn't get caught in the crossfire so to speak because hunters would be kept away from public areas, but it's always wise to be informed.
Taking the right equipment
If you're heading for the wilderness, you need to be appropriately equipped. That means the best quality walking boots you can afford, comfortable clothing, waterproofs, first aid kit, emergency rations, a penknife, comfortable rucksacks, walking sticks if you need them – they are useful for pushing undergrowth aside as well as supporting you as you're walking – hats, shades, sun cream and insect repellent. You will find detailed lists with suggestions on what you need to pack and what you should take when you go exploring on specialist websites, so check against these lists to make sure you don't forget anything.
The United States have some of the best forests in the world, and you will feel as much in the wild there as you would in Borneo or Laos. With so many fantastic locations to choose from and so many different types of accommodation, you'll be spoilt for choice!