It's easy to get overwhelmed in Easter Island. Not only are you slap bang in the middle of nowhere, in the most remote inhabited place on earth. But you are completely drawn, and totally perplexed by the large stone faces (affectionately known as 'moai') which the island remains the most famous for.
Archaeologists have different theories, but are in general agreement that these giant heads were created and erected somewhere around the 10th century. Crazy! But that information simply isn't enough to quench the thirst of curiosity. How on earth did they get there? What is the significance? How has human life form survived on such a sparse island? What is the story behind the heritage of Rapa Nui? (Correct and preferred name of the island, kept alive by the fiercely proud natives of Easter Island).
Step forward Tiare Edmunds, a direct descendent of Hotu Matu'a, the first king of Rapa Nui! (Oh yeah – hanging with the royals!) We jumped at the chance to join her tour, in order to put the pieces together of the Island mystical jigsaw – while also soaking in some of the best sights.
Ranu Kao Volcano

An absolute beauty of a tall extinct volcano and worth trying to snap a panoramic snap of this delightful view. Get there before the sun goes down. Semantics would suggest it's officially a crater now, but who cares – it's gorgeous!
Sunrise Tonga Riki
The chances are that if you've researched Rapa Nui before – that this mind-boggling masterpiece may have caught your eye. Tonga Riki is a viewpoint to watch the sunrise and if you catch it on a good day; you'll be glad you got your mopey self out of bed at such an ungodly hour.
The Confusing Rock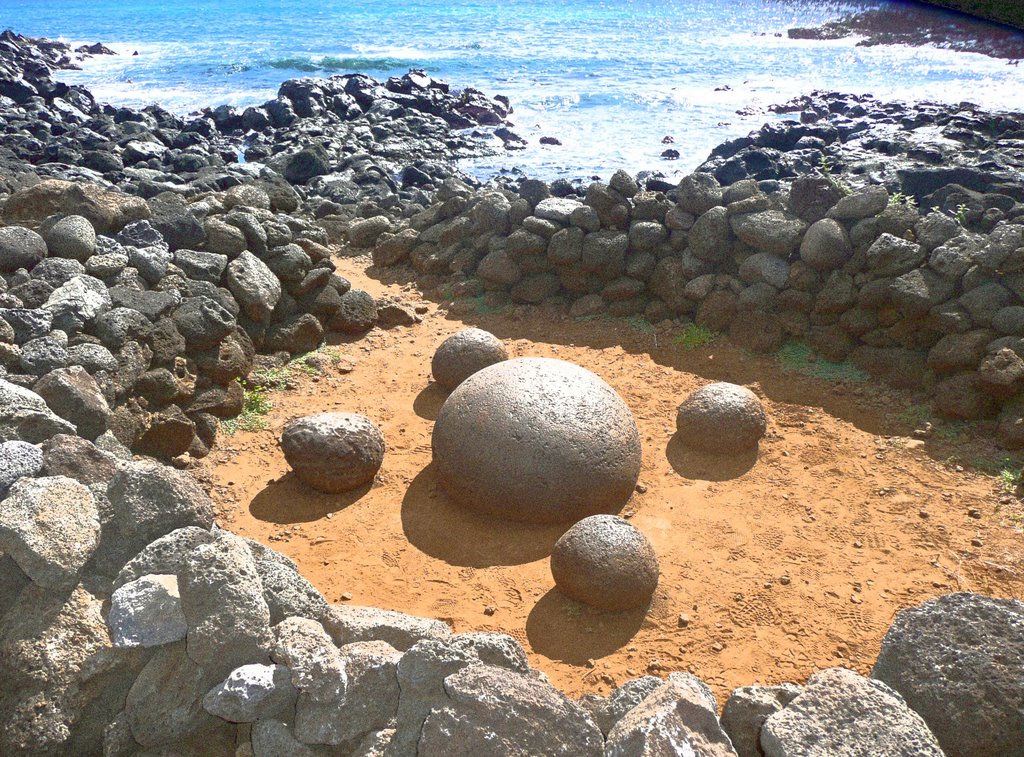 This round rock may look like any other rock – but it's story is far from the realms of 'normal!' This stone of confusion is referred to as; Te Pito o te Henua (navel of the world) and it came from Polynesia. Polynesia! Just look on the world map and see where Easter Island and Polynesia are – and try to get your head around how this stone got here in the 10th century. Absolutely fascinating!
Dinner at Sunset in Untouched Paradise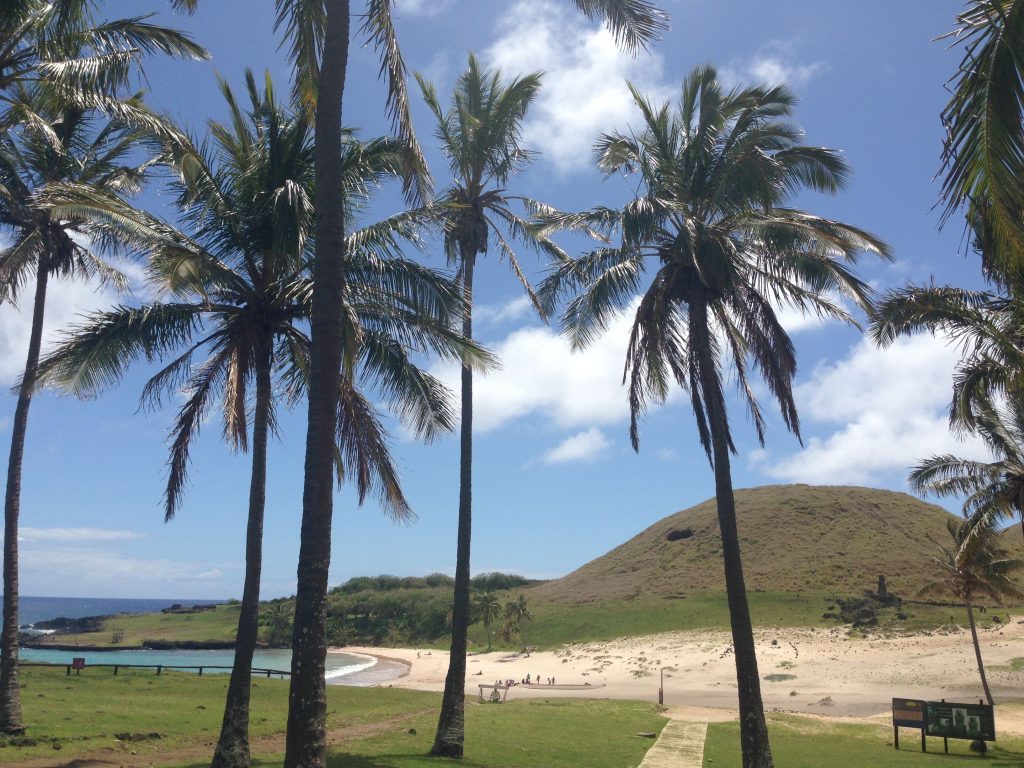 Dinner at Anakena is the perfect swan song to end this captivating Easter Island Tour. We truly hope that some huge, conglomerate hotel chain doesn't come and plonk a big ugly building with neon flashy lights on this heavenly hideaway. (A Shangri-la, on a Shangri-la?)
My bets are that it won't – as the people of Rapa Nui are fiercely proud about preserving their culture and history.
The above doesn't even scratch the surface of what's on offer on this historical tour and the indispensable knowledge available. Tiare is a passionate patriot of Rapa Nui and an expert to match. I could feel her sincere passion as she spoke about how homesick she felt whilst spending a few months in New Zealand.
Although she appreciated the beauty of the country, she felt an intense energy pulling her back to her place of birth. They even have a word for this feeling in Rapa Nui – they call it 'Mana,' which is a loose term to describe a feeling/intuition/energy which is felt by the natives of the island.
If you ever have the pleasure of visiting Easter Island – I highly recommend hitting up Tiare if you want to connect the dots of this mystical place.
Honourable Mentions…
Party At Picano Bar
Recommended by none other than Tiare and so glad that she did! The big party event for the island is this bar – which is on a Wednesday night. No, seriously. It doesn't really start kicking off until about midnight though so bear that in mind! It's a typical island bar, with logs for stools and reggae blasting all night. Enjoy!
Rent an ATV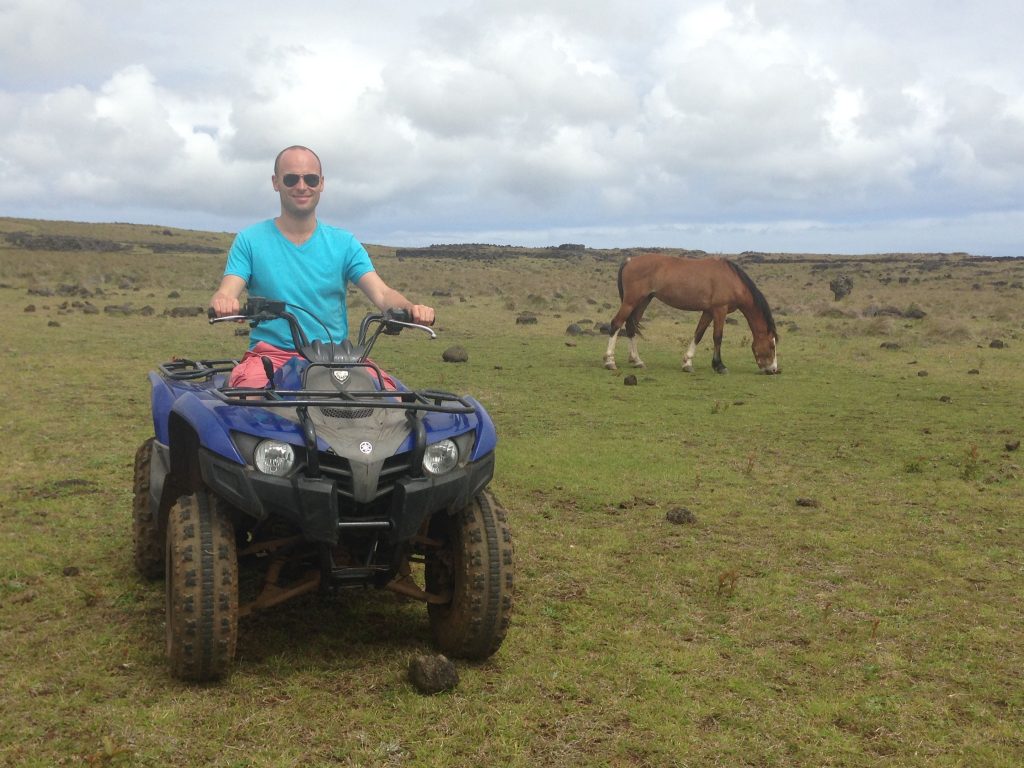 I've never had the privilege of driving one of these bad-boys until I visited Easter Island! Needless to say I will undoubtedly be driving one again. Our ATV, also known as 'The Grizzly' was a noisy guardian angel for us when we went off-road to visit some of the harder to get to spots of Easter Island. Worn-out cyclists and overconfident car drivers watched in awe as our beast on wheels menaced its way over massive potholes, wet mud and bumpy hills. Well worth the $30 rental for a 24 hour period!
Easter Island really lived up to its hype and I feel like five days on the island is absolutely perfect!