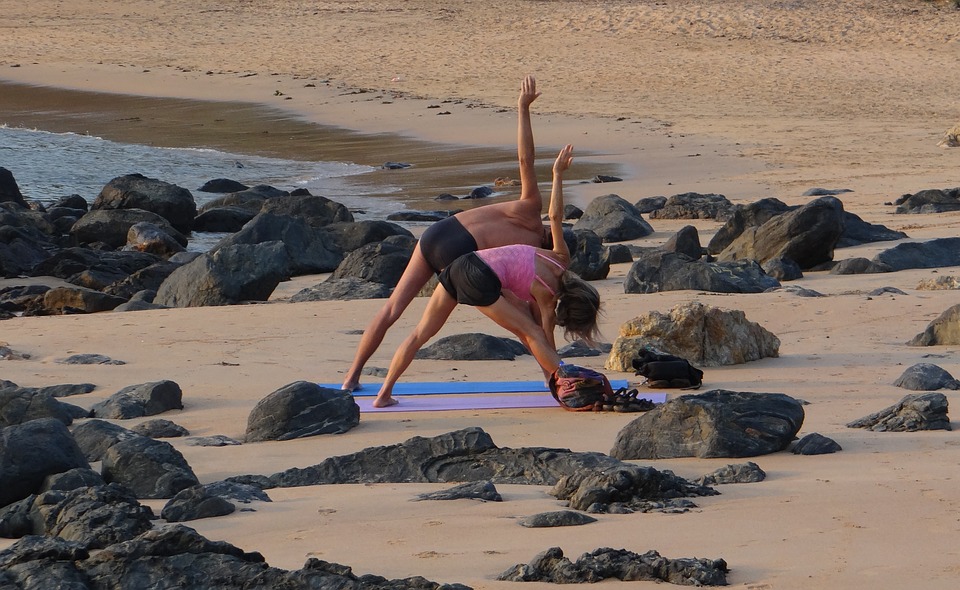 Summary: Learn from this blog that why should you do yoga teacher training in India.
Unparalleled beauty, culture, heritage– The land of India promulgates only the best. The founder of yogic science– India imparts yoga wisdom to yoga aspirants of all age, background, levels in a primordial form.  A motherly figure in the true sense– India has been nourishing this science since 5000 years. Imparting the art of yoga through yoga teacher training in India, is the ideal path to inspire, motivate, and transform every yogic soul into divine creatures.
The tradition of yogic science stands tall with its beautiful destinations in Rishikesh, Kerala, Dharamsala, and Khajuraho– calling upon the individuals to take Yoga Teacher Training in India.
1. India is the Source: When it comes to yoga education, the yoga aspirants desire to acquire the knowledge from sacred sources. And India, being the land of the Upanishads, Vedas, Yoga Sutras is the ideal place to learn, understand, and master the science of yoga. From decades, numerous legendary minds and spiritualists have set their foot on this land in order to explore the fathomable pool of yoga and to impart the teachings to all those passionate about the discipline of yoga in an authentic form. Yoga Teacher Training in India is your chance of exploring the roots entrenched in traditionalism and spiritualism.
2. Full Immersion: India is the land of numerous breathtaking and holy destinations that houses reputed yoga schools and centers. The yoga schools in these destinations are certified with the best of facilities, infrastructure, and qualified yoga teachers. Yoga programs from the renowned schools of India immerse the students in intensive training with dedicated yoga classes, spiritual practices, Ayurveda training, practical sessions, etc. There is no Pause Button here.
3. Ayurveda Training:One surfacing reason for doing yoga teacher training in India is the entry into the authentic world of Ayurveda, that is hard to find in the Western world. Along with Yoga, India is also the mother of Ayurveda– the ancient medicinal system of healing. Yoga courses in India introduce the students to the study and practice of Ayurveda science. Kerala in India is the Ayurveda capital boasting of countless Ayurveda centers with certified doctors attending and healing the people through this natural medicinal system.
4. Spiritual Practices: The Western world focuses more on the physical practices of yoga like asanas and pranayama. Whereas in the Eastern world, India emphasizes both physical and spiritual goals of yoga, as it is a science of the body, mind, and spirit. Yoga Philosophy of sage Patanjali decoded in his book Yoga Sutras is the systematized teaching to better oneself physically, mentally, and emotionally as well as to lead a meaningful life. It is regarded that Yoga Philosophy has influenced other schools of Indian Philosophy. In my view, India is the land delivering the wisdom of Yoga Philosophy to the students for fostering deeper insight into the dimensions of the body, mind, and spirit as a yoga teacher.
5. Excursions and Adventures:The destination of India is eminent for its diverse and magnificent terrain. It has mountains, beaches, and oceans offering the opportunity to satiate the wanderlust in them while being on a yoga expedition. Yoga teacher training curriculum in India has excursions and invigorating activities as one of the main constituents for interest and overall development. Additionally, yoga teacher training in Rishikesh, India is your chance of indulging in white-water river rafting, bungee jumping, kayaking. What a delight it is!
6. Melting Pot of Students:Doing yoga teacher training in India is an expedition of pure yoga wisdom, healthy food, thrilling activities, cultural celebrations, natural beauty and so much more calling out yoga enthusiasts from across the globe to its lap. In addition to the experienced teachers, there will be kindred souls helping you take back home a new skill set, perception, and happiness. Gather energy from around the world on your yoga voyage in India and flourish as a teacher of fine standards and repute.
7. Affordability Factor: India provides affordable yoga teacher training programs inclusive of authentic yoga teachings, healthy diet, comfortable accommodation, and excursions to various places of interest. A comparatively less expensive yoga teacher training cost of utmost supremacy is one of the core features of Indian yoga courses that allows the individuals from diverse backgrounds to become a yoga teacher without emptying their pocketbook.
The land of India welcomes yoga enthusiasts in its embrace to do yoga teacher training.
Experience divinity and live the transformation.
Author Bio : Manmohan Singh is a passionate Yogi, Yoga Teacher and a Traveller in India. He provides 200hrs Yoga Teacher Training in India. He loves writing and reading books related to yoga, health, nature and the Himalayas.