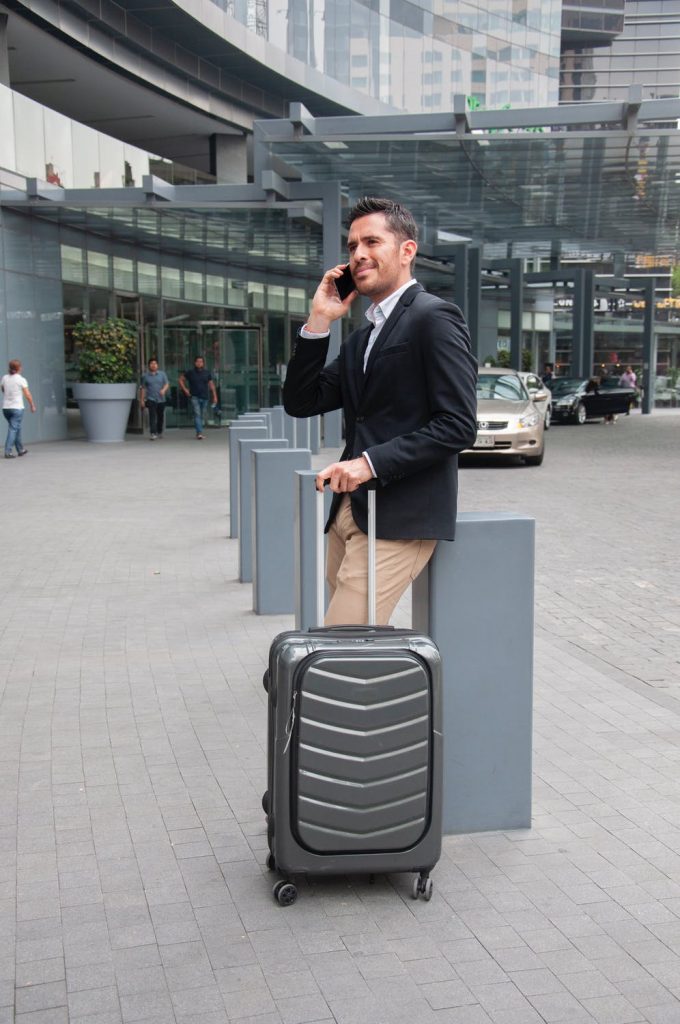 Chances are, you've got your lads holiday booked for summer. Once your packing's done and you know everything's in check, you only have one more thing to think about: the airport outfit.
However, it's important to know that what you wear has a huge impact on how you feel for the rest of your holiday — so you need to look good from the get-go. From feeling on-trend for drinks at the airport lounge to feeling comfy on a long flight, this SS18-inspired fashion guide — put together by men's fashion retailer, QUIZMAN — will set you straight on how to dress in style and comfort when you check-in.
Those longer flights…
When it comes to any long-haul flight, you'll know that you'll be spending more time in the air than a normal trip away. So, comfort merged with style is crucial to make your commute pass swiftly.
You want to strike a balance between style and practicality. Go for a plain tee in a shade that matches the band on your side-stripe joggers — this clothing piece was on all the catwalks at the men's SS18 international fashion shows. Match with neutral-colour, lace sneakers that are easy to slip on and off at security and throw over a light-weight bomber, or boxy denim jacket that's easy to roll up and put under your seat during the flight.
Taking a quick city break
For those going on a quick city break away, you will need an outfit with an on-trend, urban look when you check-in for the flight.
Find your favourite long sleeve t-shirt and pair with some light denim jeans to rock the tourist look. Tonal dressing is big in men's fashion right now, so choose a colour you know looks good on you and get your top, pants and shoes in different shades of it. You may need a jacket when you land if you're heading somewhere with a cool climate, like a city in northern Europe, but make sure you opt for something flexible and light — a stripe or chevron, zip windbreaker is ideal.
Booking a short flight away…
So, put together a look that fits a bar or restaurant crowd to make sure you can head straight out after check-in.
Wear what you want. Pull on a pair of turn-up jeans, which was a massive trend in men's fashion weeks, and combine with a contrast polo shirt for an on-point, smart-casual look that's fresh for summer 2019. Polish off the outfit with a chrome watch that's easy to take off at the security scanner, and end with a pair of suede loafers — the ideal men's shoe for summer.
Sand, sun and style!
When heading on a beach holiday, there's so much you can play with when it comes to fashion. Tropical prints are definitely in this season, so button-up a short-sleeve shirt featuring a palm tree pattern and pull on a pair of beige or blue stretch shorts for the ultimate beach-ready look that'll be comfy enough for a flight. If you don't fancy wearing shorts at the airport bar, go for light-coloured chinos with a vertical-stripe shirt — a pattern that will be everywhere in men's fashion throughout summer this year. Boat shoes make perfect holiday footwear, or you can opt for slip-on canvas sneakers for the same laid-back effect.
Top tips and tricks for airport style
Avoid belts: you only have to take these off for the security check.
Layer up: go for multiple layers to keep your body temperature at the perfect level.
Keep it functional: don't wear clothes that are restrictive or awkward.
Wear socks: to keep your feet cool and dry during long commutes.
Avoid lace shoes if possible: go for footwear that's easy to remove.
Take a small carry-on bag or wear clothes with plenty of pockets: to keep your passport, boarding pass and other airport essentials safe.