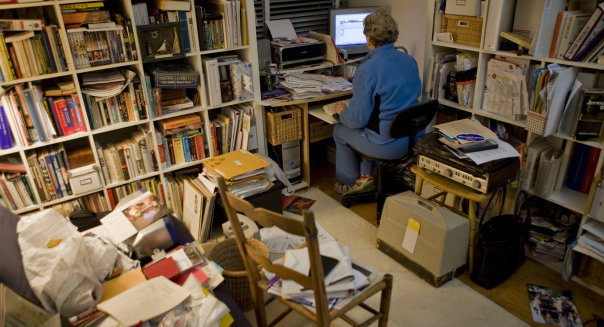 Use Skip Hire from Clearabee to remove Decades of Clutter
One reason why the elderly declutter is when moving to a bungalow or flat which is much easier to maintain than a large house. However, it's common for an elderly person to still be living in the home where he or she has brought up a family and has consequently accumulated several decades of clutter. In the large cupboard under the stairs there can be well-worn toys their children played with fifty years ago or boxes of old shoes stored in the loft. Broken but much loved electric toasters may be lurking in forgotten spaces in the kitchen. Decluttering can often resemble an archaeological dig as each layer of rubbish rolls back another decade prompting a wealth of memories that can sometimes make it difficult to throw any of the items away. But the Clearabee Bee Bag can provide the solution!
Flexible Rubbish Removal at your own pace
Using skip hire in the form of a lightweight, Clearabee Bee Bag is perfect for an older person who needs time to adjust to the emotional process of clearing out a lifetime of clutter. The Bee Bag is available in different sizes and is made of a heavy duty cloth that's soft and flexible and has comfortable handles to pull it to where it needs to go. It can easily be set up in one of the spare rooms ready to take years of clutter in nice, easy stages. The folded Bee Bag is delivered by post and there's a flexible deadline of up to one year for its collection. That allows plenty of time for changing the decision on whether or not to allocate items for rubbish removal.
Skip Hire for a quick Declutter
If an elderly person has already spent a while getting used to the idea of decluttering perhaps a metal skip hire could be the answer. Whenever it seems an appropriate time for a positive clear out, a Clearabee metal skip can be delivered by the next day. It's ideal for decluttering the home of heavier items such as broken slabs, doors and old lawnmowers that have been living in the garden shed for years on end. Metal skip hire is ideal for bulky items such as chairs, small cupboards, bags of assorted waste and DIY materials.
How to start Decluttering with Clearabee
If you are helping an elderly person declutter why not make a start by having just one load of items that have the least sentimental value taken away? The famous Clearabee Man and Van service can be at your side within a couple of hours. The friendly and obliging two man team will do all the fetching and carrying before taking the rubbish away on exactly the same day. They'll make decluttering such a pleasure that your elderly relative or friend will be eager for them to come back for more!
Flexible Options for easy Decluttering
Whenever you're helping to clear a home of clutter, Clearabee have a range of practical and convenient skip hire solutions to suit both your schedule and budget. Using convenient Bee Bags or skips from Clearabee is much easier and cost-effective than making several trips to the local tip as it saves you both time and petrol. And more than ninety per cent of all the rubbish Clearabee collects is put to further use by being recycled which is a worthwhile way of treating clutter that's been hidden away for so many years.