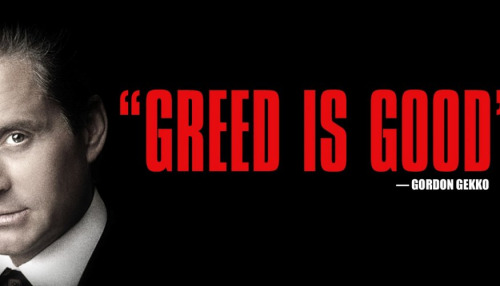 But greed is always a bad thing, right?
*Holds head in hands and shakes head.*
As soon as you hear the word 'greed', what do you think of? Personally I think of an evil billionaire screwing over poor people for more pennies with an evil cackle. Something along those lines. I am definitely not an advocate of, nor am I a fan of unethical money-making. What's the point of greed if it's going to kill you or ruin other peoples lives?
Like many things in life, greed is a misunderstood concept and sometimes choosing to be greedy (within reason) can be a very good choice. It can be the difference between feeling alive or feeling miserable. It can be the difference between life or death; why do you think human beings have evolved millions and millions of years to run the planet? Because we are greedy by nature.
"Man is a goal seeking animal. His life only has meaning if he is reaching out and striving for his goals."
(Aristotle, Ancient Greek Philosopher)
Well said. If Aristotle was alive right now, I'd so be stalking him on Twitter. Since the dawn of man we have embraced being greedy and the fact that we constantly want more in order to survive. You wouldn't be sitting here now if your ancestors weren't so greedy. Imagine that: "I could go and kill a Woolly Mammoth or invent the wheel so our family can live and breed, darling – but I don't want to be greedy now!"
Why do you think so many people are miserable and disillusioned with life? I believe it's because we have all of that good kind of greed in our DNA but we also have the guilt that goes along with it. Do you know what I mean? I'm a perfect example of why my internal greed can conflict with outer guilt. I was born in England, one of the most developed countries in the whole entire world with a free health-care system. Speaking of health-that's always been fantastic too; so far so so so good. What more could I want?
There's probably a lad in Zimbabwe the same age as me, who would swim through an ocean of crap to be in my position. How can I justify wanting more when I've been so lucky in comparison? It's questions like this either inside our head or from external sources that have the ability to make us feel guilty. So here's what you do: Recognise that you have been lucky so far and that you have been dealt a good hand. Choose to be grateful but also choose to be greedy. It's you prerogative as a human being. Why not counter-act the two? Use your greed and strive to live a better, prosperous and fruitful life while helping others who have not been as lucky as you? It's very possible, your limits exist only in your confused, greedy mind 😉
At the end of the day, there will always be somebody who disagrees with what you do. You can't please everyone and you really shouldn't try.
The definition of 'greed' is; 'an excessive desire to acquire or possess more than what one needs.' Only YOU should get to choose what you need in life, but as long as it's ethical-what's the problem? We serve this world no purpose being a shrinking violet and we should never ignore or repress our innate desire to go for more. You can't get what you want without being a little greedy.
So throw off the shackles of guilt.
Choose to strive when you feel stagnant.
Choose to go for the jugular when you're antsy.
And when you're not where you want to be in life; choose to be greedy.
Edit: I wrote this a long time ago, well before I left. I don't agree with a hefty chunk of the article now, but I left it up to show where I was at this point in my life. 🙂