To say that I'm not the greatest of photographers would be a massive understatement. In fact I'm quite notorious for being offensively bad at it amongst my peers, however I'm pretty proud of this snap that I took at Casa Giralda of Baños: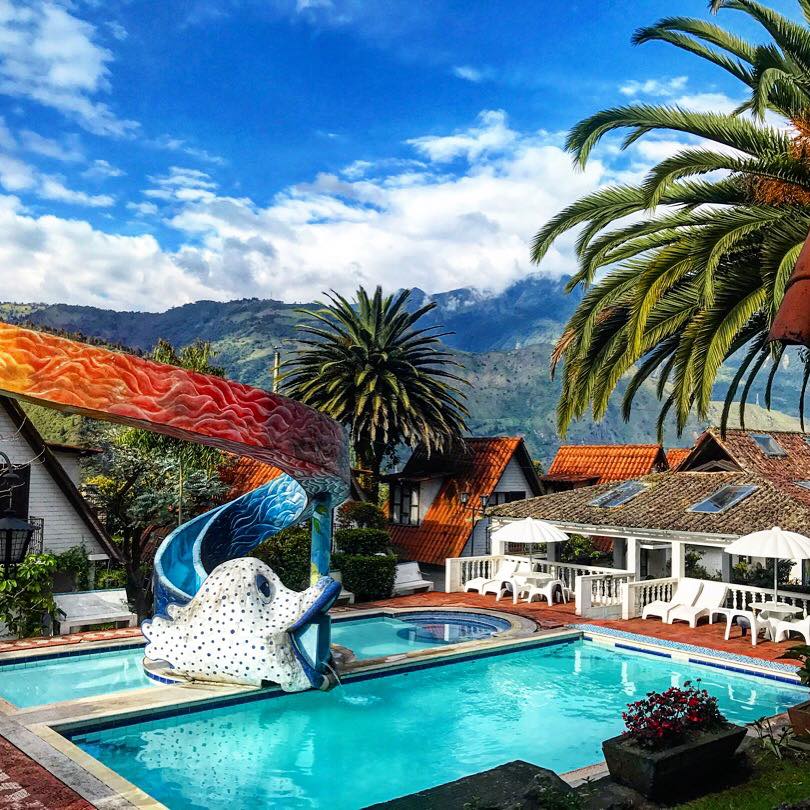 Giralda is nestled in the heart of Baños, a well-known touristic city with a heavy focus on adventure travel. The water slide featured above is connected to a massive pool, which also has a sauna, steam room and jacuzzi – perfect for the Baños traveller, suffering achy limbs after the day's adrenaline-pumping events.
In the hotel business it's a case of getting what you pay for and with this place I benefited from the wealth of knowledge from the receptionist and Baños local, Andrea. It can be a little overwhelming at times when you're on a tight schedule and you want to fit in many activities, but not sure which ones are worth the effort or not.
Casa Giralda gave me an impressively put together, info-packed booklet with all of the activities available to me in Baños. Andrea was very honest about what I probably could not do due to weather constraints and the difficulty levels of the intense physical activities.
Knowing that I could cut out any possibly hyperbolic tourist traps, or which activity was more than likely to be cancelled saved me precious time and made my Baños stay efficient, fun and stress-free.
The relaxation options mentioned above are open until 10 at night, I recommend going the later the better to avoid noisy kids ruining your zen…unless you're going there with your kids of course! Maybe just tire them out on the bike route to La Casa Del Árbol first?
Alternatively, there is a huge games room with a pool table, fussbol and table tennis, or a huge football field!
Location, location, location  
One of my personal pet peeves with a higher tier hotel is when the place is absurdly far away from the city's hotspots. Giralda is a stone's throw away from the town centre, where you will find an array of either local or ethnic food restaurants. (My culinary shout is 'Casa Hood.')
The walk into town is about 15 minutes, the hotel will brief you with a map on arrival and Andrea's patience is a blessing (I constantly asked her questions when making plans).
If you're looking for a place next to Baños city centre with an array of amenities – stick Giralda on your Baños bucket list.