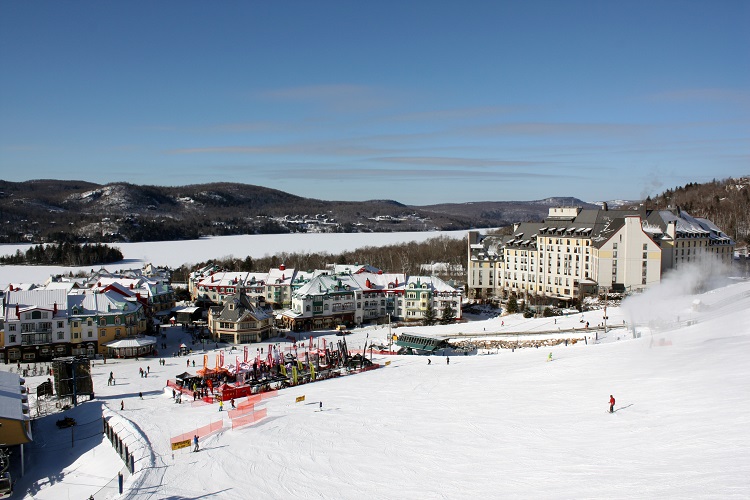 Have you heard about the slow, steady decline of the Swiss Alps?
Me either. But, if there was some mass uproar over the most beloved slopes that Europe has to offer, I think we all know where the fault would lie.
Blame Canada.
More and more avid skiers are turning to Canadian ski resorts for their next winter-filled adrenaline rush. For those on this side of the Atlantic, Canada has some excellent opportunities for rest and relaxation at their ski resorts, and some of the best recreation you'll find on their white-powder mountains.
Let's dive in to some of the best resorts and slopes all over Canada!
Top 5 Canadian Ski Resorts
Skiing and snowboarding are some of my favorite activities in the winter.
It's fun, it's active, and it's a total adrenaline rush to keep a healthy heart pumping. Let's take a look at some of my favorite skiing destinations that Canada has to offer.
Whistler-Blackcomb, British Columbia
Like it big?
Whistler-Blackcomb is not only the biggest ski area in Canada but of all of North America! Boasting two mountains, the resorts here feature the most activities one can find.
That said, Whistler-Blackcomb draws quite the crowd, so if you're looking something a little more quaint and cozy, read on!
Mont Tremblant, Quebec
There's more to ski resorts than just the slopes.
If you're looking for the perfect, picturesque backdrop for your wintery excursions, look no further than luxury Mont Tremblant rentals and resorts. They've got the slopes, sure, but the real draw here is the quintessential little, European town that you can call home for your stay.
And when you're ready to hop on the lifts, you're sure to be impressed with Mont Tremblant's steepest slope in all of Quebec!
Marble Mountain, Newfoundland
Close to Deer Lake Airport, Marble Mountain is super accessible to avid skiers.
Nestled close to the wintery city of Corner Brook, Marble Mountain is a go-to destination for those seeking the thrills on the mountains and the recreational nightlife nearby.
And if you're looking for a challenge, you won't find a steeper slope than on Marble Mountain!
Lake Louise, Alberta
Looking for a resort that has it all?
Lake Louise is one of the best places to ski in Canada for those wanting an all-around experience. Downhill skiing, of course, as well as extensive cross-country skiing, snowshoeing, a jampacked snowcross course, and extensive ice skating.
Plan to stay here for a while!
Mont Sainte-Anne, Quebec
Are you a night owl? Great!
Mont Saint-Anne in Quebec boasts the most night-friendly skiing in Canada with 19, fully lit-up trails.
And if you're feeling a little low energy, Mont Sainte-Anne features a tasty sugar shack right on the slopes! Perfect for sharing a maple-flavored taffy for that special memory you can cherish forever.
Get Those Boots Out!
Winter may come every year, but it doesn't last forever.
You've got to hit the slopes while you can, so act fast. Book a trip to one of these Canadian ski resorts and you'll be sure to make cherished memories that will last you a lifetime!
There's no time like the present.
If you're looking for more Canadian travel ideas, check out our list of Movies That Make You Want To Travel.