You've seen all the photos of the insane bends and the cliff edges without barriers. Read all the grim statistics of human fatality. Beaten your chest as you virtue your impending valour to the Tinder object of your daredevil desire.
But now shit has gotten real. Your arse is taking a saddle-beating as you hone in on your hyper-focus and hold on for your dear life.
If you break too hard you'll fly off, if you don't break firm enough you'll go so fast that you might lose control.
The grim reaper is rubbing his sleazy hands together, expecting an easy day at the office – let's make sure he goes home disappointed at the end of his day shift.
How Not to Die on the Bolivian Death Road
So let's start with the million dollar question – why is it called this? Is it exaggerated for tourist purposes, or does it earn its menacing name?
I'd strongly support the latter statement. The Bolivian death road has taken 2-300 annual lives at its peak, roughly 30 of them being adventurous travellers from abroad. Most of the downhill 56 kilometre route is incredibly bumpy and narrow and has barely any protection on the hundreds of feet drop. So if you go over – you're toast.
I went with Barracuda Tours and I can't wax lyrical enough about them. One thing that I've learnt whilst cycling abroad is that not all bike brakes are created equal.
What I mean by that is in the UK – the rear break is on the left hand side and the front break is on the right. It's the same in Brazil, but I recently discovered (the hard way, my poor elbows) in Baños that some countries have them the other way around.
The Death Road is not the time or place to experiment with the unknown. If you've ridden a bike before your brain is programmed to pull accordingly to what you've always known.
Don't choose a tour company that can't change the brakes over for you, it only takes minutes and any bike tour company that can't do that for you should be labelled as degenerates who are not worthy of your money.
How much of an idiot do you have to be to die on the death road?
The above question was asked by a mate of mine and it's a very good one to ponder. Some have died in vans, cars and on bikes due to bad luck or because of 3rd party negligence.
But I'm a big fan of personal accountability and in this case you've got to take responsibility for your life.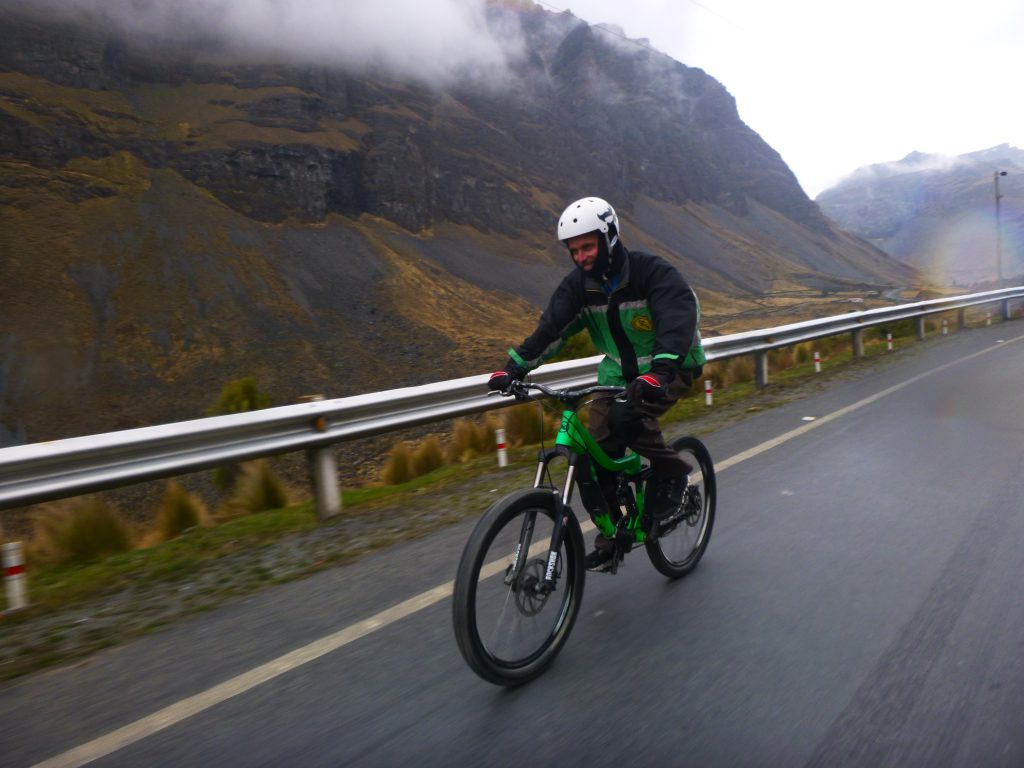 One of the last tourists to die was a Japanese lady who decided to take a selfie on a wicked bend. She was doing a tour with her husband and she went flying off the edge.
While I refuse to mock the dead and unfortunate here I think we can all agree that this was a poor choice. Baracuda have a photographer who will send you pics later on via Dropbox to prove your journey – so you don't need to worry about photos – prioritise your personal safety over vanity and social media points.
Misguided, testosterone-fuelled belief usually falls prey to realistic ability and most people who die, or injure themselves on the death road unsurprisingly – have a penis.
Feel free to go faster when you want to (within reason), but hold on tight and feel out the road every few seconds as it changes in terrain and angles an awful lot of times.
I had a squeaky bum moment when I pulled my back brake too hard on a tight bend (don't do that) and my back wheel almost fishtailed off the edge off the cliff.
But I survived to tell the tale and I'm delighted to finally tick off this long awaited travel bucket list item.
On a good day of weather the views on the ride are absolutely stunning – but I'd say this is not the best time to get lost in the beauty – just keep your eyes on the road ahead of you.
Don't become another Death stat on the road, it's there to be enjoyed and there's a big difference between being adventurous and being reckless.
So hold on tight and focus hard for about 3-4 hours and then you get to brag for the rest of your life.
Just make sure that living to tell the story is your main priority. Have fun!
Song For The Moment – Highway To Hell, by AC/DC
Notable Lyrics:
"Don't stop me…
I'm on the highway to hell
On the highway to hell"