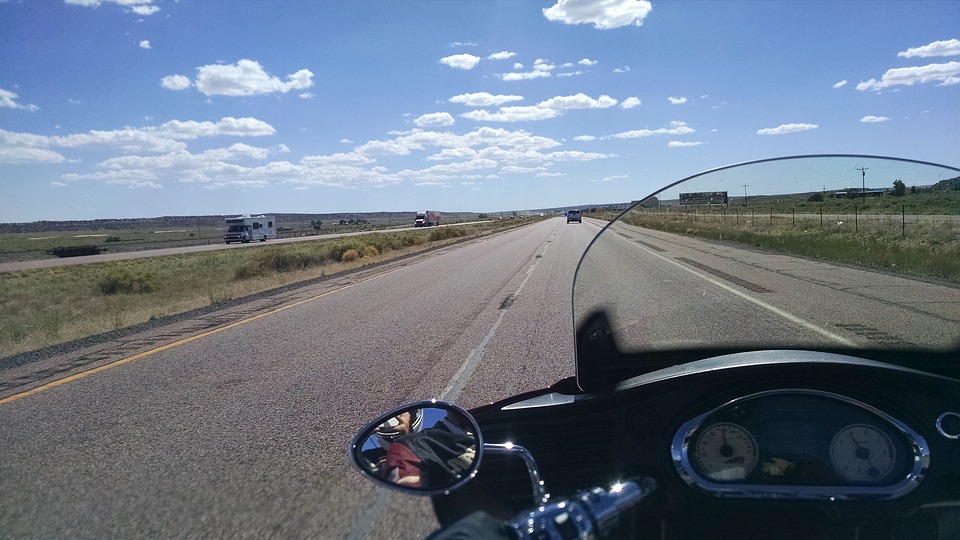 A motorcycle journey is always full of thrill, enthusiasm, excitement and adventure no matter where you go and what for. Riding your bike all alone absorbed in your purple thoughts along a long wide straight road gives you immense pleasure. And if you are travelling with your friends all wearing extra large motorcycle helmets, you wish very strongly if only the road did not end and you kept riding on and on. But, what if the road is of poor quality and not so wide?  The whole passion of a long motorcycle ride vanishes away abruptly and all the things lose their charm at once. You tend to ride back to your home and wish never to get on that road again.
So, you can say that the quality and other features of the road contribute a lot towards the overall charm of the journey. The more the road is appealing, the more you like to travel on it. Fortunately, the roads across America are just the excellent in this regard. All the motorcyclists must wear safety helmets whether costly or cheap motorcycle helmets before they hit on these roads. Normally, all the roads are of good quality but the following few are simply the best for the motorcycle journey.
1. Pacific Coast Highway
Stretching along 1700 miles from Astoria to California, this superb road is truly the champion of all the roads for a thrilling motorcycle journey. There come several beeches, cliffs, redwood forests, sleepy seaside towns, hot tub B&Bs, and world class dining. You can enjoy scintillating sport riding and contented cruising along this ribbon like winding and undulating road. If you ever happen to be on this road on your bike, never forget to stop at the frequent turnouts and wild Olympic peninsula. You will definitely never miss rustic Big Sur, Hearst Castle, bikini-clad Malibu, biker-friendly Seattle, San Francisco and San Diego.
2. Route 66: from Chicago to Santa Monica
This 2200 mile long highway is almost everybody's favourite and historical in its importance. There are several dining and fast food spots serving quality food items at many biker-friendly stops between Chicago and Santa Monica.
3. The Great River Road Highway 61
This single route of 2552 miles from Minnesota to Louisiana highlights the ten states bordering the great Mississippi river. The jubilant bikers from all the ten states rush towards their part of this road and cruise it to their fill. There are meadows, cypress swamps, thick forests, limestone cliffs and wildlife refuges all along.
4. Appalachian Mountains
This excellent road starts from Virginia and ends at North Carolina. This four-in-one magic mountain ride runs 770 miles and is a paradise for the excited riders.
5. River Road
This splendid road is 120 miles in length and runs between Trilingua and Candelaria. There come mountains, canyons, badlands and stunted forests along this spectacular strip. This is simply the perfect road for an ideal motorcycle journey.
6. Going to the Sun Road
This road consists of 50 miles ride over Logan pass in Glacier National Park, Montana. It took visitors several days to get through the park before this road was completed. Here, the bikers must remain watchful for the mountain goats and bighorn sheep. This strip is always crowded with a lot of bikers along with all other vehicles.
Hence, these are some of the remarkable roads of America where the motorcyclists can enjoy their carefree journeys.