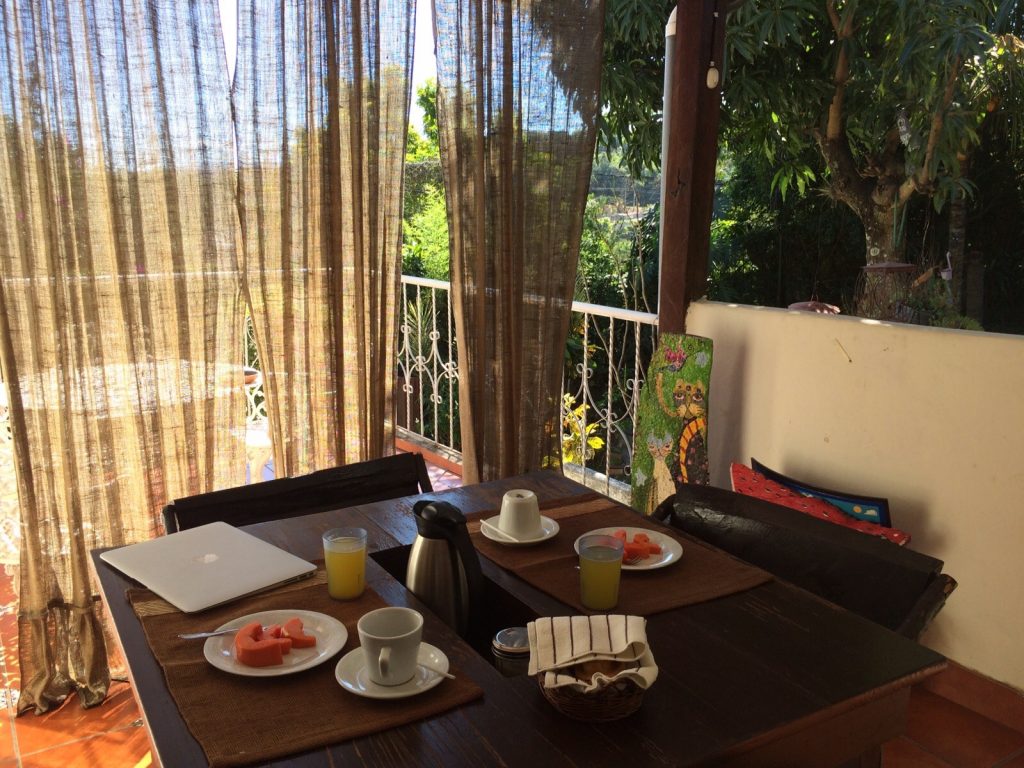 Maybe I'm becoming too much of a spoiled travel diva with my expectations since upgrading my travels since independently making money online, but when I go to stay somewhere nowadays I really appreciate a sweet little personal touch.
Don't get me wrong – I'm not suggesting that business owners should fall at my feet at my entrance, but it's nice to feel welcome in a non-contrived sort of way, and it's more than a bonus to kick back somewhere with character, warmth and boasting a jaw-dropping backstory to it – and that's where Villa Napoli of Santa Ana, comes into it's own.
We arrived late at night in a taxi, where the driver welcomed us with; "welcome to El Salvador, it's shit!"
We burst out laughing and just accepted that this was the truth, but as soon as we rocked up to Villa Napoli and were glad to be greeted by the genuine warmth of the owner, Rosy. Our rooms were cosy and right next to a kitchen where we could cook for ourselves and if we were feeling lazy (more often than not) – she was more than happy to accommodate us and rustle something up last minute.
The guest house brags a pool and a sitting area and the guesthouse really went to town to make a guest's birthday very special! Morning offers a veranda with a sexy view of the backdrop of El Salvador and dog lovers will be sure to fall in love with the amiable resident sausage dog!
Cool tourist things to do around the area of this Sant Ana hotel (which Rosy will happily arrange for you) are; Lake Guatapeca, Cerro Verde, Ruta de las Flores, the local Volcano and the Tasumal ruins. 
We messed up our bus on the 3rd day to San Pedro Sula, but Rosy's superstar son Guillermo saved the day by getting in touch with his local contacts and stabilising our increasingly rising heart rate! The cherry on the top of the very sweet cake was Rosy sharing the fascinating story of her father with us; a handsome devil traveller who was killed during the El Salvador civil war in mysterious circumstances. Rosy pays homage to his life with recycled objects and turning them into an artistic mural depicting his life in her spare time – what a woman!
I honestly could bleed through my fingers all night about how absolutely lovely Rosy and her son Guillermo were, the happiness we felt to stay there and the effort that they went to in order for us to feel welcome, but you really need to check the place out yourself if you're in El Salvador!