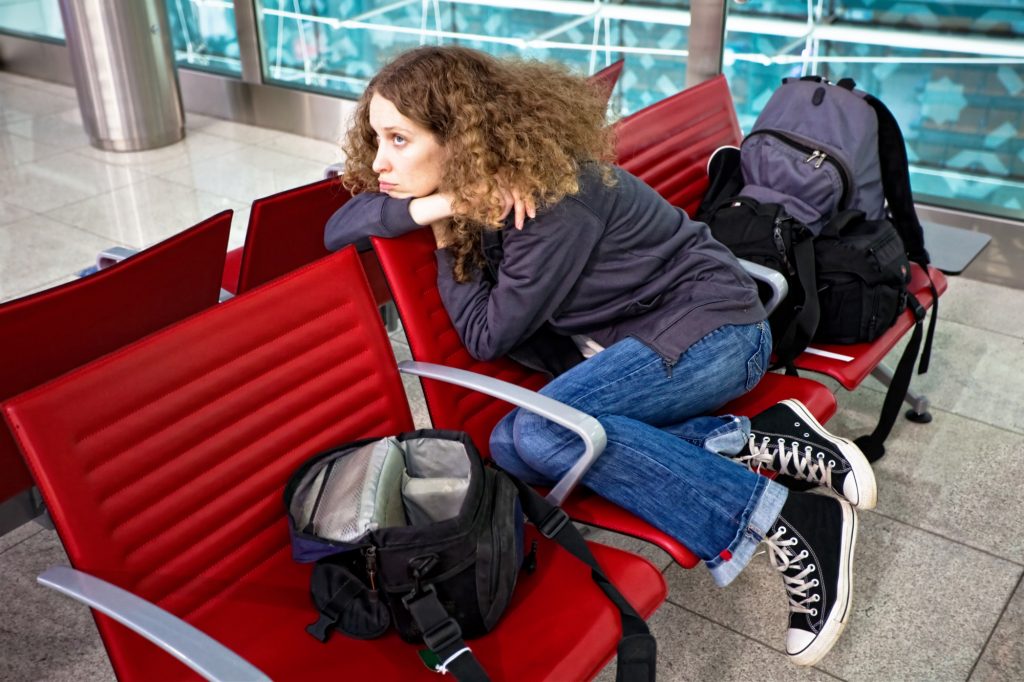 One of the worst things about flying anywhere is airport wait times. Who wants to be at an airport that early, only to get through security and wait around for two more hours? Or, worse, you get the airport with little time to spare to find that there's a massive line which could force you to miss your flight.
Airport wait times have increased a lot over the years. Do you remember a time when you DIDN'T have to take off your shoes at the airport?
While you have the lifestyle you want, where you can travel all over the world, you still have to manage your time well.
If you want to minimize your time standing in line, keep reading. These are the top tips you need to know (and put into practice) so you're not wasting time in line at the airport.
What Airport Are You Flying From?
One way to beat airport wait times is to take into account where you're flying from. A small regional airport like Albany will have less wait time than say flying out of LAX or JFK. If you want to know more about flying in and out of Albany Aiport, there's a guide that tells you what you need to know. Visit the site for more information.
With a smaller airport, you can get away with showing up an hour ahead of time and making your flight. At larger airports, wait times could be 30 minutes or they could be over three hours.
For example, at JFK Airport, the average time in security is 21 minutes. The longest wait time, however, was 232 minutes.
You also need to take into consideration the type of flight. For international flights, the TSA recommends getting to the airport three hours before your flight. For domestic flights, it's two hours.
Fly When No One Else Is Flying
Have you ever tried to fly anywhere a day or two before Thanksgiving? You'd know that you'd want to avoid flying at that time at all costs.
Airports turn into zoos and they're not frequent travelers, which could make airport wait times unbearable.
The way around this is to fly on less popular days. As a bonus, flying is a little less expensive on these days, too.
If you have flexibility in your schedule, fly on Tuesdays, Wednesdays, and Thursdays. Planes aren't as full, you'll get better deals, and airport security lines are shorter.
Global Entry & TSA PreCheck
Are you a frequent traveler? Do you travel internationally often? Maybe you want to live out Eat, Pray, Love.
You should definitely consider signing up for TSA PreCheck and Global Pass. TSA runs the PreCheck program, which gives you faster security lines at almost all U.S. airports. It costs $85 for a five-year period.
With Global Entry, that program is run by the U.S. Customs and Border Protection. It's $100 for five years that will give you faster processing upon your return from a trip abroad. Global Entry also includes TSA PreCheck, which makes it a better deal.
The application process is a little more involved, though. You do have to appear for an in-person interview at a Global Entry Enrollment Center, which is usually a major airport.
Pack Your Bag Right
How you pack your bags and keep everything organize can determine how fast you get through airport security.
The slickest travelers would have a carry on bag and a knapsack as a personal item. The knapsack would have all of their technology gear (laptops, iPads, phones, etc.).
The carry on would go through as is because there's no need to have to dig through for a laptop or iPad. By carrying a knapsack, you have easy access to the gear that you need to pull out. You can do it fast, place everything in the bins, and you're on you're way.
You'll also want to pack your passport and ID in a place that's secure and easily accessible. It also helps if you always use the same pockets for those things and your boarding pass if it's not on your phone.
Have a Printed Boarded Pass (Just in Case)
It's easy enough to have your boarding pass on your phone. To speed things along, you want to make sure that the app is open before you get to the front of the line.
There are days when you're traveling, and things are a bit too hectic and you don't have a chance to charge your phone. That's when you want to have something on paper to move through the lines quickly.
Dress Well
When you're traveling, you want to look good, especially if you're traveling for business. How you dress will help you speed up your time in security.
That doesn't mean you should show up in your pajamas. This isn't the line at Wal-Mart!
What it does mean is that you should wear pants that don't need a belt. If you insist on having a belt, put it in your carry on and make it easily accessible.
Your shoes will also help you get through the security lines faster. Your best bet is to wear shoes that you can easily slip on and off.
It's a bad idea to wear boots or something that takes several minutes to take off.
Know Security Lines Ahead of Time
Here's a neat trick. You can look up any airport, check the airport wait times, and pick the security line with the shortest security line.
There are a few ways to do that.
The first is directly through TSA. You can check on the TSA app. You can find out what the wait times are for any airport. You can also see how long the lines may be based on time, day, and historical data.
The TripIt app takes the TSA information one step further. It integrates that along with your itinerary, hotel reservations, and car rental information so you have everything in one place.
Airport Wait Times Don't Have to Be Long
The most dreaded thing about air travel is waiting at the airport.
You can't control what everyone in front of you does, but you can control how you pack your bags and how you prepare yourself to minimize airport wait times.
Looking for more awesome tips to get a better life? Check out this article and ask yourself if you're the type of person you'd like to meet.