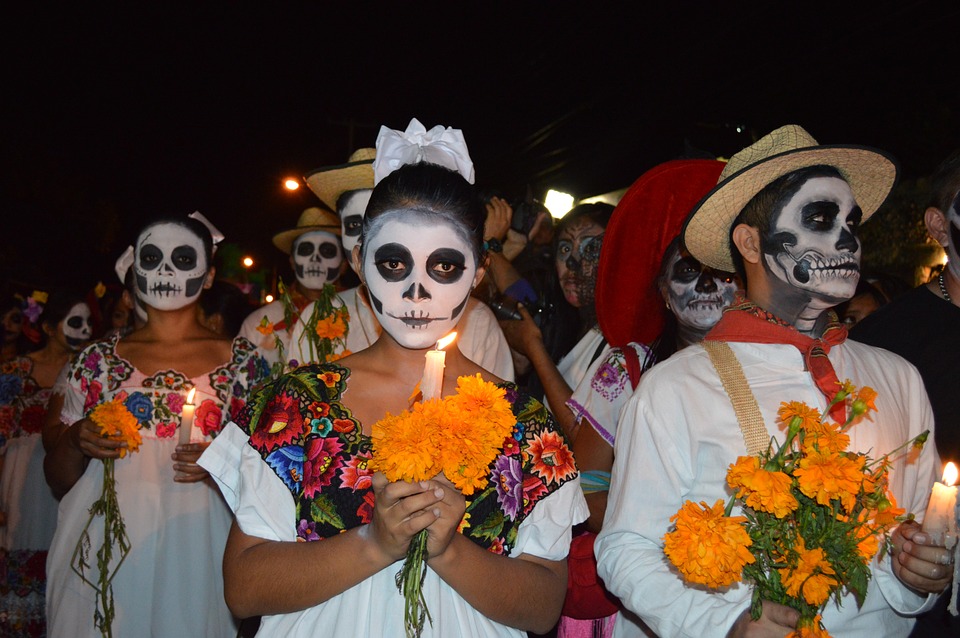 Día De Los Muertos, or Day of The Dead, is a festival that starts on October 31st in Latin American countries. It's a festival dedicated to remembering those who have passed on, and far from being morbid, it's often bright and colourful. Children are naturally drawn to the bright scenes from the festival, so why not celebrate it with them? Here are 9 ways you can celebrate Day of The Dead with your kids.
Make Tissue Paper Flowers: Homes are often decorated with Marigolds, which are said to attract the souls of the deceased. Make tissue paper flowers with your children, and decorate your home with them to make it a lot more colourful.
Draw and Colour in Calavera Skulls: The Calavera, or skull, is the most iconic image of the Day of The Dead. You can draw your own brightly decorated skulls and use them as decoration, or use a Day of The Dead colouring set from The Works to give you an outline to use.
Make Your Own Sugar Skulls: Sugar skulls are a popular treat during the festival, so you can make them yourself at home. They're very simple, all you need is a skull mould, sugar, and water. Once they're made you can decorate them however you like.
Make Shell Bracelets: The sound of shells clacking together is thought to wake the dead. Your children will love selecting shells to string together into their own bracelets. If you haven't been to the beach recently, you can pick up packs of shells online for a good price.
Create an Altar: Latin American families will create small altars, which they decorate with crosses, candles, flowers, and photos of family members who have passed on. You can do the same, and use it as an opportunity to tell your children about these loved ones.
Bake A Cake: Skull imagery is found on everything during Day of The Dead, even on cakes. Bake a cake with your children, and use a stencil to shake powdered sugar onto the top to make a skull image.
Create Day of The Dead Lanterns: This is a cheap and fun activity that your kids will love. Use Sharpies to draw skulls onto white plastic cups, and then use an LED tea light under them to light them up. Place them in the window for a pretty decoration.
Paint Rocks: Combine the current rock painting craze with Day of The Dead for this fun craft. Paint fun skulls onto rocks, and place them back into the wild for others to find.
Make Papel Picado Banners: 'Papel picardo' means 'punched or perforated paper'. It's a fun way to create banners to decorate your home. Try creating patterns using a skull shape and tissue paper.
These 9 activities will show your kids what Day of The Dead is all about, as well as helping you spend time together creating wonderful crafts.