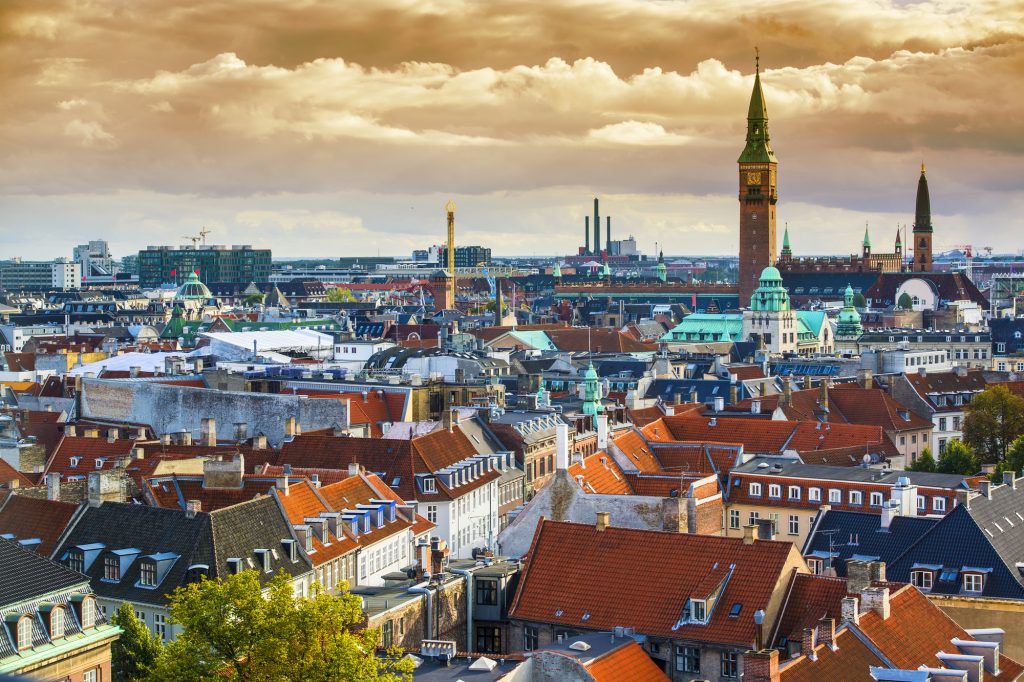 When you travel, you don't want to sit in the hotel room the entire time, right? Of course not! Here are 9 exciting things to do when you travel to Copenhagen. Trust us, you won't want to miss these activities!
Copenhagen should be on everyone's Euro trip itinerary. Full of beauty and history, this Denmark city is often overlooked, but we're going to give you ten reasons to put Copenhagen on your bucket list.
From gardens to museums to amusement parks, I have your ultimate guide to what to do when you travel to Copenhagen.
Tivoli Gardens
One of the most famous attractions in Copenhagen is Tivoli Gardens, which is one of the oldest theme parks in the world.
Even if you aren't a fan of the numerous exciting rides, Tivoli Gardens is worth visiting for its rich history and beautiful gardens and water fountains. It's an essential spot for Instagram worthy photos from your Copenhagen adventures.
Go On a Bike Tour
Copenhagen is one of the world's most bike-friendly cities and was one of the first cities to install the public bike rental stations that are now commonplace in most major cities.
With flat streets and wide bike lanes, riding through the city on a bicycle is the best (and cheapest!) way to experience Copenhagen in all its glory.
Some of the newest bikes available to rent even include built-in tablets with GPS, so you'll never get lost roaming the streets of Copenhagen.
Check Out the Little Mermaid Statue
The Little Mermaid is by far one of Copenhagen's biggest tourist attractions, and it would be a shame to go all the way there and not at least check it out.
The statue is inspired by the fairy tale by Hans Christian Anderson (not the Disney movie) and has been around since 1913.
If you want to learn more about The Little Mermaid and Hans Christian Anderson's other tales, The Hans Christian Anderson Fairy Tale House is located in Copenhagen as well.
Explore Nyhaven
Nyhaven is one of Copenhagen's most famous streets, and arguably one of the most recognized destinations in the entire country of Denmark.
Its colorful houses are not only beautiful but packed with important historical significance. Hans Christian Anderson lived in several of the apartments on the street for over 20 years, and penned some of his most famous novels while living there.
You can grab a beer and watch the boats float past, or get food at one of the many restaurants that pack the area. Nyhaven also is home to the world's oldest tattoo parlor, if you're in the mood for a permanent souvenir from your time in Copenhagen.
Take a Bike Ride to Refshaleoen
Once an industrial island connected to Copenhagen, Refshaleoen has undergone a plethora of changes and is now a must visit extension of the city itself, complete with bars, cafes, and a lot of activities.
Only a 15-minute bike from the city center, Refshale?en feels like a whole new world. One of the most buzzed-about places is La Banchina, where locals and tourists alike can grab incredible cocktails while sunbathing on the deck, and even jumping into the surprisingly clean water if the mood strikes.
Baghaven is another must-visit part of Refshaleoen, where you can drink world-renowned beer in an industrial setting, complete with unbeatable views of the city center over the harbor.
Refshaleoen is also a hub for a variety of exciting activities, including rock climbing, bungee jumping, and paintball. If you need to relax after taking these all in, there are spas and pool bars that dot the industrial landscape.
Visit the National Museum of Denmark (Nationalmuseet)
Copenhagen, and Denmark as an entire country, is rich with history. There are plenty of museums to explore, but Copenhagen's National Museum of Denmark (Nationalmuseet) is one of the ones not to be missed.
It's easy to get lost in the museum, with artifacts and artwork from all over the world. The most well-known exhibit at Nationalmuseet is the Trundholm Sun Chariot, a bronze statue that dates back to 1400 BC.
Tour the Christiansborg Palace
Christiansborg Palace is home to the Danish Parliament, Denmark's Supreme Court, and the Prime Minister's office.
It's also home to the Christiansborg Slot Tower, which is the highest point in the city. You can go up to the top for free to take in the views or book ahead for a table at  a restaurant in the tower helmed by restaurateur Rasmus Bo Bojesen.
Right next door is the Chrstiansborg Kirke, which is the Danish Royal Family's church. It's a beautifully historic building with an adjoining Royal Riding Ring where you may be able to spot the Queen's horses out for a stroll.
Take a Stroll in the King's Gardens
The King's Gardens are the beautiful grounds surrounding Rosenborg Castle. The castle was built as a summer home for royalty back in the 1600s but is now a museum rich with history.
The gardens feature beautiful flowers and a quite a few sculptures and is a great place to lay out and read or enjoy a picnic.
Inside, the castle features historic tapestries and Venetian glass, amongst other historical artifacts. You can even tour the chambers of King Christian IV, who built the palace and often wrote his correspondences in that very room during the Thirty Years' War.
Explore Freetown Christiana
Freetown Christiana is one of the most interesting neighborhoods of Copenhagen. Formerly a military barracks, Christiana was established by hippies in 1971 when they took over some of the abandoned buildings on the barracks and established their own society.
After 40 years of clashes with the government, an agreement was reached in 2011 that established Foundation Freetown Christiana and allowed the commune to remain free while establishing enough rules and agreements with the government to keep everyone happy.
Once inside, you're not encouraged to take photos or videos because of hash use, which is still illegal in Denmark. You'll find local shops, cafes, and venues, all run without the idea of turning a profit.
Ready to Travel to Copenhagen?
If you're ready to travel to Copenhagen, it's as easy as buying a flight and finding a place like this hotel to rest at night.
If Copenhagen isn't right for you, we have plenty of other guides for places to travel. From dangerous roads in Bolivia to luxury cruises, we have information for every kind of adventure.