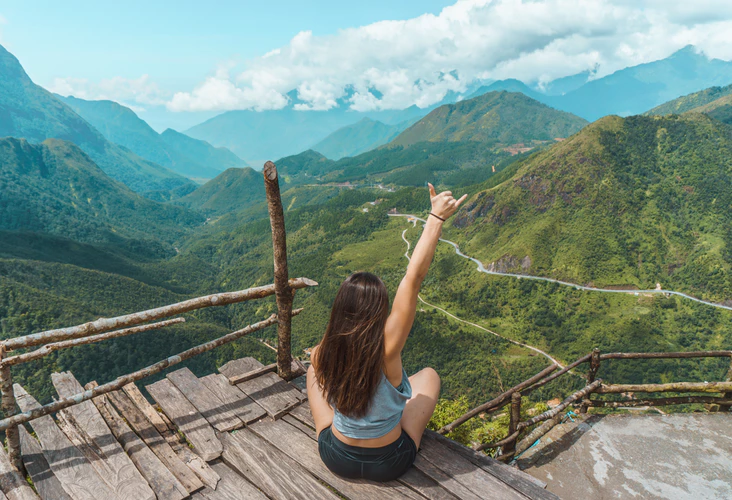 There's nothing quite like the feeling of adrenaline pumping through the veins brought about by adventure traveling. Not everyone is into it, because it is out of their comfort zone, and for thrill seekers, it's hard to resist. If it sounds like you're one of those wide-eyed wanderers and you're on a quest to look for new places to get your thrill on, then read on.
Whether you're into extreme sports of any kind, like parasailing, rock climbing, and trekking wild jungles, you can get a few ideas from this list. Or if you're one of those people who like to explore isolated natural bodies of water or catch the most gigantic waves you can find, there's something for you here too.
If you like to do a bit of both and you also want to interact with civilization once in a while for parties or for a pint of beer, then take a look what has been prepared for you below. Here are some of the places you should definitely check out.
Utah
If you want to start with something more local and if you haven't heard of this yet, Utah is a haven for people into mountain biking. There is this particular city called Moab, which has a lot of red rock formations that are both historical and a sight to behold. You can do off-road tours, or if you're experienced, do it on your own.
There are plenty of places to see like mountains, national parks, hiking trails, and roads specifically for just biking. If you're into dirt, you can do white-water rafting in the Colorado River too. If you want to dig into the city's history, there are a lot of museums and even archeological dig sites that you can visit.
France
While it's true that each country has its own unique beauty to offer, France easily stands out as a top contender for having the most fascinating places on the planet. From the most historically-rich cities the world has ever seen to the delightfully blissful landscapes that grace its countryside, touring France is akin to a dream.
France may be most popular for its cultural finesse and unmatched arsenal of historical art, but it's also a frequented destination for sports enthusiasts. Football, rugby, and basketball are famous in the whole French region and once a year, the whole world turn their heads to France as it hosts most prestigious event in cycling history – the Tour de France. It's a well-followed event and the sport itself is also enjoyed by a lot of the locals.
If you seek adventure and want to witness first-hand the unique beauty that France has to offer, cycling is worth a try. France is very generous for people who like to keep their urban or rural adventures personal. In Paris, for example, they offer a bike service (hosted by Vélib) that allows you to tour the whole city on two wheels for around €10 for a seven-day pass.
If you're a serious cycling hobbyist or trainer, however, France's cycling routes offer the perfect opportunity to test your performance and upgrade your training to the next level. So don't forget to gear up. Install a reliable power meter to gauge your power and quantify your output. And of course, take time to appreciate the raw charm of rural France.
Costa Rica
If you've never been to Central America, then Costa Rica is a good country to start. It is a place that is so naturally rich in natural resources and known for its lush jungles, white-sand beaches, and even volcanoes. Adventure traveling doesn't mean you have to do extreme sports, and if you're not into that, you can try something milder like ziplining and horseback riding.
There is so much that Costa Rica has to offer, and depending on what you want to do, you will find something that caters to your taste. Like any other human being, you have to remember that there are protected parts of the country where endangered animals live. If you're going to one of these trips, or any trip for that matter, remember to leave no trace and take only memories.
Morocco
Morocco is a little country in north Africa, and it is known for its warm people and vast stretches of deserts and mountain ranges. If you don't like warm places, you should consider visiting this place since the country has a lot to offer and there are many adventurous opportunities that you may come to like. It is recommended to spend more than a weekend in Morocco if you are interested to explore its unusual attractions.
For starters, there's the usual desert and oases that you can visit. Take time to explore ancient desert fortresses, riads, and their culinary offerings. You can try surfing the coast or even go sand-boarding if you're afraid of the water. As Morocco has a lot of interesting terrains, you can do a lot, including camel riding, mountain biking, canyoneering, trekking, and even cross-country skiing in the Atlas Mountains.
Canada
Neighboring Canada has quite a long list of things that adventure-travel lovers will love. It doesn't matter if you're a beginner or someone who has been a seasoned thrill chaser, because you can find something that you like whether within the city or at the edges of the country.
It is important to remember that Canada is especially geared toward nature lovers because a lot of adventurous ventures involve its natural resources. Whether you want to try these activities day or night, you may benefit from getting a LED safety belt if you're going trekking, hiking, or even climbing mountains to keep you safe. The reflective properties of the belt will make it easier for others to spot you and your teammates for better vision at night or during bad weather.
As a country located further up north, Canada has skiing opportunities for those who love to tackle the slopes. If not, there's snowboarding too. There are some opportunities where visitors can observe beluga whales and polar bears to their heart's content. There are tours with professional tour staff who make sure that guests are safe at all times. For adrenaline junkies who want to try the thrill of the skies, you can go skydiving, but remember that it may only be available during the warmer season.
If you are curious if the city center has something to offer, Canada is also for you. A famous extreme urban adventure is walking at the edge of Toronto's CN Tower. It's definitely not for the fainthearted as it is reported to be more than 350 meters above the ground!
Netherlands
If you want to enjoy idyllic views and also want to do thrilling activities, Netherlands is a good option. The country is filled to the brim with stunning natural beauty such that, everywhere you go, there is a sight you will treasure for ages. You can definitely enjoy biking every day since normal citizens use it as their main transport for when they need to go around.
There are a lot of historical places to explore and walking tours available everywhere. You can take canal cruises or a guided canoe adventure if you want to switch it up. The people are so amiable that you can easily make friends with whom you can have beer.
Take Adventure Everywhere with You
Adventures don't happen unless you take it upon yourself to go out. You can go to the most adventurous place on earth, and nothing will happen if you don't take the plunge and try things that are out of your comfort zone. It's nice to have adventures, but safety should always be a priority. Never overlook safety precautions, and listen to guides always.
What are your top favorite countries that you specifically visit to try out the adventures they offer? List them up in the comments.