As much as an all-white kitchen is a dream for many homeowners, interior painting companies are seeing a rise in homeowners who want more color for their kitchens especially on their cabinets. While a white kitchen is still popular, it's just simply hard to maintain especially when there are kids around. Potential home buyers are also looking out for kitchens with color and are especially loving contrasting cabinet colors.
Adding color to a kitchen can be tricky because it has a lot of mixed materials and finishes so you want something that won't clash with the other existing decor and this includes the color of your kitchen cabinets.
If you're looking for ways to add more splashes of color to your kitchen cabinets, here are 5 tips to help you decide on a color palette.
1. Consider the Size of Your Kitchen
A good tip for choosing color is looking at the size of a room and how well lit it is. In this case, look at your kitchen: Is it small? Is it bright and well lit enough or does it lack windows? Smaller and darker kitchens can benefit from lighter colored cabinets to make your kitchen look and feel light and airy. Darker cabinets are better reserved for bigger and well-lit kitchens getting plenty of natural light.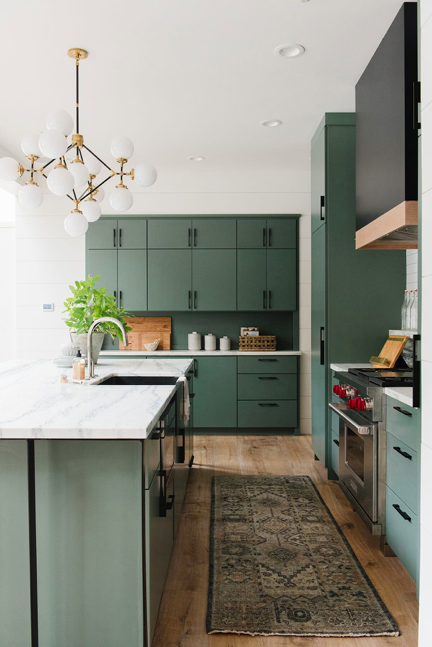 (Image Source via: Studio McGee)
2. Create Contrast
In Zillow's 2018 Color Analysis, tuxedo kitchens or kitchens with different colored upper and lower cabinets sold for $1,547, proof of how appealing contrasting kitchen colors can be. Choose a darker color to make the lower cabinets while leaving the upper cabinets in a lighter color so that it doesn't feel heavy and too over-the-top.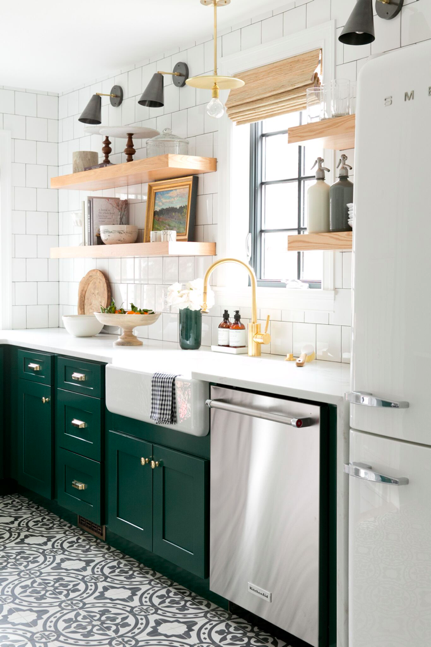 (Image Source via: Studio McGee)
You can also use three complementary colors to further even out the color distribution. Having white walls is a good starting point because it makes it easier to pick out two more complementary colors. Another idea is to paint the upper cabinets one color, the backsplash another color and the lower cabinets the third color.
3. Find Color Inspiration From The Style of The Cabinets
If your cabinet design is more intricate with antique hardware, you might want to honor its roots by painting it in simpler traditional colors. Traditional kitchens do well on its own in stained wood finishes but it also looks classic with earth tones and creamy whites with a tint of yellow as well as pale pastels or subdued colors. If you have glass front cabinets, you can also paint the interior of the cabinet to subtly insert color while still keeping the traditional look of stained wood cabinets.
Modern flush or paneled kitchen cabinets does well with brighter colors and the simplicity of the design allows it to mix well with experimental and bolder colors like navy blue, hunter green or even black.    
4. Look At Your Existing Material
The kitchen is one of those rooms in the house with the most number of mixed materials. Looking for a color to complement or pull through all those materials and finishes can give your kitchen a cohesive look. Look to your flooring, your countertop and your backsplash. Even your cabinet hardware should give you an idea of what colors to use for your cabinet. Copper and bronze hardware shine look elegant against a darker backdrop.
Likewise, look at the texture of your wood cabinets. Perhaps, you want to show off a distressed and rustic look or hide cracks and bumps. Either way, light paint colors will bring out imperfections while dark colors will recede and hide those pesky flaws.
5. Create Different Shades From a Single Hue
If choosing different colors are too much, stick to a monochromatic color scheme. Pick a color that you like, this could be a color that already exists in your kitchen. For example your kitchen walls are white and your backsplash has gray decorative tiles, stick to gray cabinets to maintain the color scheme. The variations in shade even if it's just from a single color, create visual interest and avoid a boring look.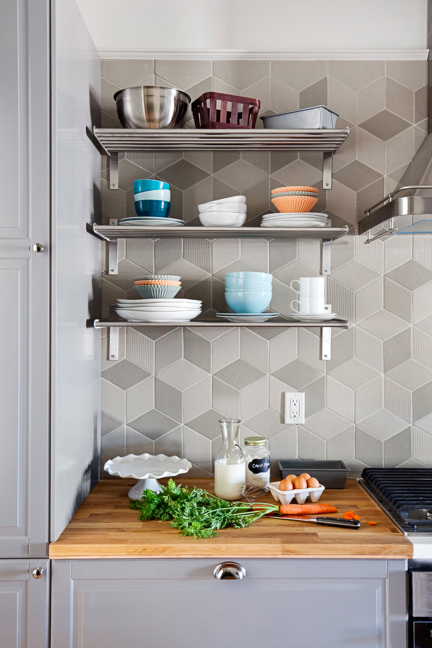 (Image Source via: Pixy Interiors)
You need to check whether you need to replace some parts or get entirely new kitchen cabinets before repainting it. Like interior painting, changing kitchen cabinet colors and swapping out hardware is an easy way of upgrading the look and feel of your kitchen. After all, your cabinets deserve color too.