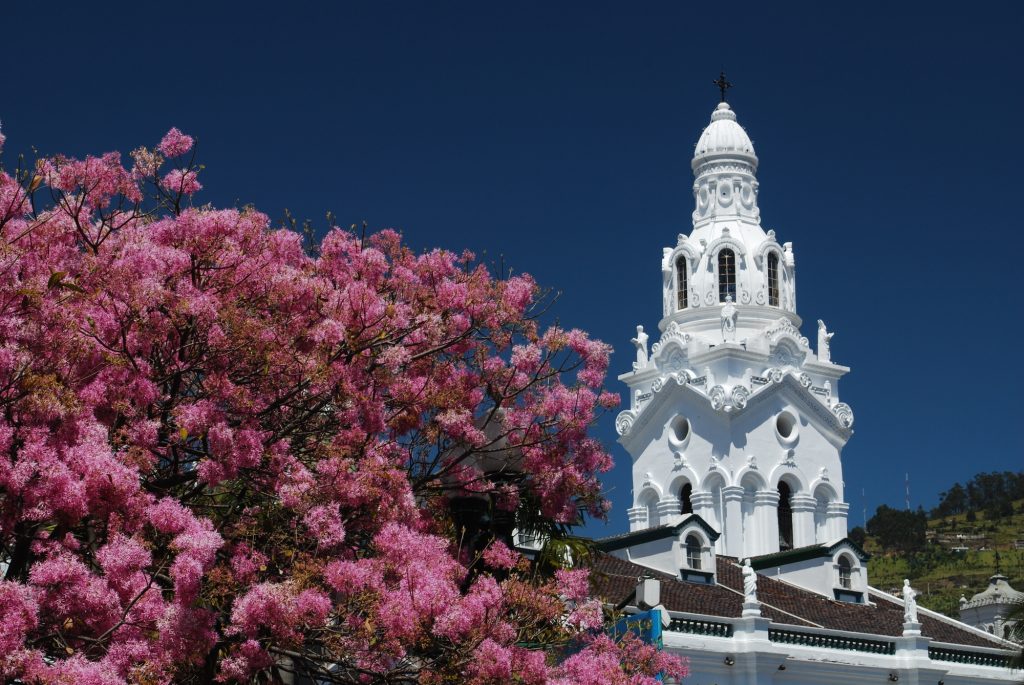 When you're planning a trip to Equador, you have to check out these must-see attractions in Quito! You won't be sorry!
Quito is not only the capital of Ecuador, but it is the highest capital in the world (elevation-wise) and the closest capital to the equator.
While it has a lot claims to fame for geographical benchmarks, it's also a tourist attraction for its well-preserved historical sites.
If you're tired of living a boring life and have considered taking a trip to Ecuador in the near future, then you've certainly considered visiting its capital, Quito.
There are many attractions in Quito, though, and if you want to know which ones you can't miss out on, we've put together this helpful list of the five must-sees.
1. Bask in Central Park
Just like New York's Central Park, Quito's Central Park is part artisan hub, active playground, and leisurely alcove.
The natural playground features shopping for many local craft makers. It also daytimes as a spot for a quick game of volleyball, a nature-inspired Instagram photo shoot, or a quiet getaway for a nice audiobook.
Central Park really is a hub for many things, so you won't be wanting for activities or getaways in this location.
2. Stroll Through Quito's Old Town
If you're one for history, architecture, and sight-seeing, don't miss out on Quito's Old Town.
While the northern sector of Quito is considered the newer, updated version, the southern part is the older, more preserved section.
Spanish architecture adorns Old Town and there are plenty of museums, art galleries, and historical sites to see in this area.
If you want to see where the political heart of Ecuador ticks, this is where you'll find the presidential building, too.
3. Party at La Ronda
La Ronda is Quito's Bohemian quarter where nightlife abounds. It's one of the best things to do in Quito if partying is your thrill of choice.
If it's a Friday night (or pretty much any time on the weekend), then you'll want to check out the live music and merry droves of tourists and locals alike.
Even if you're aiming for a less-active night on the town, La Ronda is still filled with mom-and-pop shops, artisan stands, and a whole host of cultural events.
4. Visit the Virgin of El Panecillo
When looking for Quito tourist attractions, you may be more inclined to find historical sites.
If that's the case, the statue of the Virgin of El Panecillo is a great day trip to embark on.
"El Panecillo" is a 200-meter-high hill, formerly a volcano, featuring a 45-meter-tall statue of the Madonna.
Artistically speaking, this is a very important landmark to visit for its unique representation of the Madonna in motion. This was largely unheard of in the 18th century.
5. Find Yourself in the Middle of the World
If the fact that Quito, Ecuador, lands firmly around the equator interests you, then be sure to check out the Mitad del Mondo Monument.
This attraction is a landmark that firmly marks where the equator runs through the country.
There is a famous line painted on the ground where you can stand and officially have one foot in one hemisphere and one in another.
If you're looking for a hotel in Quito, many establishments will recognize the Mitad del Mondo Monument as a must-see attraction. They'll likely have directions and information for you to follow in order to find it.
Your Home Base for Attractions in Quito
With so many historic and exciting attractions in Quito, it may be difficult to decide which ones to visit first or which ones are right for you.
Hopefully, this guide gave you some landmarks to consider visiting. If you're curious about what other places you can visit or ways you can expand your horizons, be sure to check out some more of our travel blogs!