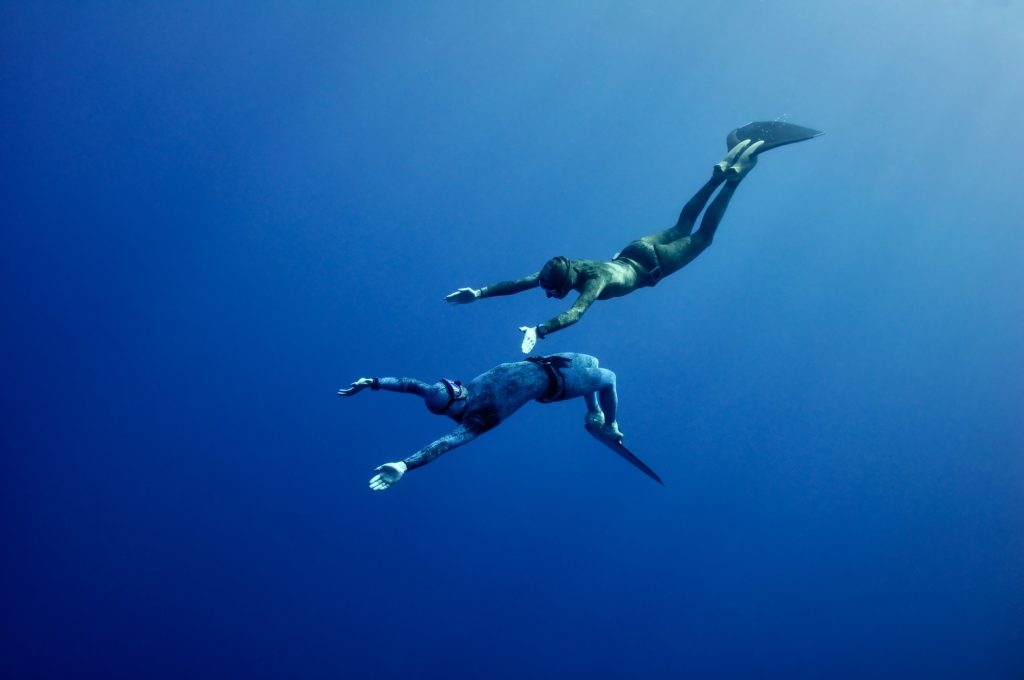 Are you looking for a great place to go free diving? If so, read on to learn about the five best places in the world to freedive that will leave you awestruck.
Feeling bored of your city? Well, you're not alone. Many people dare to dream of escape, but rarely take the leap of faith to get there.
That's why I want to encourage you to freedive into your next adventure! After traveling the world, I've learned about some of the best places on the planet. Grab your fins because I'm going to let you in on that secret
Here's a top five list of the best places to freedive in the world!
1. Freedive in the Red Sea
Located in Egypt, the Red Sea is a gorgeous freedive into an exotic land. Temperatures range between high 60's to low 70's [Fahrenheit] year-round. The weather's also great year-round.
You'll find yourself in paradise in this quiet, deserted escape! While this location is breathtaking, there are politics involved. It's best to read up before traveling there to be best prepared.
2. Baa Atoll
Baa Atoll in the Maldives offers an interesting combo. Surrounded by crystal blue water, you're bound to find priceless pictures. There's a rich pool of bright-colored fish. And, you can enjoy mysterious shipwrecks!
This is a trip you'll definitely want to bring a waterproof go-pro for! The water temperatures tend to stay around a highest of low eighties [Fahrenheit]. You never have to worry about what time of year to travel!
3. Amed Along Eastern Bali Coastline
Known as a yoga hot-spot, Amed offers many tourists courses on free diving. You can take classes to get more familiar with the sport or to pick up more tricks and techniques.
It's also a great way to get in contact with people and make some local friends! You can gather up a group of people and take an oceanic trip throughout Indonesia. There is plenty of nature to explore.
4. Punta Si Fetovaia, Elba
Found in Italy, this is a free dive that promises vibrant colors! At only 20 meters deep, you start to see the faint outlines of colorful gorgonians. They've made their home along the seabed.
There is also a cave with wild sea life. You'll get to swim alongside lobsters and giant amberjacks! Water temperatures are perfect from May through September. They range between mid-60's to high 70's [Fahrenheit].
5. Dean's Blue Hole
A 663-foot abyss, this is world's deepest blue hole. This saltwater hole is begging for freedivers to challenge themselves.
How about you? Would you try the deepest free dive available?
Breathing training would have to be a priority before traveling to this location. Get the most out of your trip, and work up to holding your breath for a series of minutes.
Getting out and Finding Fun!
Safety is key!
Always freedive with a friend or in a supervised public place. The goal is to have help nearby in case anything goes wrong. Although, if you follow precautions and do a little research beforehand, you'll be fine.
Also, prepare yourself with the right equipment. Freediving fins are great accessories to bring with you. You never know, you may be the next one to break the free dive record!
Don't Forget Your Freedive Friend
Let me tag along with you on your freedive journey! If you ever stumble on what to try next, found my travel blog. I work to put out some of the best finds, and insider travel tips to make your trips awesome.
Traveling is the greatest way to learn more about the world and yourself. Don't hold back, get out there for adventure awaits!