You love to travel, and you one day find yourself in the beautiful Livingston, New Jersey, area. Unfortunately, your online business doesn't take time off. You need to stay in touch with your business, and you need a home base to work from while taking advantage of all the beauty and outdoor activities.
You may want your away-from-home base in economy accommodations, moderate, or a luxurious room. All are conveniently available with Wi-Fi connections to keep you in touch so that you don't miss any business opportunities. Additional amenities are available at Livingston hotels, but how about some outdoor fun?
All work and no play isn't any more acceptable on the road than it is at home. Livingston is an attractive area for multiple outdoor activities:  going to beaches and a zoo, hiking, cycling, or scuba diving.
Going to Beaches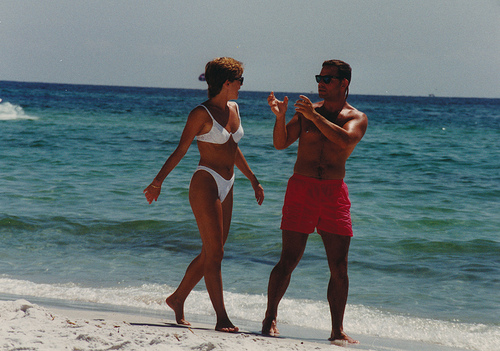 Image via Flickr via HotlantaVoyeur
You can access many beaches, but the best-known one is Wildwood. Wildwood is an open beach and boardwalk. You'll find amusement attractions, water parks, and no beach fees.
Exploring the Turtle Back Zoo 
The Turtle Back Zoo in West Orange, Essex County, has extended exhibitions that include the African Savanna, Sea Turtle Recovery, a touch tank, Wolf Woods, Amazing Asia, an aviary, and more.
An unexpected thrill next door to the zoo is the TreeTop Adventure Course. TreeTop is an aerial obstacle course with adult courses soaring 35 feet in the air and junior courses at 10 feet. The zip line measures over a football field in length and stands approximately 40 feet.
Hiking Along Trails
One of the most interesting hikes in Livingston is South Mountain Reservation – Hemlock Falls. You'll find an overview map at the start of the trail, but the down and dirty insider tip is that the slightly rocky trail is 6 miles long and moderate in difficulty. One section of the trail along the Rahway River will surprise you with a secret village of fanciful fairy houses all made from natural materials.
Other popular hikes in Livingston include Mount Tammany – Delaware Water Gap. This steep 3.5-mile uphill climb takes you to an overlook of the Delaware Water Gap that offers you inspiring views of Mount Minsi.
Cycling Discoveries
You can discover convenient locations where you can rent a bike and enjoy any of the 300 cycling trails that are easy, challenging, and "you'd better be an expert" type. What about bad weather? Check out CYCLEBAR for indoor high-tech biking.
Scuba Diving
Did you ever think about scuba diving? Your online business is running smoothly, and you can check in with work at any time, but you can also take some scuba diving lessons or short excursions. At Underwater Adventures, you can take classes, dive in advanced open water, night dive, and pursue digital underwater photography.
Outdoor Activities Abound
The great part about today's business world is that most activity can be mobile. You can take your business anywhere you go in town or on the road. In the great outdoors of Livingston, New Jersey, you can have a dose of sunshine and never leave your desk … that is, your Wi-Fi connection.