For many people, it is not until they get the chance to go traveling that they can experience some of life's greatest wonders. While lots of this alludes to stunning views and once in a lifetime meet-ups, most of it comes down to the activities you fill your days (and nights) with. Any trip is not complete without pushing yourself to do something you never dreamed you would, where you can make some of the best memories to take away with you. If you are struggling with ideas on what to do, there is a wide range of activities which you can enjoy in numerous locations, such as Southeast Asia and South America. To give you some inspiration, or to add some more fun to your bucket list, it is wise to take note of these ideas.
Hiking
Hiking has long been a key component to any travel trip, mainly due to such expeditions taking place over immense natural areas. Yet, some hikes will keep your feet free from blisters and your heart at a steady level, while there are some more daring routes you can participate in. Such routes include those which take you up into the clouds, where you can spot mountain vistas unlike those on the ground. Popular destinations for extreme hiking include the historical site of Machu Pichu and the iconic Mount Fuji in Japan.
Jungle trekking
Hiking is always a safe choice, but if you are looking for a true taste of the natural world anywhere you go, it's a good idea to make the most of the dense jungle land which runs over many landscapes. Not only does jungle trekking give you the chance to see diverse ecosystems and rare wildlife, but you can set up camp in the middle of the trees to have an experience unrivalled by anything else. When you go, you should remember to respect the wildlife you come across and to stay safe by protecting yourself with bug spray and keeping your valuables close to you. Some of the best destinations are Costa Rica and the Australian rainforests.
Mountain climbing
Rarely can you explore the snowy peaks of mountain ranges across the world without resorting to climbing; though it can seem daunting to swap your hiking boots for ropes and pegs, it can be an exhilarating time for any explorer. Make this activity even more daring by venturing to the glacial peaks of the North Cascades in Washington state, where you will find yourself climbing amid a sloping white landscape, where great views are not rare.
Mountain Biking
Often, hiking and climbing are not enough to give the most experienced of explorer a feeling of anticipation. This is where mountain biking steps in to present a new way to explore hidden landscapes. In fact, there are some roads across the world where you can wind your way down from peaks of mountains, before finding yourself pushing through dense forests. The key to ensuring this activity is a success is to have your mountain bike checked thoroughly before you use it, so you are less likely to encounter any dangers along the way. Although biking down rugged land may also seem like a good idea, you can enjoy a safer, and equally as enjoyable ride if you follow designated routes.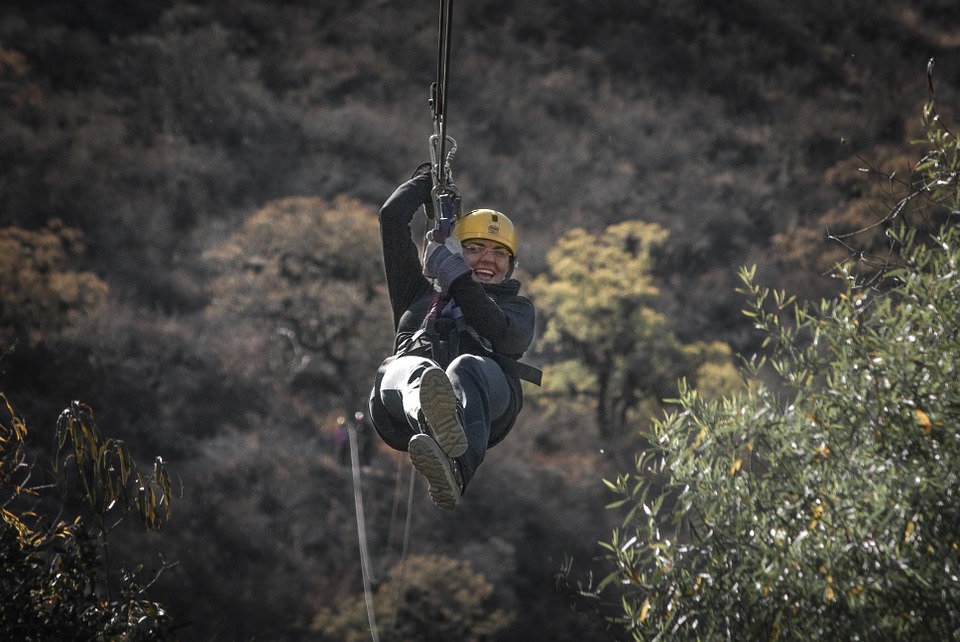 Zip-lining
While many adventurers like to explore new countries from the ground, others prefer to see it from above. Short helicopter rides are a great way of doing this but can cost a lot when you sometimes might not be able to see so far below you. One of the best alternatives is going zip-lining, where you can start your journey at the top of mountain peaks, before gradually coming closer to the land below. What makes this activity so loved is that you can enjoy it in countless locations, where it rarely matters which country you are in. this means you can tailor it to suit every place you go to, giving you a whole new memory each time.
Paragliding
It is not jus zip-lining that can be enjoyed in a number of locations, as you may recall seeing people paragliding above the sea if you are one to enjoy beachside travels. Reminiscent of the opening scenes of Jurassic Park, paragliding calls to the adventurous spirits in everyone, and you can gain some incredible views of both the land and the sea. Even if you fear heights, you can relax and let go when you are in the safe hands of seasoned professionals.
Watersports
Water sports take up a huge range of activities, which almost everyone can find a home in when they start to explore their options. From jet-skiing to surfing, water-based activities are best indulged in the American wilderness, where the Great Lakes and its hundreds of miles of beaches are the ideal place to start. Most of these activities require a working boat to pull skiers along or to make your own way into the blue, so you need to consider staying safe throughout your fun. Reliable acme propellers, a working battery, and lifeboats on board will all help you make the most of your time in the safest way.
Snorkelling
For many countries, much of its wonder lies deep inland, or along stretches of white, sandy beaches. Yet, for others, you can find a whole new world lying underneath the surface of the nearby oceans. The best way to explore this world is to learn how to scuba dive, where you can go on deep dives that give you a true glimpse into marine civilisations. Unfortunately, scuba diving usually requires you to obtain a qualification before you can begin, which can be possible for some people, but not for others. This is where snorkelling steps in. You only need a mask, a breathing tube, and a wetsuit to enjoy it at its best. In the clear seas of Thailand's Phi Phi Islands, the Greek paradise of Kefalonia, and the warm waters around the Hawaiian Islands are widely considered to be the most beautiful places to start snorkelling.
Skiing
Finding your adventurous streak in warm weather can be easy, where both the land and sea are great places for you to get your heart racing. However, that doesn't mean a white winter landscape can't be as welcoming. In fact, skiing remains one of the most popular winter pastimes for the general population, where you can start with basic skills to go on to become a backcountry skier. It can take a lot of time and money to get to that stage, and you must always be wary for your safety on the slopes, but once you learn, you can experience the rush that many skiers speak of once they find their passion in it. Start your ski journeys in the French Alpes, before flying over to the slopes of Aspen and Vail in Colorado for backcountry routes and scenic views. If you are concerned about skiing, you can always put your skills to snowboarding, where the same scenery awaits.
Sandboarding
If you are wary about the cold, and slipping on icy routes, you can still experience the same heart-thumping thrills that come with gliding down mountain slopes. In fact, in recent years sandboarding has become a great option for travellers who are making their way around Peru. Here, wide orange plains of sand are decorated with high sand dunes, which makes for the perfect place to start sandboarding. Even better, you can try your hand at this activity with little to no experience, to begin with, as the sand can carry you down to the bottom of the slopes with ease. The trick here is to make sure you are slathered in sunscreen throughout the day, as the hot sun will damage your skin if you are not careful.
Safari experiences
If the idea of sandy plains and desert landscape welcomes you, then safari experiences will excite you even more. Safaris in both Australia and across Africa are known for their diversity, where you get the chance to come close to nature in ways you have never been before. In Africa, you can find the Big Five as they live in their protected habitats, and in the Australian Bush, you can catch sight of natural wonders like Uluru as you drive through the landscape. Make the most of the glorious sights and plan the trip of a lifetime.
Caving
Over the years, people have started to discover that there is much of the world that remains hidden beneath the surface, where years of ancient history and natural hidden gems await. As a result, caving has resurfaced as a popular pastime, where you can journey deep into the earth to see sparkling limestone rocks, stalactites and stalagmites, and sometimes even lava tubes. Some specialized locations in Mexico offer the chance to visit underwater caves during snorkeling expeditions, where you can combine two of the most amazing experiences to create an impossibly better one.