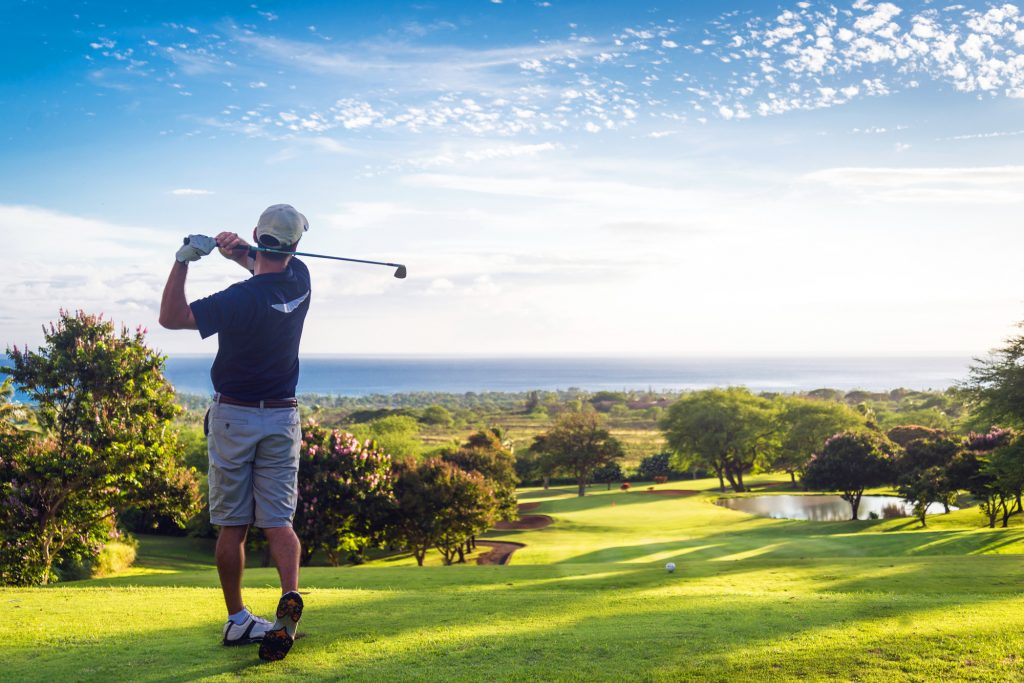 If you are an avid golfer, why not consider a golf vacation? You can combine a golf vacation with a relaxing trip or even sightseeing, as there are many different areas of the world with great golfing.
You like golf. If you didn't, you wouldn't have clicked on this article.
However, chances are if you clicked on this article, one of two things are also true.
You're either currently planning a trip and need advice, or you really want to and are fantasizing about it by reading articles about a golf vacation.
If you're the first kind of person, good for you! You're one step closer to an amazing adventure with friends (or by yourself).
If you're the second, you need to stop and think, or better yet, stop thinking. Wanting something to happen won't make it so. It's up to you to make your vacation dreams into a reality.
Read our top 10 tips to get started!
1. Don't Fear Travel
Golf trips (and many other trips) often never happen because we're too afraid to take them. Sure, we all have dream trips in our heads. We've even planned to plan them, but pulling the trigger is always the hardest part.
Your first golf trip doesn't have to be that "once in a lifetime" trip either. Start small and plan a weekend trip a few hours away or even a state over. The more golfing vacations you take, the easier it will get.
2. Know Where to Go
Great! You've decided to start planning a golfing trip. The sky's the limit!
What's next?
Well, first you need to decide is where you want to go. The most popular and up-and-coming places to golf are in Scotland, Ireland, England, Wales, South Africa, New Zealand and Australia. There are also beautiful spots in Florida and Alabama that offer world-renowned courses.
Chances are, you already have a few bucket list greens, but there are a few things to consider before hopping heading off to Myrtle Beach.
First of all, who all is going on your trip? Are you putting together a group? If so, what's the general skill level of the group? What are their price ranges?
Hidden Links is a perfect option for those looking to explore a new country, with its main locations in Ireland, Scotland, and Wales.
3. Look for Discounts
It goes without saying, but the number one tip for travelers, no matter where you're going, is to look for deals. A lot of resorts offer different packages and discount throughout the year, and special rates and perks are even offered to return guests.
Also, be on the lookout for "shoulder seasons". These are dates that aren't technically during peak season, but close enough to provide similar weather. Having to bring a light jacket will be well worth the money saved.
(Don't confuse discounts for being cheap. Getting an off-season deal on rooms at a resort is much very different from booking at a cockroach infested Motel 6bwith sticky sheets. You get what you pay for.)
A no-brainer for flying is also to open a credit card that accumulates free miles. Even if you're the only one who has one, it will still take a lot of weight off your shoulders when the bill comes around.
If you're flying to far-off countries like South Africa or New Zealand, it's also best to have some sort of travel insurance in cases of missing luggage or injuries.
4. Use a Club Shipping Service
If you've chosen a course within driving distance, this tip doesn't apply to you. However, if you're flying to your destination, losing your clubs can be a real possibility. Never pack them with the rest of your luggage.
Companies like Ship Sticks and Luggage Forward will ship your golf clubs separately. You'll find peace of mind, knowing that your precious cargo isn't being tossed around with all of the other suitcases, duffle bags, and other luggage at the bottom of the plane.
5. Choose Your Leader/Companions Carefully
As previously mentioned, how your golf trip turns out has a lot to do with who is in your group.
One person should be assigned as the leader or general planner. While this person tends to be the one who initially proposed the trip in the first place, this is not always the case.
Different people can also be assigned different roles. One can be in charge of the tee schedule, while someone else in charge of finding local attractions in days spent off the green.
It's also wise to consider everyone's average income. If one person insists on five-star accommodations, and another can only afford to stay at a Hampton Inn, they might not belong on the same trip. This will also affect where you golf, where you eat, and where you spend your days away from the course.
Above all, it's important that everyone in your group has similar temperaments or at least complimentary ones. If half of your group is extremely serious and competitive, make sure the other half is there to have fun and just enjoy themselves.
Creating balance while choosing who to invite will keep the trip flowing and make sure no one is too frustrated or bored.
6. Schedule Dates Far in Advance
Another no-brainer, but make sure that your trip is planned far enough in advance that everyone has time to prepare. If possible, find out who all you want to invite and have a few dates in mind to suggest.
If the trip goes off without a hitch and becomes a yearly event, this will become much easier, and everyone will have an entire year to plan their lives around it.
7. Plan for Free Days
We can all agree that we love golf, but let's be honest. If you're traveling to a new place, some in the group might want to relax and spend a day or two visiting the local attractions. After all, who could visit Ireland or New Zealand without hopping on a tour bus or two?
Besides, too much of a good thing can be exhausting. Depending on how well or poorly you and your buddies have golfed, a break from the game might calm some nerves and remind everyone why you're really there.
To enjoy life.
8. Occasionally Separate
On that same note, whether you're buddies or not, having so many people together for any period of time can be tiring. Especially if people truly do have different golfing styles.
If one or two of the group wants to head off and test their skills on a more challenging course, don't consider it an insult. In the same way, if a few in the group want to spend an afternoon at the pool or the bar while everyone else golfs, that's perfectly all right!
As mentioned earlier, the purpose of a golfing vacation is just that: to have a vacation!
9. Play for Something Other Than Cash
Playing friendly games for cash can seem like an easy way to add stakes to a game, but for the less talented in your group, losing your lunch money gets old quickly. Try to come up with different things to play for. For instance, picking the dinner restaurant or their pick at the local attractions.
Another good way to help everyone stay engaged is to change up the rules and even create new games.
Speed Golf
For this game, it's best to play either earlier in the morning or later in the day, when it's less crowded. You simply combine your score with how many minutes it takes you to complete the course. Most people only carry a few clubs to save time. If you aren't normally a huge fan of cardio, this is a great way to stay in shape.
The Bag
For this, you need a bag containing poker chips numbers 1-20. All players take a chip from the bag, and the holder of the bag creates rules that different numbers have to follow during the entire course.
For instance,
score bogey on al Par 3 holes

perform your own song and dance before hitting

take someone else's chip, forcing them to draw again
Whatever Comes to Mind
This one is less of a game and more of a principle. May the loser has to recite Shakespeare at the end (whether they know any or not). Maybe they have to shotgun a beer! When you're making the game your own, the sky's the limit!!
These are just a few examples. There are many other games out there as well. Do some research and pick one you and your group will love!
Also, click here for PGA's 5 games to play on the green.
10. Allow for Serendipity
Plans are necessary, and having an itinerary is extremely important at the beginning of any vacation. That being said, if there are any last minute changes along the way, don't fight them! Embrace the fact that the best adventures are often unplanned.
For example, if you're traveling between courses in Ireland and stumble upon another course you hadn't planned for, don't be afraid to stop and check it out.
In fact, feel free to check out as many new places as possible while in Ireland. Those pints of Guinness aren't going to drink themselves.
Your Next Golf Vacation
New to planning a golf trip? Even if you aren't, our 10 tips can help you get the most of every experience.
Remember, the hardest part of any golf vacation is planning it. Plan your itinerary ahead of time, choose your company carefully, and always be on the lookout for discounts.
If you love golf, but it's just the traveling part that sounds intimidating, don't worry. Anthony had no clue what he was doing when he first began his travel journey. If you need some travel inspiration, let him tell you how he changed his life and started doing what made him happy.
It's never too late to start, and it's never ever a bad decision to do what you love.