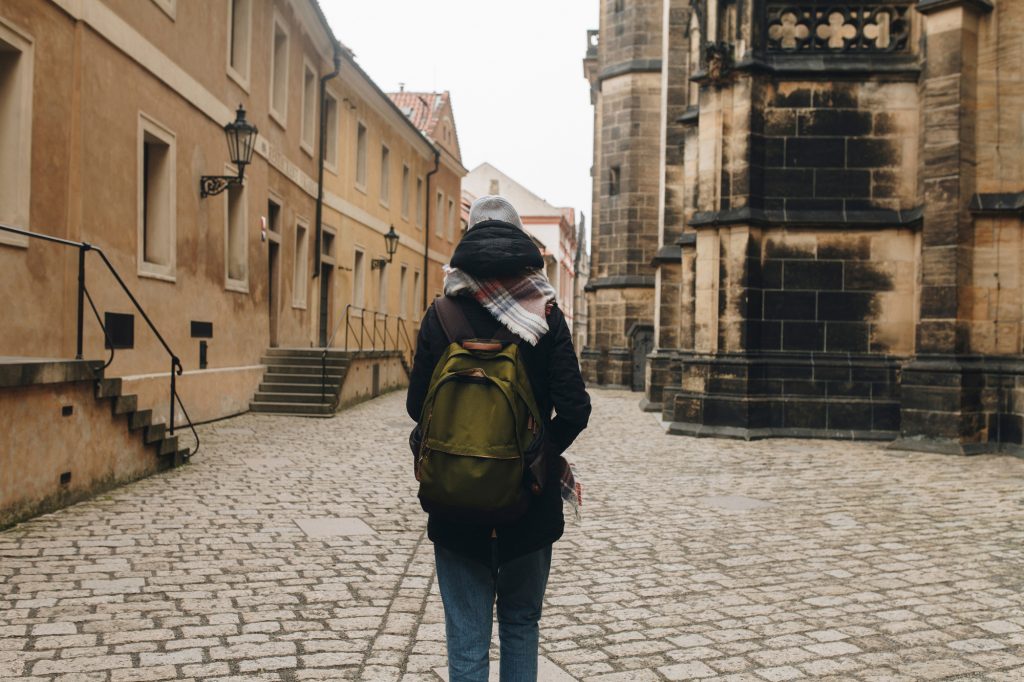 Are you thinking of backpacking around Europe? If so, be sure not miss these hot spots. Click here for more info!
European countries always find their way in our bucket lists, and there's no better time to travel than now. Travelers, young and old, are finding renewed interest in visiting Europe. Maybe it's to escape their current dissatisfaction with the state of the country, maybe it's the impulsive nature of vacationing.
Whatever your reason is, you should definitely travel more. Backpacking around Europe is a great answer to budget concerns. Many of the best destinations are just as affordable as vacationing domestically.
Want to know where you can get the best value for your vacation dollars? Keep reading, we have a great list of destinations for backpacking around Europe. Pack your bags, cause it's time to fly the friendly skies of Europe!
1. Santorini, Greece
The bright, sandy, and iconic views of Santorini can be yours. You'll need to opt for hostels and smaller accommodations, rather than the top coastal rooms with a view. Don't worry, it's very easy to experience those beautiful cliffs without spending hundreds on the hotels.
Santorini has many great affordable eateries and clubs, you'll just need to choose those away from the tourist spots. There are plenty of places to visit that don't require a price for admission. The Red Beach and Kamari Beach are both great places to relax or party when the mood strikes you.
2. Paris, France
Although Paris is often associated with extravagant meals and expensive rooms, it is also backpacker-friendly. As much as it is great for couples, Paris is also great for those backpacking around Europe solo. This is one of those places that you can't help but get inspired to travel from numerous travel films.
Paris has a great hostel and bread & breakfast presence. Many of these affordable accommodations are located near the best tourist attractions. In contrast, most of the fancy hotels require wading through traffic to get anywhere.
Hop from museum to museum, landmark to landmark, or any of the hundreds of small cafes and eateries. Don't forget to sneak down into the infamous Catacombs. This cold, dark underground crypt is home to six million lost souls.
3. Budapest, Hungary
Budapest is always in the top five of any serious list for backpacking around Europe. This is because of its great affordability of hotels, festivities, and restaurants. Much of Budapest is a living postcard, filled with extravagant public spas, and lush natural surroundings.
Staying at a hostel ensures that you'll meet plenty of seasoned backpackers, eat authentic meals, and get advice on where to go next. Budapest nightlife is infamous for affordable fun.
Ruin barsgive you an outlandish backdrop while you down strong drinks for cheap.
4. Berlin, Germany
Another major tourist destination that has become more popular while backpacking around Europe. Berlin is a big city, but it still has a lot of quaint German spots to explore. Thanks to a healthy immigrant population, Berlin also features a bountiful collection of food carts and ad-hoc businesses.
There's no shortage of famous museums, theaters, clubs, and shops to visit. Getting around in Berlin is a treat, thanks to affordable transportation and smart services. You can literally hop on a bike, join a street party, walk into an open art gallery, go to a rave, and not spend a dime for any of it.
Unlike other major cities, like London, traveling on a budget is realistic and enjoyable in Berlin. Just keep in hostels and small restaurants for an authentic and cheap visit.
5. Amsterdam, Netherlands
A similar, backpacker-friendly globe trekking vibe is found at Amsterdam. Everything is just open and accessible here, including the infamous pro-marijuana policy. The streets are made for walking and biking; there are markets and street vendors selling stuff you actually want, too.
Free tours are given regularly and the canal system makes for a much more entertaining mode of transportation. Plenty of pubs await your tastebuds, this is also where you'll run into fellow backpackers who might be able to land you some tickets at your favorite museum or show.
6. Prague, Czech Republic
Much of Prague's best activities are either free or extremely affordable. You can participate in what are called "ghost tours" where you get to go around town visiting places where ghosts reside. If you're looking for something more traditional, Prague has plenty of tours around famous landmarks.
During the winter, you can enjoy Prague's Christmas markets. Here you will find plenty of delightful treats, hot beverages, and great wines. Be sure to grab yourself a Trdelnik, a custom-made pastry that can be sweet, savory, or snack-y.
Last, but not least, is Prague's infamous nightlife and adult entertainment. This is the city of free-spirited women and carefree partying. This is a popular destination for stags and bachelor parties.
7. Interlaken, Switzerland
Looking for some more winter destinations while backpacking around Europe? Well, Interlaken is certainly one of the most-visited for winter activities. It's the perfect place to enjoy the cold, without fear of ice storms (more info on that) or cabin fever. This is the place for all adrenaline junkies to visit, as well as leisure exploration.
Interlaken can be pretty family-friendly, too. Food is plentiful, cheap, and always fresh, just avoid the aged varieties if you're not big on funky flavors.
Interlaken lets you snowboard, skate, swim, paraglide, and hike. You can likewise take a more scenic route via funiculars, steamboats, cable-cars, trains, and helicopters. The view is stupendous no matter what you choose.
8. Sarajevo, Bosnia
A sleeper, if you will, among travel destinations, not just backpacking around Europe. An extremely affordable place to visit for any backpacker. The atmosphere feels foreign, but yet extremely welcoming.
Bosnians are very friendly and humble, having seen the worst, they are very optimistic. You'll want to visit Sarajevo for many reasons, but hospitality is definitely a big one. Restaurants of all types are affordable, with such a wide variety of dishes from various cultures.
If you can't find your way down to the Middle East, this is a good compromise, thanks to its large Arab population. Be sure to grab yourself some of that hot and spicy coffee, just don't call it Turkish, despite similarities.
9. Stockholm, Sweden
This is one of the best water-bound cities in Europe. Despite the cold and travel between 14 different islands, it's easy to get around backpacking. Public transit is convenient, affordable, and traffic seems to flow easier here. Stockholm Syndrome, you say?
Whatever the case is, Stockholm is truly nice to look at. Seafood is affordable and always delicious, and you can even get dockside cooks to prepare your own catch. Cuisines specialize in simple, hearty dishes, so don't expect a lot of seasoning.
Stockholm's underground subway tunnels are worth traveling for the artwork alone. We're not just talking graffiti, we mean entire art murals with elaborate storytelling. Get around in style by planning your trip via the subway.
10. Istanbul, Turkey
Istanbul is another staple for backpacking around Europe, partly due to its location. It's a great stop-through for those who want to visit multiple countries spanning the entirety of Europe.
Istanbul also grants a nice peak at nearby Asian cultures, thanks to the immigration of residents from all over.
As a backpacker, it is important to be vigilant when traveling at night in places like Turkey. There is some political unrest here, which can make you vulnerable to crime and overzealous police.
Just try to travel in numbers and carry only small amounts of cash.
We recommend hiring a travel guide to help you discern what is what, translating alone can eat up a lot of time. Don't worry, along with everything else here, guides are inexpensive and good for visiting on the cheap. Turkish currency is notably cheap these days, so you may even get to dine at high-end establishments.
More Advice on Backpacking Around Europe
Don't get overwhelmed by the number of places to explore in each country. Europe is a deceptively small continent, with each country packing a ton of culture and history. It can actually be easier backpacking around Europe than traditional itinerary.
The key to navigating the content is in planning and reading lots of travel blogs. Experience can be learned the hard way or the easy way. Try to limit the hard lessons by learning them through reading my tips and journals.
If you have any specific questions on backpacking, equipment recommendations, feel free to contact me anytime. I can save you time, money, and the emotional pain of travel setbacks.
Try not to be too strict with your planning, though. Flexibility is good for spontaneous experiences, good and bad. Plus, the sweet just isn't as sweet without the sour.