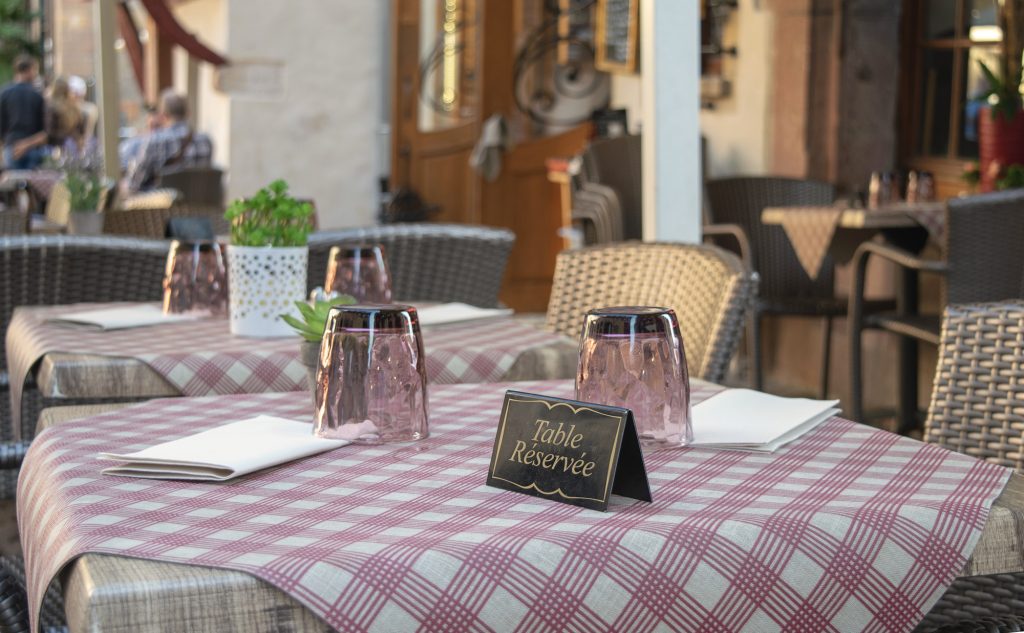 Are you planning a trip to France and want to experience the most authentic food possible? Here are 10 French restaurants every traveler should experience.
As regular readers will know, my experiences of visiting France are somewhat limited. But, I love food. And, I have to admit, the French sure know how to whip some tasty dishes.
The things they can do with cheese, butter, bread, melt-in-the-mouth meat…Okay, I'm making myself hungry now.
Anyway, these are some top Paris restaurants that I've either visited myself or heard great things about from friends and trusted reviewers. And, I fully intend to dine in all of them when I do my own guy-version of Eat, Pray, Love one day.
For all of my fellow foodies and travelers, here's my list of the most authentic French restaurants in Paris.
1. Pain Vin Fromage
Tucked away in Le Marais, 'Pain Vin Fromage' is the spot to head to for all your fondue needs.
Reservations are a good idea as it's a small space which fills up quickly. If possible, opt for a table downstairs where the cave-like walls add to the warm and cozy experience of sharing fondue with friends.
Choose from bread, boiled potatoes, and sliced meat to dip into your steaming pot of melted cheese. And, since you can never have enough cheese, order a cheese board on the side to try some of their wide selection.
2. Breizh Caf?
Unlike us Brits, the French know that crepes are too good to only eat once a year on Shrove Tuesday. And, I have it on good authority that the crepes at Breizh Cafe are far superior to the crepes from street stands all over the French capital.
In fact, Breizh means 'Brittany' in Breton. So, a visit to Breizh will give you the taste of an authentic Breton creperie in the heart of Paris.
For a traditional experience, enjoy a savory buckwheat galette with a cup of cider. Then for dessert, make it a sweet white flour crepe with your choice of toppings.
3. Bofinger
Located near Place des Vosges, Bofinger has been a prominent feature on the Parisian dining scene since it was founded in 1864.
Considered the 'most beautiful brewery in Paris', Bofinger was the first brewery in the capital, and the first to serve beer on-tap. Specialties here include smoked pork and duck filet, as well as lobster roasted in its shell, and a wide variety of seafood.
The decoration also keeps things authentic, with classic French brasserie touches such as leather banquettes, brass accents, and mirrored panels.
4. Relais d'Entrecote
Travel is fun, but sometimes simple is the best way to go, such as using this website to book your next flights.
Well, Relais d'Entrecote believes in keeping things simple too. In fact, there's only one thing on the menu – steak frites.
This charming and super authentic Parisian restaurant has very attentive wait staff and great brasserie-style interiors that suit its simple fare. It's also one of the few places in Paris that doesn't have a reservation policy. Although, with three locations around the city you're sure to get a table at one of them.
5. L'Escargot Montorgueil
From Thai festivals to spontaneous travel, I'm all for new experiences.
If eating snails is on your personal to-do list, then L'Escargot Montorgueil is the best restaurant in Paris to try them. Tourists and Parisians alike agree that this restaurant has the preparation of this iconic French dish down to a fine art.
Served in a buttery garlic sauced, escargot is usually served as a starter. And, for a perfect pairing, enjoy them with a Chablis or Beaujolais.
6. Auberge Pyrenees Cevennes
Auberge Pyrenees Cevennes is an authentic, rustic-style Parisian restaurant offering traditional French fare.
You can sample a variety of dishes here, but the star of the show is cassoulet. This is a slow-cooked casserole containing white beans and a selection of different meats.
Usually served in the colder months, this classic French dish is the epitome of comfort food. And, if you have room, the chocolate profiteroles here have a great reputation too.
7. Les Papilles
This casual restaurant and wine shop in the Latin Quarter might not seem like much. But, the fact that many of the city's chefs head to Les Papilles to eat on their day off speaks volumes.
The four-course menu changes daily. But, it often features a main dish served in a copper pot for sharing as well as a plate of cheese. Relaxed, unpretentious and delicious – what more could you ask for?
8. Canard & Champagne
One of the fanciest restaurants in Paris, Canard & Champagne displays dramatic monochrome decor with marble floors, original ceilings, and arched windows.
As for the food, duck dishes such as confit de canard and foie gras take center stage here. Just remember not to spread your foie gras, in case any French people spot your bad table etiquette.
If you're a fan of duck then this is the best restaurant in Paris to indulge. And, as you may have guessed, they also have a great selection of Champagne too.
9. L'Ourcine
This bistro comes highly recommended from several friends who love the relaxed atmosphere as much as the delicious food.
Fresh fish is delivered here daily from Brittany, while scallops, veal, duck and rich chocolate and praline desserts are some highlights from the menu. It does only seat around 25 people though, so be sure to make a reservation before you go.
10. Rainettes
Rainettes is a beautifully decorated restaurant located in the heart of Le Marais.
The authentic menu features a variety of delicious meat, seafood, and vegetarian dishes. But, Rainettes' specialty is 'cuisses de Grenouille'. Yep, you guessed it – frogs' legs.
If you're curious about this classic French delicacy then Rainettes is the best restaurant in Paris to try them. For the brave, they offer frogs' legs as a main dish, or you can sample them as part of a tasting plate.
Authentic French Restaurants in Paris
The French capital is inundated with great places to eat. But, finding truly authentic French restaurants in Paris isn't always easy.
So, if you're looking for somewhere to enjoy classic French dishes then these ten Parisian restaurants come highly recommended.
Have you tried any of these restaurants, or do you have any recommendations of your own? If so, share your experiences by commenting below.
And, for more travel insights, check out some of my varied European adventures!