When travellers meet one another on the road, the conversations are mainly of a repetitive nature. Dave asks Betty where she's from. Betty then asks Dave where he has been. Dave gets the short straw with the "where are you going next," card. Betty and Dave skirt around the meaning of life for the rest of the chat and carry on the monotonous drivel that is the traveller's small-talk bible.
"Where's your favourite place been, Dave? I like Koh Mak."
"Nawww, Betty – it's all about the Gili Islands!"
By the end of the night, Betty and Dave engage in 7 awkward minutes of 'Singha'-fuelled coitus, never to see one another again.
Yawn.
I'm not too much of a fan of small talk. I try to avoid it at all costs, but I'm a man that leads a double life and that has consequences. Sometimes I'm working like crazy, all day and night on projects, other times I just grab my backpack and fly/drive/train etc to travel/live in a new place anywhere in the world that tickles my fancy – just because I can, and I feel like the luckiest man alive.
Therefore I am not immune to the aforementioned tedious chit chat. However, the responses that I receive to my replies do at least evoke a different reaction:
"So let me get this right. You can work from anywhere in the world, on your laptop?"
"So you can travel indefinitely around the world, and still have a reliable source of income coming in?"
"I would LOVE to be able to do what you do!"
Well guess what – you can!
I'm not even going to tease you. Not going to even nibble on your ear, or even gently pull on the back of your hair. I'm just going to say it how it is:
Man Vs Clock is hiring, baby!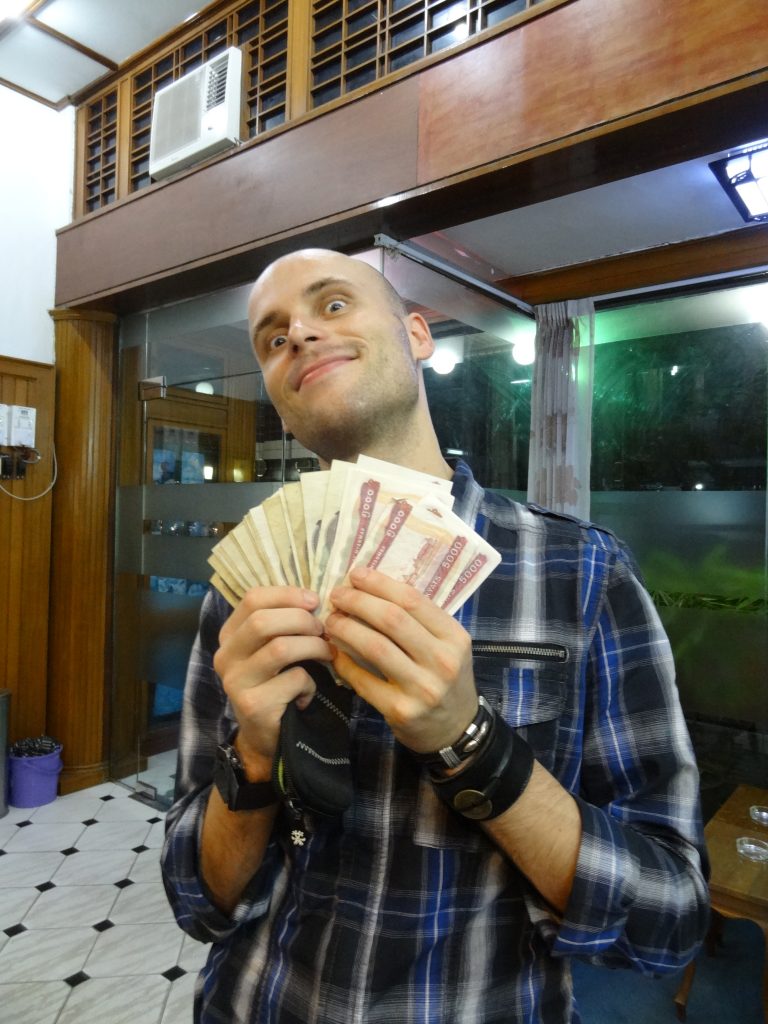 Why I am looking to employ an intern
This year has been more about work than it has been play. I've spent some crazy hours in front of my laptop and even fell asleep at my desk on numerous occasions! I've been absolutely gung-ho about getting unfinished projects off the ground. It's been intense.
The plus side to that is finances have been more handsome than ever in my life. The downside is that my social life has suffered. What's the point in having money, if you don't have the time to enjoy it? After my recent trip to Burma and lately settling into (and absolutely loving) Phnom Penh, I've had a taste of what I've been missing – and I want more.
I don't want to keep on repeating the same patterns and end up feeling burnt out, overwhelmed, left hugging my knees in the shower when I think about the pile up in my email inbox. I no longer want to be a writer/secretary/SEO guy/salesman/marketer (and all the rest) in one day. It's too much and it's just not logical.
Selfish reasons aside, the other reason is because I really believe in giving back. All of my life I have had this insatiable hunger, an unquenchable thirst for something more. This leads me to the next part…
The type of person I want to hire
In a nutshell – I want to hire somebody like me. I can't count the amount of times that I have sat in a traffic jam, miserable and unfulfilled after another day at the grind – hopelessly pleading for an opportunity to present itself.
If I read this article 18 months ago on someone else's site – I'd be all over this in a heartbeat. The attributes that I am looking for in an intern cannot be taught in college. The national curriculum does not cater for the skills that I require. The person that I am looking for is of a unique nature.
They must have a deep-seated, restless, ravenous desire to take their life to the next level. He or she must be willing to learn, put the hours in, commit and keep their eyes on the prize. The intern must crave success as much as they desire food, oxygen and sexy time. If you just think "it would be nice" to have this life, then I suggest you don't apply.
Oh and belief – have bags of that and you're half way there.
What I am offering
For a 30 hour work week, I am offering 3 months paid accommodation in Chiang Mai, Thailand, $500 salary and 10% of commission on sales. Also, I will pay up to $200 of your flight.
Why Chiang Mai? Well firstly, flying over to another country signifies a statement of commitment. Secondly, I'm yet to find a better place than Chiang Mai to get your head down and get the ball rolling. It's an easy first step into this whole new world, the internet is fast and the food is drool-worthy. Also, I can easily fly over to train you, or if you have any problems. (Believe me – the Massaman curry in Chiang Mai is worth flying over for).
How do you apply?
Send me a message by clicking here, with the subject 'Internship at Man Vs Clock.' Tell me a bit about yourself, your background and why you think you are the man/woman for the internship and ask any questions that you may have. I'll reply to all candidates and we'll take it from there.
Bonus Skills
As mentioned above, the person with the right character will be chosen, but any experience in these fields will be looked upon with merit:
. SEO
. Writing/Editing
. Sales
Honourable mentions
I also know three other people in search of an intern of this mould. They are also looking for freelance travel writers at $15 per piece on a regular basis. If this interests you – shoot me a mail here.
And finally…
I've worked for some seriously awful bosses in my time. So bad that I don't even want to use the word in this agreement. Consider me as your Yoda and if you meet the targets that I request; I'll be turning up at your place early on a Friday with your favourite food and demanding you stop working and go out and have fun!
If you're deciding to apply, best of luck and I hope you're as excited as I am

Do you fancy your chances of becoming a "mini Man Vs Clock?" Willing to put the groundwork in so you can get your life to the next level? Apply within, or share this article to someone who you think would be interested in this golden opportunity.