On November 20th, 2010 – Man took on a clock counting down from one year – with the aim to leave England, debt-free of £16, 000 and to fly on a one-way ticket to an indefinite adventure around the world, before the clock ticked down to zero. On November 13th, 2011 – Man beat the clock by a week…
Exactly one year ago today; I wiped the tears from my face after the most painful goodbye to my family, picked up my backpack with my worldly possessions and walked to Durham train station. Next stop Newcastle, then London, then Kuala Lumpur (just a small case of 6, 570 miles). I purposefully asked everyone to respect my wishes and not to wave me off in some Coronation Street type of farewell at the train station or airport. On face value, I looked like I had it all worked out, but beneath the surface – I was absolutely petrified.
Saying an indefinite goodbye to the people you love the most is absolutely gut-wrenching. I had built up an impressive comfort zone around me for 28 years that most people would envy – a close-knit circle of friends just a stone's throw away, a family who loved me for who I was and didn't need to be told I loathe onions and would not finish a meal if they invaded my food. Regular visits to watch my football team play, girlfriend, Tesco online shopping – what more could a boy dream of? Alas, I suspect the "Rington's Tea" man is on suicide watch/bankrupt since my departure.
So, how do I wrap up a whole year in a blog post? The answer is I can't, and I won't even try to. I'll try my best to highlight the most poignant bits though, whilst aiming to inspire anyone who wants to do a similar thing to me, by confirming a personally validated travel truism: The Hardest Part is Stepping On the Plane.
The Last Time I Cried – Exactly a Year Ago Today
I purposefully had a few hours to kill so I took a U-turn past my Nana's old house and stood looking at it for a while, like some sort of crazed psycho-stalker. I hope I didn't scare the new old lady living there too much. I just wanted to soak up every part of the city before I left it forever – the good, the bad and the ugly. She was my world, my rock, the calming presence in my life and my endless source of crab sticks and random facts about the multiple uses of vinegar. I had only beautiful memories as I stared at my old dears old place and as I let the nostalgia flow through my mind, the tears fell from my face like raindrops – which proved to be symbolic in my departure.
It had been a few years since she died, but I don't think I really 'got over it' until that moment. Do we ever really get over someone we love, not being a physical presence in our life anymore? Do we actually ever stop wishing we could have them back for one more hug? One more shared joke? One more moment to tell them what they mean to us? Will we ever let go of the romantic subconscious part of our minds that ignores all logic, the part which craves for them to walk through our door and tell us about their day, like they had never left our world? I think no, we just find better ways of coping with it, which helps us accept things are the way they are – otherwise we'd just curl into a ball and die, but we're not designed to do that. We're designed to survive.
I finally felt ready to say "farewell and thank you" to Shirley – and "hello and bring it on" to the next chapter of my life.
This was the last time I cried proper tears. I don't know if that is a good, or a bad thing. Half of me is scared that I've become too thick-skinned to be moved on an emotional level, the other half thinks it's just because I feel stronger and happier. I'm torn, needless to say when I cry next – you'll know about it. I cried a thousand rivers every time I said goodbye that week and I've had no problems letting it all out in when necessary in the past. The jury is still out on this one and it interests me – I guess time will tell.
Anti-Climax
So I rocked up to Malaysia and had the time of my life, skipped into the sunset with nymphomaniac triplets and lived happily ever after, right? Wrong. I spent the first few months pretty depressed and lost and thinking 'it wasn't supposed to be like this.' My bank balance was dwindling, my income was zero and I was drinking myself into an oblivion.
What's a boy to do in such a situation? Look in that mirror, be 100% honest with yourself, man the fuck up and take some big action. So I decided to eradicate alcohol for at least half a year, move to Chiang Mai, Thailand and work on building a stream of constant online income. Things got a lot worse before they got better and at one point I had only $29 left in the bank – on and the small case of a cancer scare!
I was lost, scared, sad, confused and so incredibly lonely. The shit had hit the fan, so to speak. And as odd as it sounds – it was the making of me! Fast forward to a month later and I had the all-clear, made $5, 000 in one month and I started attracting the most amazing, interesting, cool and inspiring people into my life.
We have so much control over our life – we're just not aware of it.
Chiang Mai will always have a very special place in my heart – not for it's temples, it's gorgeous mountains, or its mouth-watering street food. Not even for the fact that Thai women made me feel as attractive as Brad Pitt with a chocolate flavoured love-muscle. It will be significant to me because I feel that in that city – I was personally tested and the end result made me grow as an individual.
Least Favourite Destination – Kuala Lumpur
Funnily enough, my least favourite destination – was my first! I have been back to Kuala Lumpur a few times and had some amazing times and met some friends who I reckon will be friends for life. But I just bloody hate the place. It has a nasty vibe and I feel suffocated every time I go. The hookers scare the living shit out of me, the taxi drivers are fucking ignorant and the smog is vile. It makes London look like a friendly paradise!
Favourite Destination - Burma/Myanmar
Burma was on my top 5 places I ever wanted to visit – and it didn't let me down. I had it very easy before Burma with regards to travel comfort and I went there for some chaos – and I got more than I bargained for. I really want to go back for second helpings and the country still fascinates me – I am looking at my arms as I type this and I seriously have goose-pimples thinking about the place.
Ignore what the media says – they don't even get to see it! I did, and it's a riot. It will break your heart and capture it at the same time. Go to Burma and thank me later. Disclaimer; the food is shit though

Best Travelly Thing?
SONGKRAAAAAAAAAN!

Regrets?
Taking my bad mood and issues out on a friend and being a bit of an arsehole when travelling with him, even though he is a proper top bloke. Ignoring my intuition which resulted in me hurting a person I really care for. Eating 'dancing shrimps' (very disappointed in myself). Giving one friend more chances than they deserve and continuously allowing them to piss me off and hurt my feelings without even calling them out on any occasion. Not eating enough Massaman. Missing out on the present, because of dwelling too much on the past (do you see the irony here?

)
Random Things I Have Learnt After Leaving England and a Year on the Road
. We don't smile enough.
. We don't hug enough.
. We often confuse comfort with happiness.
. There are a lot of good people in the world.
. Alcohol can be used as a cop-out and should NEVER be consumed when an individual is on a downer.
. If you argue with an idiot, you are actually worse than the idiot.
. Thai women have amazing hair.
. It's easier to locate and cut poisonous people out of your life, when you've grown as a person.
. It's not a myth about Swedes being generally good-looking – even the dudes are hot.
. Most Brits are Knob-heads when they are drunk.
. We're stronger than we think we are – we just talk ourselves out of good shit.
. Anything still sounds sexy in French.
. It's not the President, or the Prime Minister's fault why you're unhappy. It's yours.
. Bullet points make a very boring blog post.
Entrepreneurial Bipolar
Monday 12:03 pm: "I am sooo PUMPED UP about my new idea/project/bestest idea everrrr since wet t-shirt competitions, and I'm going to take over the world and be in 'Forbes' magazine and date Anne Hathaway….and save Africa with my own wallet. Watch out world – I'm a-coming and there's no stopping meeeee!!!"
Monday 02:17 pm: "I caaaaan't do it. I'm sorry Africa, I let you down. I suck and I'm going to go back to working for Tesco and give up this shit. Don't look at me, I'm the WORST

"
Monday 03:11 pm: "JUST Africa!? Player, please – I'l be on Oprah's couch by Saturday. I may as well sort out the problem at the Gaza Strip at the same time – all while making millions with this super-duper idea that I never ever should have doubted – silly me, tehehehehe – what a silly goose I am."
Some early hours of the morning later in the that day/night: *falls asleep with head on desk and mouse arrow on "accept" button on Paypal with a Satanic grin – process repeats in the morning*
Entrepreneurialism – the word conjures up some rather seductive images. Reality kick in the balls/foof time; it. is. fucking. hard. However, I would rather swim through an ocean of elephant poo than work for a boss ever again.
Most Beautiful Moment
 "I can take you to the touristic places in Myanmar, or I can take you to the REAL Myanmar, if you like," said my Burmese friend.
I was feeling adventurous and I took the latter option. Hours later and I am captivated by a gorgeous little girl playing in a hut, in the darkest, most poverty-stricken areas of Mandalay. It was a proper shit-hole and she had no shoes for her feet – yet she seemed the most content person I have ever met.
Befriended by a white dog, she jumped about and splashed in the mud and giggled as the scruffy mixed-breed followed her around. It was the sound of life. Suddenly, a violent rain storm began and I started to get completely soaked in my 'dressed for summer' clothes. The little girl ran over to me, looked up at me with her beautiful hazlenut brown eyes, beaming smile and offered me a home-made poncho – my Burmese friend confirmed that it was her only poncho.
I politely declined and came to the conclusion that life is bloody beautiful, at times.
What's Next?
It seems that my first year on the road has seen me transform from a traveller to an expat of a few countries. The reason for this is because I keep getting distracted by my projects and I prefer to live in an apartment than a hostel when I'm working. I do this for a bigger, deep-seated reason – to keep my eyes on the prize and I'm also extremely proud to finally be kicking the arse out of my lifelong battle with money and I don't want that to change.
I want to get my life to a level of James Bond excitement.
I want to be able to fly from Thailand to Brazil at last-minute – without worrying about denting my bank balance at all. If a friend at the other side of the world wants me to come and visit for a cool festival/sporting event – I want to be able to say "yeah – see you tomorrow!"
The James Bond life that I have always dreamed of is within touching distance and I know I have to work harder to get it to that level. The start of the year will see me working my little arse off in Bangkok – starting a business with two friends. After that, I plan to travel and live like a man who only has a day left to live – every single day.
That is after I've worked on my guns, of course

This year has been the, loneliest, happiest and most exciting year of my life – it's been a roller-coaster of emotions – and I wouldn't have changed one second of it. The lonely part was only very short-lived. I've found that once you're truly happy with the person you are inside – it's impossible to feel lonely for too long. I can't possibly sum up one year in a post and there are so many other things I'd like to share, but I'll leave the uninspired with a few pearls of wisdom after my 365 delicious days on the road…
…A few years ago I felt like an absolute failure. Last year I took big action and I was the most frightened I have ever been in my life. This year I am the happiest I have ever been in my life and I'm sure it's nothing to do with external influences (travelling, money etc etc). I believe I am happy because after years of feeling sorry for myself – I took action and accountability for my life – and that is key.
Stop waiting for a knight in shining armour to come and rescue you – grab your own horse and go wherever the hell you want. Realise that every time you say "I would love to do this, BUT…" – that you are just justifying your fear with excuses and building up your own barriers. Stop asking too many people for advice. As cheesy as it sounds – you really must follow your heart.
It's perfectly ok to want something, but to not know how to get it, or even get started – just get fucking started, man! Locate the bad apples in your life –  the people who leave your energy levels lower when you've left them? Locate and terminate. Awaken that sleeping giant that lies within you – you are stronger and more capable than you think you are. I'm serious.
Thank You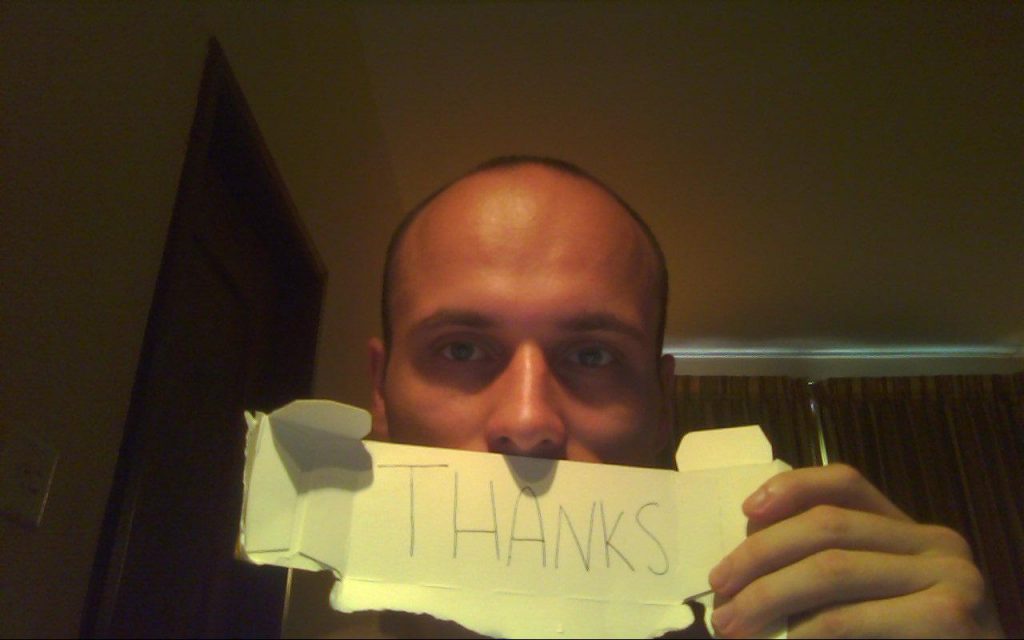 Special thanks and love to my family and friends who have supported me in my massive lifestyle change – it can't have been so easy letting me out of your grasp

Thank you to all of the friends I have met on the road, online or in person – especially the ones who have been inspiring, helped me to grow, or called me out on my own bullshit.
Thanks to all the smug shits back in England who said it would never last and I'd be home in months – thank you more than anyone, actually

And a big sea of gratitude to the lady-boy who chose not to rape me on that secluded island in Langkawi. Was it something I said? What did I do wrong? Am I not pretty enough? I kind of feel like you gave me mixed signals.
Did I miss anything out? Anything you'd like to know about my first of many years on the road?