"You need some meat on you."
"Ewww, you're soooo bony."
"Where DO you put it? You must have worms, you're sooo skinny."
"Tehehe, your legs are like toothpicks."
These are actually some of the nicer things that people have said about my slender frame in the past. Why is it seen as mean, to openly poke fun at an overweight girl, but seemingly perfectly acceptable to tear apart the physicality and feelings of an underweight guy?
Over-sensitive? Maybe. It doesn't bother me anywhere near as much as it used to, as I have just accepted the fact that the majority of the population are ignorant and like to deflect their own insecurities onto other people. And also, Britain has this weird friendship thing when you're actually nastier to the people you like the most. I guess it's better than being two-faced.
During my thinnest period of my life, I was at the height of euphoria. I was competing in long distance (later converting to middle) running at a high level and it was the first time in life I felt I was good at something. The first time I felt worthy. The comments then became more of a minor annoyance and water off a ducks back, as I excelled in my sport and even got to meet some of my running heroes!
Fast forward to the present day and I'm still a slim-Jim. And as much as I'd love to give you the whole "I am what I am" shit and proclaim that I'm content and skipping in a daisy field of acceptance with my physical appearance – I'm simply not. I'm sure you psychology graduates will look at me with your puppy-dog eyes and diagnose me as insecure, and confirm that I am indeed a puppet to society. Well piss off and choke on your soy lattes in a Starbucks near you – I'm merely a man who wants to be a better man, in all areas.
I don't hug my knees whilst listening to Christina Aguilera's 'Beautiful,' I don't cut myself every time I watch 'Spartan 300′ and I certainly have no qualms getting naked and naughty.
*About to insert 'before' pictures sporadically. Be afraid, be very afraid.*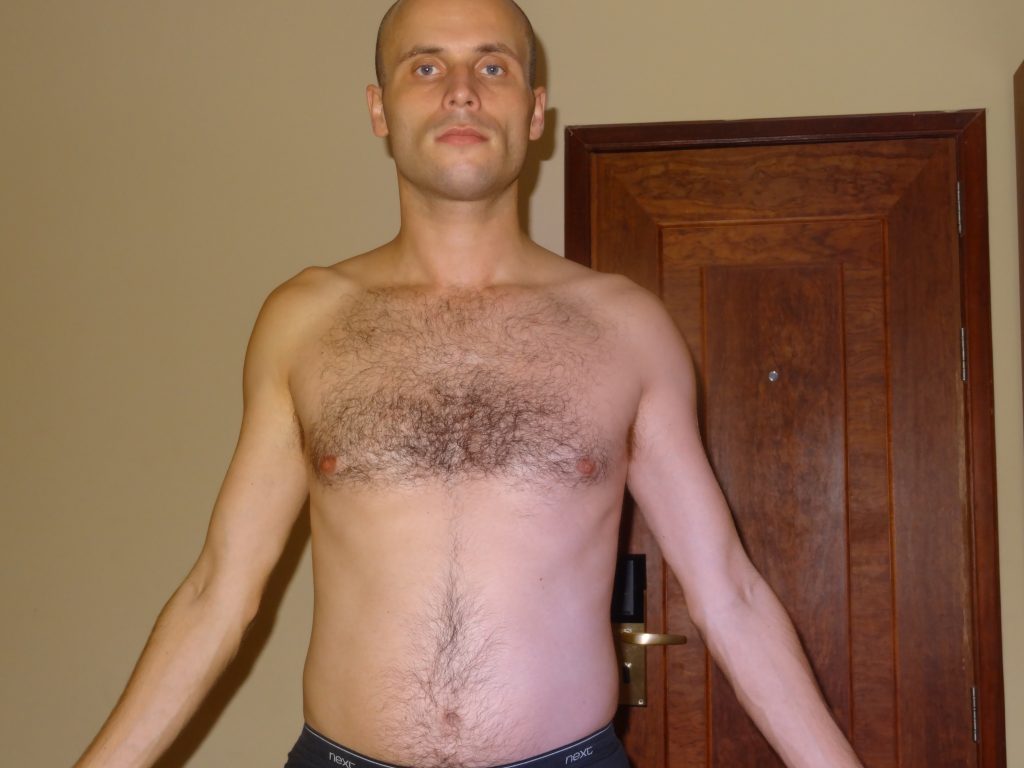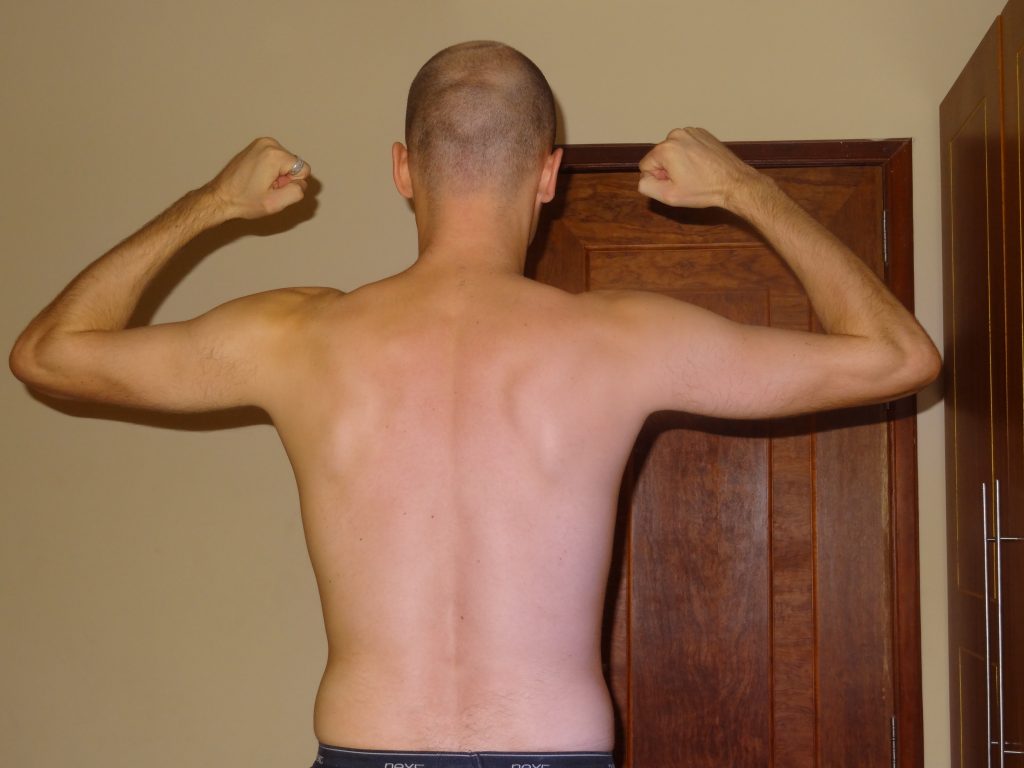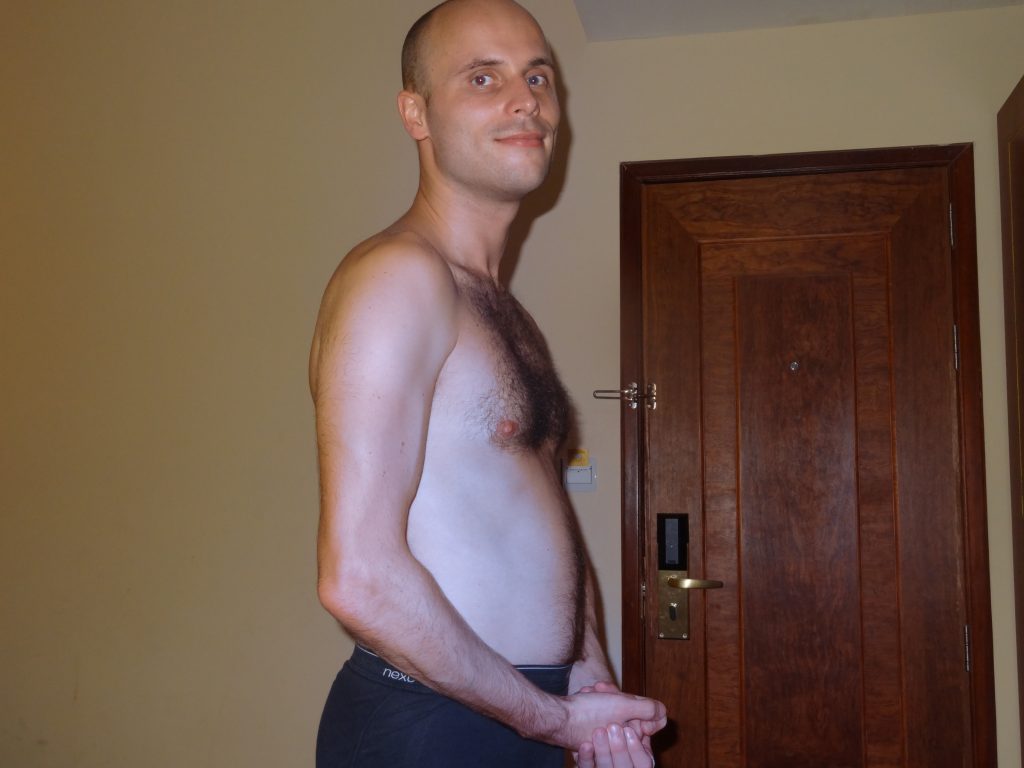 I just want to push my body to the absolute limit. I have emotionally evolved a lot over the last few years and feel the strongest I ever have in my life – so why not do the same with my body? I want to physically compete against myself and see what I am capable of. I have already done that with regards to endurance – I've violently vomited after many races, because I've pushed myself to the max and I've surprised myself on numerous occasions.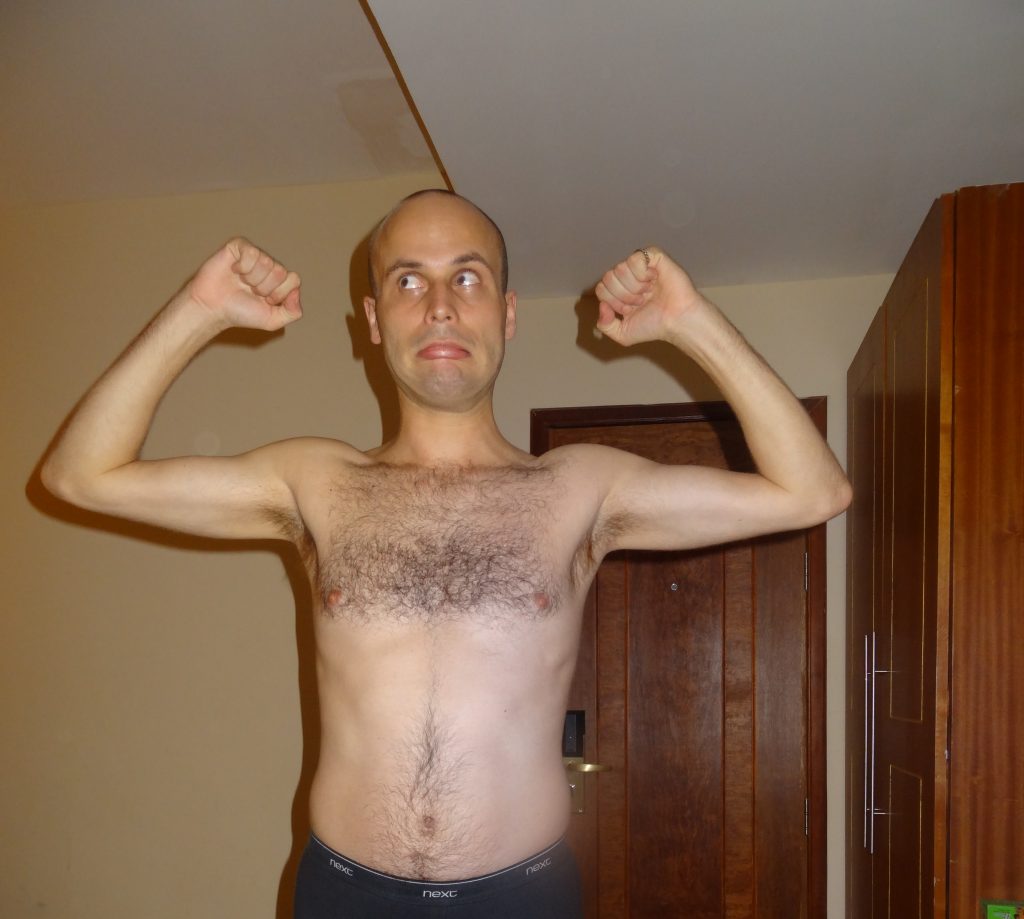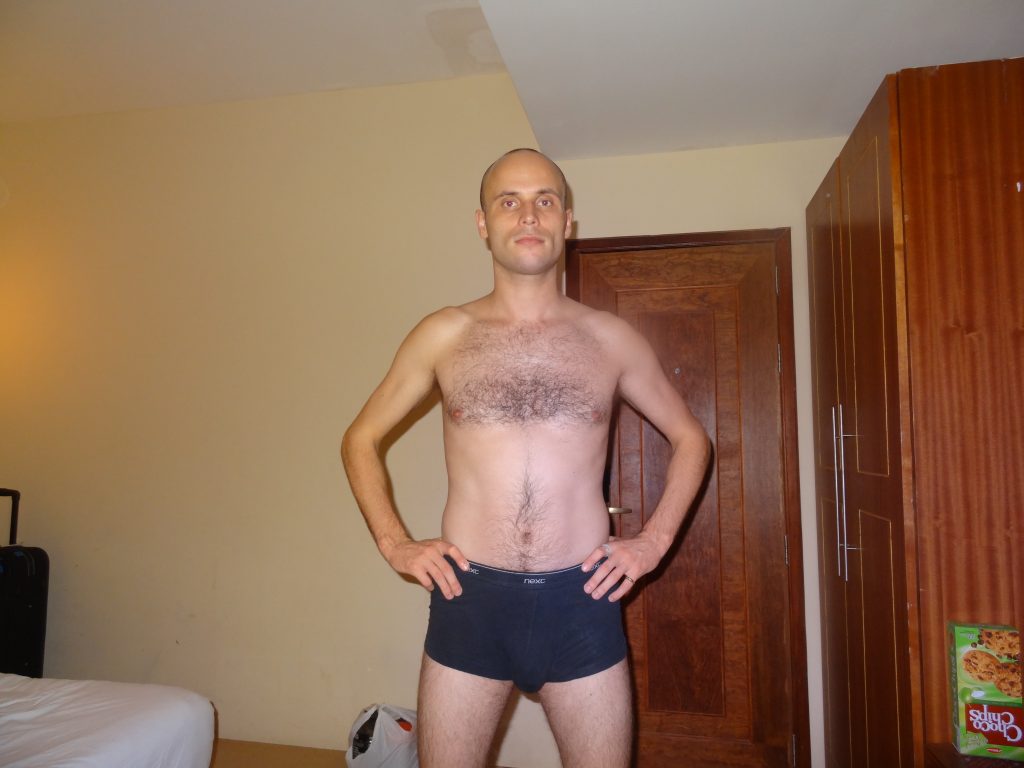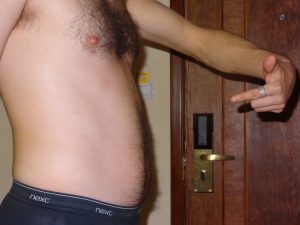 But like a Liverpool FC fan – I'm living too much in the shadows of my successful past. All I have now is the present and I've gotten very lazy. To top off the laziness – I'm incredibly antsy, with all this extra energy in my body and it's making me grumpy…and bored.
Girlfriends past and present have told me they like me just the way I am, and as lovely as that sentiment is – it brings out the paradox in someone liking you for the way you are – do you actually like the way you are? The answer for me is a simple no, and the result is laziness and the feeling of a sleeping giant (in my biceps mwahaha),
I need a new physical challenge and I need to stop making excuses – bring on good old public accountability – you've been good to me over the years. Before Mr Doherty added 15 pounds to his frame I considered asking him if we could have a head-to-head challenge, but opted out as he was already a big lad to begin with, so I figured it wouldn't be a fair test in terms of similarity.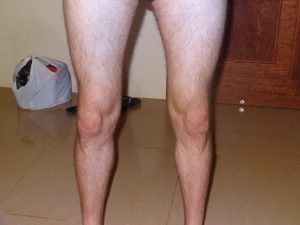 So the time has come to look less Christian Bale in 'The Machinist' and more 'American Psycho'. My emaciated body has had enough and I'm sure inside here somewhere, lives an absolute hunky specimen.
The question is; who can I find as a perfect match? Who else has equal levels of self-deprecation, body frame, snarling determination and enough self-obsessed narcissism to make Tom Cruise cringe?
It has to be, the one, the only; Mr Will Peach.
Will Peach, of (insert passive-aggressive tone here) cleverly named 'WillPeach.com,' My Spanish Adventure and that travel blog about shagging, has agreed to size up with me in my latest challenge to go from "Scrawny to Brawny." That's right, ladies and gents – get your front row tickets to the worlds biggest penis-measuring via blog-form, as the two most malnourished of travel bloggers (Dustin is like the Terminator in comparison to us chaps) go head-to-head in a quest for some proper guns and abs of steel that will reverse women's menopause.
As usual, I'm very confident – but aware of weaknesses/concerns and also my strengths…
Concerns
. Hyperfocus – I get so focused on things and live in the moment so much, that I forget to eat – not good if I need to load up on calories every day.
. I Adore Bad Food – If chocolate contained masses of protein, I'd win this hands down. Sadly, it doesn't and I need to approach this logically.
. Will Peach is a determined little fucker - We fall from the same tree in this respect – I've worked with Will a lot on business stuff over the last year. He goes without sleep, rest and fun until he gets what he wants and is relentless and intense when it comes to goals. If I get lazy or complacent, I'm sure to be doomed into defeat.
. I LOVE Cardio - I've been reading up on specifically muscle building for thin chaps and the common advice is to pretty much cut out cardio from the workout. I'm one of them weirdo's who actually enjoys cardio and it's going to be hard to be in a gym and NOT use the endurance machines.
. Travel Plans - I'm going to be country-hopping a bit in the next few months and chance to be seduced by luscious beaches and tourist traps. If I don't manage to squeeze some gym action in, Mr Peach might gain a little head-start on me.
. I Actually Get Laid – Testosterone is the sex hormone that men have used as a drive to evolve over thousands of years. It's also a muscle-building beauty and the more of it you have and spike in your body – the better your chances are for building muscle.
I'm pretty sure my self-imposed sex-ban after announcing taking part in this years Movember will help for a little bit, but there's no way I can live a life of Will's monk-like standards.
. I don't want a belly

– I'm expecting the first few months of heavy lifting and eating like a rugby player is going to result in a bit of belly fat for the earlier days, before stripping off the unwanted weight from my midriff to tone up. Booooo.
I'm About as Flexible as a Pregnant Sheep - I'm seriously unflexible – I can't even sit upright in a cross-legged position. This concerns me as I don't want to injure myself, so will need a bit of a correction phase before any serious lifting takes place.
Why I'm Going To Kick Will Peach's Arse and Build More Muscle
. I'm a Carnivore – Will is a vegetarian. I'm not saying it's impossible to build muscle as a veggie, but it must be a lot harder to get a quick protein source – especially in Cambodia, where we will both be until January.
. Will is Better Looking – Them creepy, come-hither eyes, those hipster jeans, that seductive side-parting hair – what rent-boy could possibly say no? My underdog status is sure to bag me some extra transformation points when we weigh up the final results.
. I Have Really Strong Willpower – I once turned down a threesome with two really hot women, because my then-girlfriend was on holiday and I wanted to stay faithful. It turned out she was getting major penis during this time anyway, but my point is I have tremendous discipline!
Highlighted even more this year when I went 8 months without alcohol, going pretty much cold turkey and I used to drink A LOT. I'm moving into an apartment in Bangkok with Will and Johnny Ward in January – the party-loving Irishman is sure to lead him astray whilst I stay strong in resolve! Huraaah!
. I'm a Northerner – It's scientifically proven that people from Northern England are tougher than those anywhere south of Leeds. Did you know that in Will's place of birth, Surrey – that the average winter temperature is 5°C (+42°F)? We have a name for that up north – we call it a "heatwave."
How I'm Going to do it
I'm not sharing, because as always – he'll copy me.
Final Thoughts
I'm pretty sure we should have taken exact body measurements and a proper definition of "adding more muscle," but seeing so I was the first to publish – you'll have to wait for Will's post on this as he is more organised. Who is your money on in the battle of 'Scrawny to Brawny?' Place bets now and let the guns commence…..
The Battle of Scrawny to Brawny – Man Vs Will Peach –