Christmas is ah-coming! What does that mean?
I'll tell you what that means:
Screaming, snotty-nosed brats in a Tesco near you, demanding the latest and greatest computer games whilst adding to a greater national debt. Atheists packing into churches, singing along to the sweet melody of hypocrisy.
Psychotic last-minute shoppers fighting over the last turkey – even though it is the "2 o'clock bird" (pun intended) of meat and you'd have more fun chewing on a dry sock. People being nicer to each other, just because it's another 'Hallmark' Day – only to revert back to their impolite nature the day after the freak show is over…for another year.
Ho fucking ho.
But even as a self-confessed Scrooge (society, you did this) – there are some byproducts of Christmas that I can't deny brings a smile to my Ebenezer face.
Mince pies. That song by The Pogues. The timeless classic that is 'It's a Wonderful Life.' Fancy-dress Santa sluts, shaking their drunken, scantily clad body to THAT Christmas song. (Cheers, Mariah!)
Yes, it isn't all bad and if you're a hetro lass, or a gay fella – there's always the unbridled joy of purchasing a sexy calendar to brighten up your days with an insatiable hunk for every month of the new year.
Umm, yeah…this is one of them good news/bad news situations. Gerard Butler couldn't make it, Ryan Gosling was busy and Colin Farrell politely declined.
So, coming to a calendar near you is yours truly (just call me "Mr October" from now on, thanks) and shit loads of other travel blogging Gods/Goddesses.
What The Hell Am I Talking About?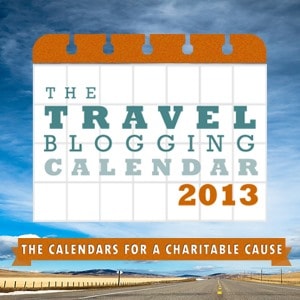 Myself and twenty three other travel bloggers were approached earlier this year, with the prospect of featuring in an intriguing project – a calendar that raises money for charity. In fact, 100% of all sales go to two charities that we agreed on as a team.
What's The Charity?
Quoted from the legends at uPrinting.com, who organised this event:
The fundamental objective of Mitrata foundation is to make the Mitrata children's home mature into a family based, long-term residential care organization. We also believe that children should have the opportunity to fully develop his/her gifts and recognize the potentials which he/she already has. Hence we provide them education and lessons on morals and cultivate a fondness for family values and team work.The aim of Mitrata is to provide a loving family environment for children who have known little or no security in their lives.
VSO is the world's leading independent international development charity that works through volunteers to fight poverty in developing countries. VSO Bahaginan is the federation member of VSO in Asia and the Pacific.
Soooo, You're In The Calendar?
Yep, I chose October to coincide with my birth month – with a Libra theme.
Will You Be Naked?
You'll have to buy it and find out, cheapskate. And I hold no accountability for any psychological damage caused.
Keeping It Real…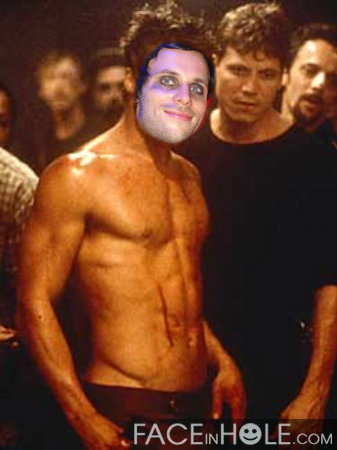 I know what you're thinking. Why buy a calendar with me in it, if you can just pop to your local store and grab a David Beckham one? You kids need to keep it real. Men like me, we've had to work harder in the game of love – and it's paid off.
I'll notice when you've slightly changed your hair. I'll listen to you shit on about that colleague from work who you hate, even though I will never meet her, or even care to know why. And when that's all finished – I'll give you the best three minutes of your life, make you some beans on toast and stroke your (new and silky) hair until you sleep. (And I won't even tell you that I actually preferred it how it was before and that the price you paid was dumb).
I remember dates of importance, compliment without over-flattering, attract free ice-creams into my world and I always travel with high quality teabags.
How's that for a new-aged fantasy?
Mr Pitt might be the prettiest thing since the Taj Mahal, but what does he know about eco tourism? Not as much as Bret Love, is the answer and everyone knows eco tourism is the new aphrodisiac. Also, let's just say I've already seen Laurence from Finding The Universe's final shoot and I think his abs could pass for 'Fight Club' standards.
Why go out and purchase a Colin Farrell calendar from a nameless corporation, when you can own a raunchy pic of the poor man's missing 'Westlife' member, that is Johnny Ward? I can assure you that you'll be "Flying Without Wings," once you've seen the Ulsterman in his birthday suit

Why fantasise over 'Thor?' He doesn't even exist! I'll tell you who does exist though – Chris from Aussie on the Road - a proper mans man!  Chris recently lost the title 'bachelor' (don't sulk, you had your chance) to a cute American girl and is a delightful mixture of a bit of rough, mixed with the sensitivity of Mother Theresa.
Jason Statham? Oh pur-lease! Not a patch on the adventurer that is Aussie Tasmanian devil-ishly handsome Ben West – a man in search of the blokes version of 'Eat, Pray, Love,' leaving all he knew to travel the world with his beloved red sack. And if you can handle any more raw manliness – you can expect to get your freak on to Travel Freak's barrel-chested Jeremy to round up your year!
Full List of Men of Travel Blogging Calendar 2013
JANUARY: - Ben West (Red Rucksack)
FEBRUARY – Johnny Ward (One Step 4ward)
MARCH – Melissa Banigan (Break out of Bushwick)
APRIL: Raymond Walsh (Man on the Lam)
MAY – Talon & Tigger Windwalker (1 Dad, 1 Kid, 1 Crazy Adventure)
JUNE - Laurence Norah (Finding the Universe)
JULY - Bret Love (Green Global Travel)
AUGUST - Jim O'Donnell (Around the World in Eighty Years)
SEPTEMBER – DJ Yabis (Dream Euro Trip)
OCTOBER - Anthony Middleton (Man Vs. Clock)
NOVEMBER: – Chris Walker-Bush (Aussie on the Road)
DECEMBER: – Jeremy Foster (travelFREAK)
Wait, so it's JUST blokes?
Don't be silly! There is also a 'Women of Travel Blogging' Calendar, with twelve delicious lasses, featuring an Italian girl who is ballsy enough to travel to the separation wall in Palestine! And a feisty Bostonian chick, might, just MIGHT be showing a fair bit of boobage in her month. That's just to name a few gorgeous girls…
Full List of Women of Travel Blogging Calendar 2013
JANUARY - Alexandra Pucherelli (Fluent in Frolicking)
FEBRUARY -  Lainie Liberti (Raising Miro on the Road of Life)
MARCH - Madeline Southey (I'm Not Home)
APRIL - Theodora Sutcliffe (EscapeArtistes)
MAY - Mica Ivealis (Travel This Earth)
JUNE - Alexandra Kovacova (Crazy Sexy Fun Traveler)
JULY - Giulia Cimarosti (Travel Reportage)
AUGUST - Jess Jones (Journey With Jess Jones)
SEPTEMBER - Gay Mitra-Emami (Pinay Travel Junkie)
OCTOBER - Caroline Eubanks (Caroline in the City)
NOVEMBER – Dani Blanchette (Going Nomadic)
DECEMBER – Mary Gabbett (Green Global Travel)
On a More Serious Note…
This isn't just a vanity project where we've taken a few snaps so we can say; "look how cool we all are." This was an arduous task put together by the three people who brainstormed this fantastic idea. They have had to deal with twenty four people's details and a mass of repetitive and silly questions on a daily basis (myself being the biggest culprit) and now things are coming together nicely.
I may sound a little defensive, but there's a perfectly good reason for that. So far we have had good feedback but there has been one or two snidey, passive aggressive articles going around which totally miss the point – it is for charity!
So what say you? How about an alternative charity calendar on your fridge this year?

Pre Order The Men Of Travel Blogging Calendar Here
Pre Order The Women Of Travel Blogging Calendar Here
Show Your Support – Visit, Like, Tweet and Share The Travel Blog Calendar Site Here