After recently spending a week with my friend, I started to suspect that aliens had abducted his soul overnight, or that he had joined a secret cult during my absence. He wasn't his usual antagonistic, argumentative self. He was expressing the perfect etiquette of the world's greatest social butterfly – taking an interest in other people's lives, complimenting them genuinely and leaving a charm trail after his polite footsteps…
…and it was working wonders! People were eating out of the palm of his hands everywhere he went and I couldn't help but watch in awe. It turned out that my mate had just finished the 1936 classic by the late Dale Carnegie, 'How to Win Friends and Influence People.' Now I don't know about you, but the title doesn't really get me banging down the doors of 'Waterstone's' for a copy, or to immediately download the book to my Kindle.
The first thing I think of is; "why should I try to win friends? Proper friends should like me for who I am!"
But where does such narrow-mindedness get us?
Plus, the staff at the restaurant started to give him free ice creams every time he visited the cafe. Who am I to judge? If I can make more people smile and grab a couple of cheeky mint-choccy-chip ice creams on my travels – that can only be a good thing 😉
And so I downloaded the book and decided to give it a try, from an unbiased angle. I was captivated from the start – and a little embarrassed. Half of the principles in the book are so simplistic and I noticed I have been guilty of not carrying out these seemingly effortless techniques when dealing with people.
For example, what is the majority of people's favourite topic? Themselves. And what do we do when we first meet somebody? We might ask some questions from the script of the small-talk bible (what is your name/job etc), but while they are speaking we are already getting ready to talk about ourselves – like Usain Bolt getting ready to sprint from his blocks, in the verbal sense. And of course, the other person wants to do exactly the same!
What a mess.
The book teaches you the psychology of that and also why it's important to ask the other person questions, so that you make them feel important. It's very easy to feel wrapped up in yourself, especially if you are excited about the direction of your life.
The book also includes indispensable knowledge on:
. The importance of remembering someone's name.
. How to make people feel important/special when in your presence.
. How to win people around to your way of thinking, without having an argument.
. How to handle conflict and difficult customers.
. The power of praise.
…this is to name only a few drops in a very huge and wise ocean.
Genuine Compliment Vs Insincere Flattery
The book rightly points out that there is a huge difference between taking a genuine interest in someone's life and being a little kiss-arse. And it does an excellent job of highlighting the disparity between the two.
Until two years ago – I would have laughed in your face if you told me that a book had "changed your life for the better." This is the second book that I would now put on that list (I'll save the first one for another day, but let's just say I love the author like he is my only son).
I'm trying to avoid using the word "tactics" when discussing how to implement these techniques when dealing with people – because that sounds as if we need to trick and manipulate people…
…It's really not about that – it's about realising the importance of others and also their strong human desire to feel important. So when I have carried out the advice from the book in real life – I have made sure that everything I have did/said was genuine and didn't compromise my personal integrity.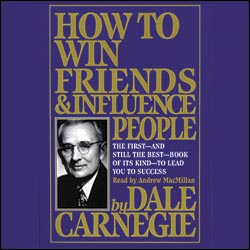 I highly recommend going out and grabbing this timeless classic, if you want to understand humans better and to radiate positive energy around them and yourself. That's not an affiliate link by the way – I just want my readers to get out of this what I have.