Being a self-proclaimed, intense 'foodie,' good gastronomy is always high on my agenda when I travel and a bad meal has been known to completely ruin my whole day. The more I eat and the more that I travel, the higher maintenance my palette becomes. Simultaneously, I feel the burning desire to find a destination that matches my seemingly impervious standards, whilst making my stomach growl for more of it culinary delights.
I lost hope whilst travelling in Malaysia. The eternal optimist was searching for the white flag. I didn't think that my belly could ever be as happy as it wanted to be.
That was of course, until I went to the lip-smacking, gorgeous food haven of South East Asia that is Penang. Malaysia has been greatly influenced by the long-ago traders from neighbouring countries, such as Indonesia, India, the Middle East, and China. Malay food is best described as mildly spicy and flavourful as it utilises a melting pot of spices and herbs with seasonings playing a significant role in Malay cooking, as they often enhance the food taste and flavours.
Whilst wandering with a sad belly through Kuala Lumpur and Langkawi, a pattern emerged when talking to fellow foodies; talk of a place called 'Penang.' Word on the street was that Penang is the best food that Malaysia had to offer, the golden challis of Malay food if you like.
I dropped everything I had planned, and got a ferry straight over there and I was not disappointed. And on that note, I'd like to share with you four of the best meals that Penang has to offer, feel free to salivate at any given time:
Nasi Lemak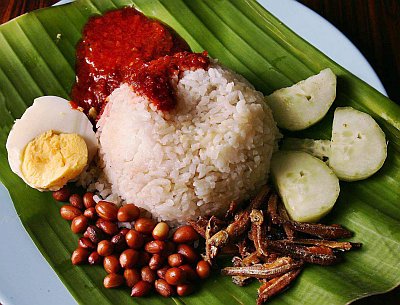 The direct translation of Nasi Lemak is 'fatty rice,' but don't let the fact that its literal simplification is merely lost in English translation, put you off a perfectly good meal. This dish is extremely creamy, rich and soaked in coconut cream and dons the title of "National Dish of Malaysia."
That's some pretty impressive bragging rights! Traditionally, this comes as a platter of food wrapped in banana leaves, with cucumber slices, small fried anchovies, roasted peanuts, hard-boiled egg, and a choice of a hot spicy sauce, Nasi Lemak's versatility means it can be enjoyed for breakfast, lunch and dinner – any time of day!
Asam Laksa
You have the forging of Chinese and Malaysian culture to thank for this crowd-pleasing spicy noodle soup, also the Indonesians like to claim to be part of the creation (just another thing for them to fight about). The origin of the name escaped me, as I was too busy thinking about second helpings. Asam Laksa is a sour fish soup with noodles, thick rice noodles also known as laksa noodles are most commonly used in this dish which really compliment the stock that seduces your tongue in seconds.
If you like a sour taste to your soup, then Asam Laska is best eaten in Penang as they have their own version 'Penang Laska.' Thank me later.
Roti Canai
There is no doubt who can stake their claim for the foundation of this food – a massive "thank you" to India, for bringing this to my world (and stomach). Simplicity can sometimes be beautiful and this dish is the perfect example.
Imagine either a very thin, or very thick (as you get to choose, with its immense varieties) Naan bread. You can order plain, stuffed with tuna, cheese, cooked with lentils or beans – the list is endless. No need for utensils with this meal as you fold up your Roti and dip it in the flavoured curry of your choice. The ideal Roti is hot, flat, fluffy on the inside but crispy and flaky on the outside – enjoy!
Chilli Pan Mee
Chilli Pan Mee is a Chinese-Malaysian cuisine typically served in soup, together with dried anchovies, minced pork, mushrooms, and sweet potato leaves. Original Pan Mee is served in soya sauce, but Chilli Pan Mee gives you the best of both worlds, with the different flavours exploding in your mouth – I prefer a bit of pork belly in mine.
Oh Chilli Pan Mee…I could have a bowl, or two, or three. You burn and tingle and turn my taste buds, makes my toes curl with ecstasy and that is why you had such a hold over me!
Honourable Suggestion – Teh Tarik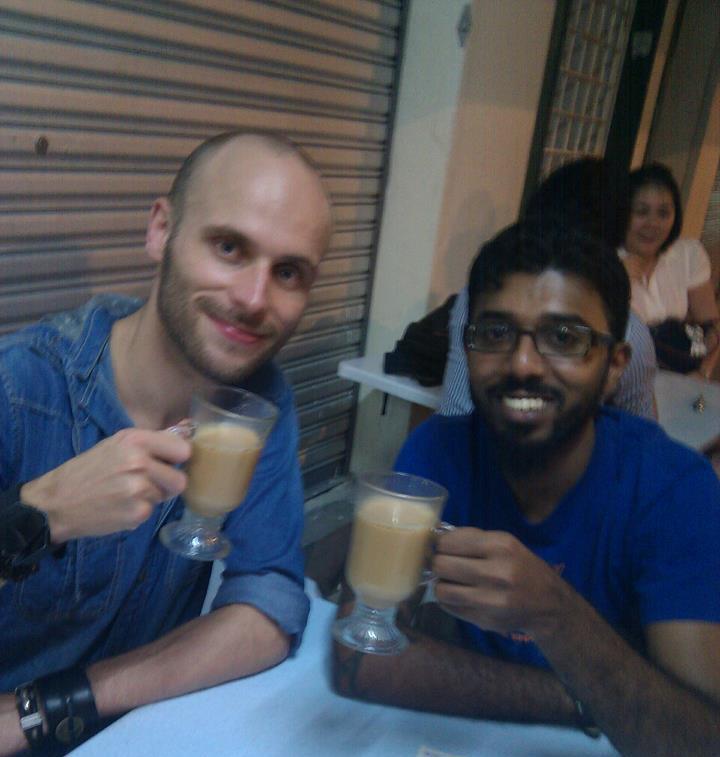 Not a food as such – Teh Tarik is the crack cocaine of tea. If you have a sweet tooth and are a fan of the gift from the Gods that is tea – be warned! One sip of this bad-boy and you'll be waking up in the middle of the night, wandering the streets for your next "hit."
Disclaimer: Thailand still kicks Malaysia's buttocks with regards to food, but Penang is definitely worth a visit for a complete gorge-fest.
What is your favourite on the Malay menu?