First – The not so good things about Durham;
Before I delve any further, I'll highlight the not-so-great, the over-rated and the just plain personal dislikes with regards to Durham.
Here goes:
Town/Gown Snobbery
Durham locals and Durham University students have this pathetic war of snobbery against each other. Durham students think the locals are unintelligent Northern Monkeys and the locals think the students are all rich spoiled brats! (Note that I don't subscribe to this backward way of thinking). They really are both as bad as each other – judging each other without any experience.
If you visit Durham as a tourist this won't affect you, but I think it's only fair that I highlight the lack of diversity in the city.
Crook Hall Gardens
£6!!! For not even a 3rd of what the Botanical gardens offer at £4! Nay thanks.
Durham Castle
Don't get me wrong – it's totally gorgeous. However, you need to pay for a guided tour to enter and this doesn't sit too well with me. I'm a free spirit and would rather explore things at my own pace, in my own time. I think £6 is quite steep but if you aren't a budget traveller I guess it wouldn't harm your Durham experience. I personally think the Cathedral (which is technically free) is a much more satisfying and informative visit.
Durham Nightlife
I think many (delusional)  friends will disagree with this blatant fact! If you travel to Durham and are in need of some night life – RUN to the train station and pay £5 to get to Newcastle…and don't look back. Seriously.
In 1998, British magazine 'FHM' voted Durham's nightclub 'Klute' as the second worse nightclub in Europe. Months later….the winner caught fire in burnt down; therefore, Durham's Klute is officially the worst nightclub in Europe.
Disabled access issues
With regards to transport for the disabled-awesome! But if you want to take somebody who uses a wheelchair, the Victorian cobblestones which add to Durham's charm could be quite a pain for you on a busy day.
Back to the good stuff…
Durham Cathedral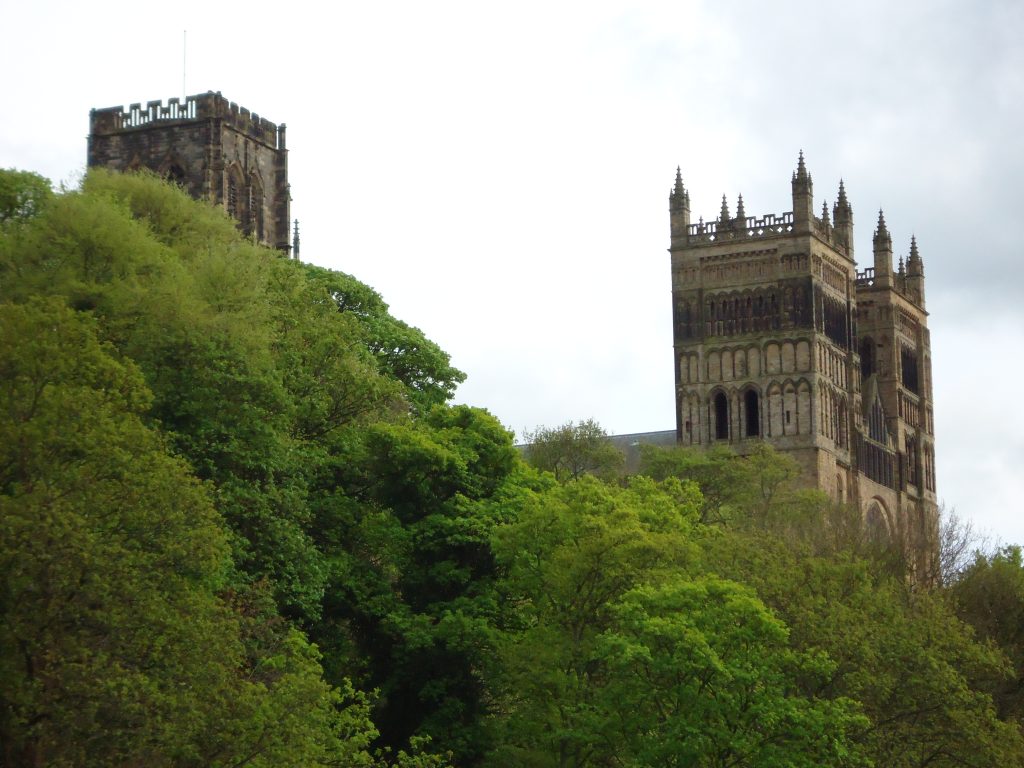 Durham Cathedral is the centrepiece of Durham! No matter where you go in the City – it's there and its stunning artwork is impossible to ignore. Just when you think you've found your perfect view-you'll find another one from a different angle. The view of the cathedral will seduce you from all directions.
According to the historical architect boffins; Durham Cathedral is the greatest Norman building in England, perhaps in Europe. It is cherished not only for its architecture, but for its incomparable setting. Built in 1093 after the Norman invasion in 1066, it is completely dumfounding to think that it's still in mint condition. Of course there have been modifications but the cathedral still stands mostly as a masterpiece of mainly Norman architecture.
Entrance to the Cathedral is free – the Cathedral asks you to leave a donation on your way out. If you really want to do each other a favour, pay the £5 permit to take photos inside (it's worth it). The inside is equally as impressive and you'll find yourself walking around with your head tipped back as you take in the old artwork whilst taking in the sculptures, memorial plaques and statues. My personal favourite is called "Pietá" which represents Mary crying at Jesus' cross. It's made by beach wood and brass and it amazes me every time!
Feeling fit?
For £3 you can climb to the top of the Cathedral and see Durham City from a bird's eye view. Let your mind wander as you consider the genius behind the Normans thinking of this defensive position. Correct footwear is needed for eligibility to climb these steps, so I opted to leave my high heels at home.
But seriously, there is a health and safety sign that has a disclaimer in case you hurt yourself or have a panic attack. Let me put it simple: If you're not pregnant, disabled, below 50, don't have respiratory/joint problems – you really shouldn't find the climb a struggle.
Here are a few views from the top;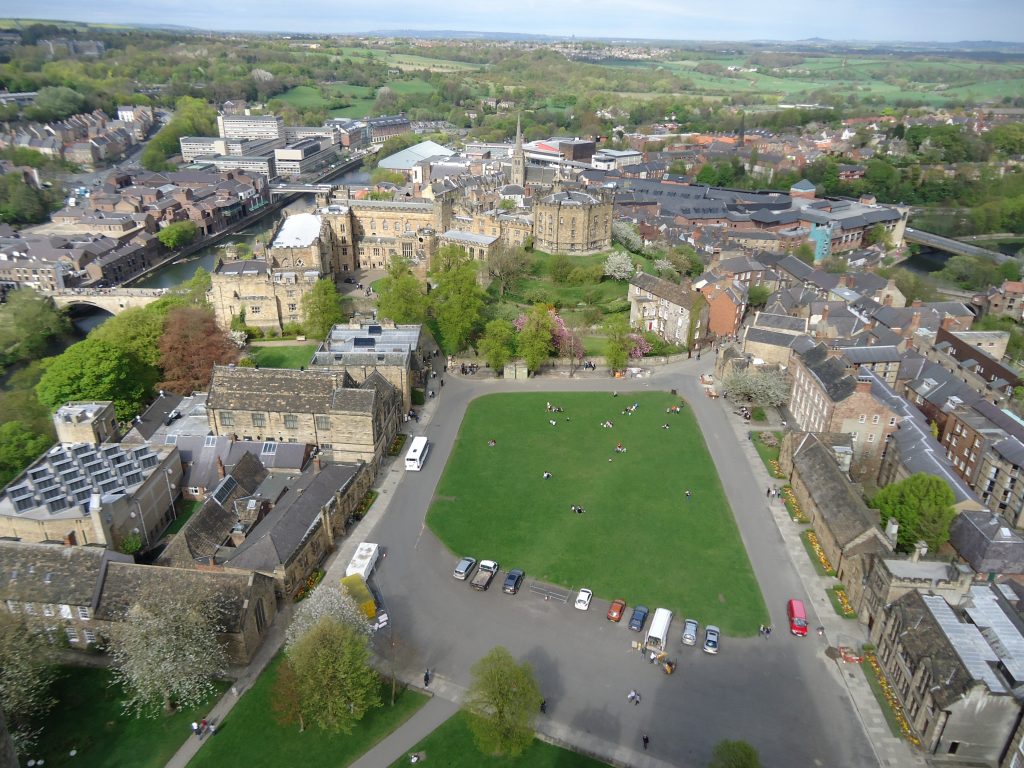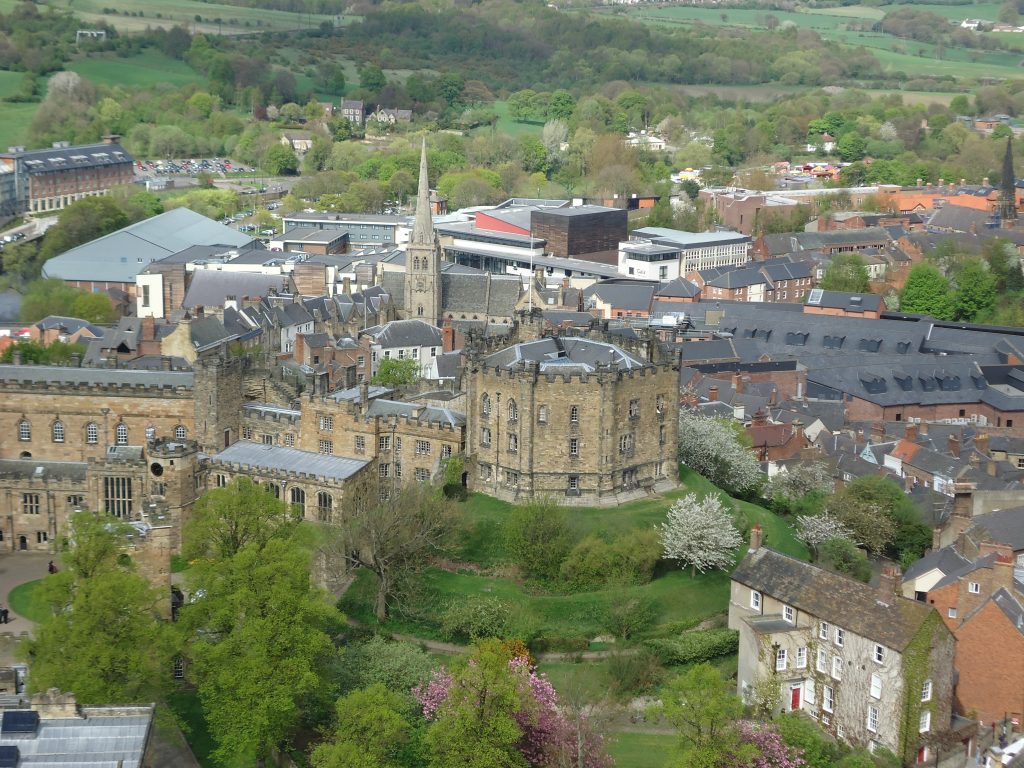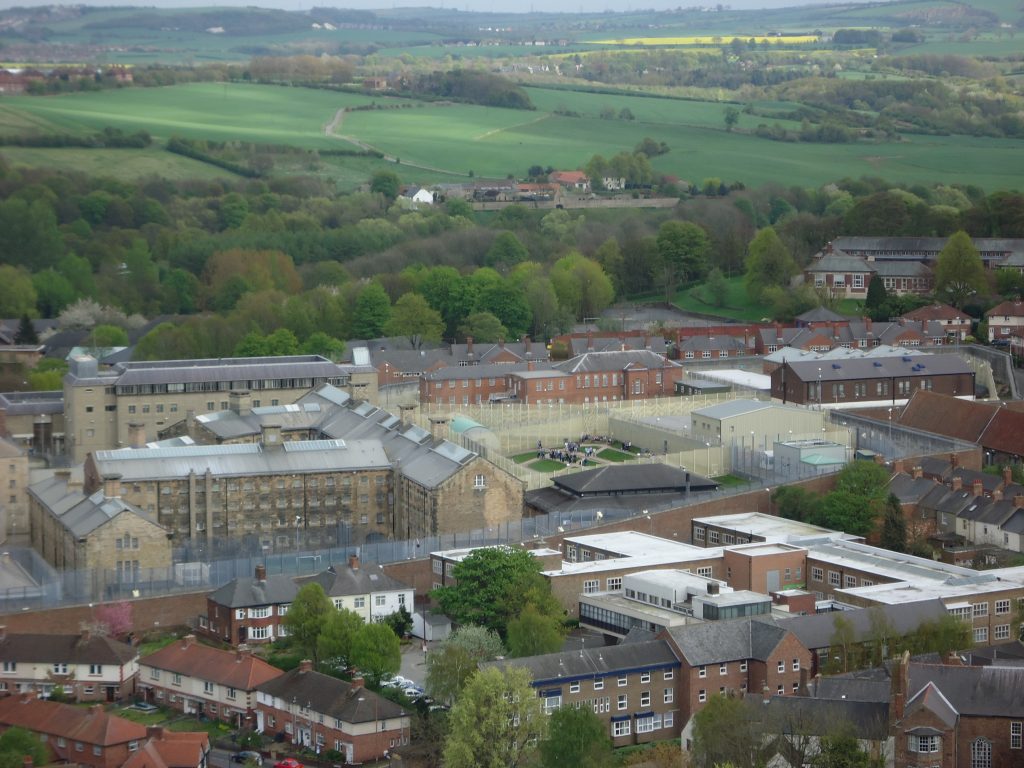 Who were these Norman chaps?
The Normans were Vikings who settled in France, invading England instantaneously after the Battle of Hastings. They were extremely clever in their tactics when they invaded a city for two reasons;
1.) They were known to build a defence point on uphill foundations in a way to say to attackers; 'if you want us-come and get us,' giving perfect meaning to the term 'uphill battle.' Durham Cathedral is built on a high terrain in pure Norman style.
2.) Historically, when a city is taken over; the invaders tend to cause a stir, enforcing foreign laws and languages upon a place. The Normans went for a complete different angle and concentrated on local integration while celebrating local customs. (Imagine bigger boys stealing your football but still allowing you to play with them later on).
For example, the Cathedral started as a shrine to Saint Cuthbert after the monks allegedly carried his body all the way from Lindisfarne. At the time, the Cathedral was a meek wooden chapel in tribute to St Cuthbert. The Normans were already Roman Catholics when they rocked up to Durham and decided to build this masterpiece in tribute to a local legend, keeping the locals sweet while having a perfect defence point. It is an act of pure genius when you think about it.
Durham Oriental Museum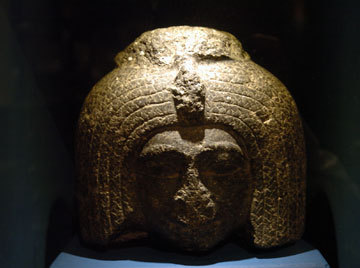 The Oriental Museum is the only museum in the North of Britain devoted entirely to the art and archaeology of the Orient. The Chinese and Ancient Egyptian collections compliment displays also on; Japan, South East Asia, India and Tibet.
And it's cheap! £1.50 for adults and 75p for kids. Kids under 5 get in for free.