(This post is a day late because of a mixture of bad wifi, and me totally taking the size of Vietnam from north to south for granted)….
Four years ago on a lively mid-August night in Las Vegas, a battered and bruised Richard Hatton felt something for the first time in his glitzy 13 year boxing career – the cruel taste of defeat. After 47 fights and 47 victories, a worn out former champ lied beneath his victor, Floyd Mayweather Junior of the USA subsequent to being beaten punch-for-punch from the extremely intelligent and devastatingly accurate fighter from Michigan. It was supposed to be the final fight of an incredibly successful boxing career for Hatton.
Determined to quickly reclaim his glory, and put his defeat behind him – he chose to square up against another freak of nature in the form of the Philippines fists of dynamite that is Manny Pacquiao. Sadly, Hatton was brutally beaten for the second time in his life in one of the cruelest boxing lessons I have ever witnessed.
He returned home to Manchester an absolute wreck. Ricky felt that he let his adoring fans down who followed him around the world come rain, or storm. He felt that he will always be remembered for the two defeats in the twilight of his career, and that 'The Hitman' era would be a forgotten memory.
Life spiralled out of control for the former champion of the world and Ricky turned to alcohol along with drug abuse, resulting in a crippling depression and even the constant thought of taking his own life.
It was the typical tragic sports story. Man chooses sport. Man excels in his sport and becomes a sensation. Career ends badly and all that is left is the overwhelming, bitter taste of regret and negative highlights overshadowing the many positives.
The British media documented the rise and fall of the nation's hero and Ricky fell into the wilderness for the good side of three years. We pretty much expected his dead body to be found in some hotel, after a heartbreaking suicide note explaining how he felt as if he had failed those who loved him the most.
'RIP Ricky' was sure to flood our Facebook timelines at any given moment. Doom and gloom beckoned for sure.
Either that, or a lifetime of predictable visits to a rehab clinic. Nevertheless, we expected him to disappear in to the abyss as paparazzi's took opportunistic photos of a bloated, miserable former shadow of the enigmatic 'Hitman.'
Nope.
A defiant 34 year old Ricky shocked the sporting nation and media three years later by announcing a comeback fight against Ukraine's Vyacheslav Senchenko (33 wins in 34 fights). Expert pundits agreed in awe that Mr Hatton looked in the best physical shape that they have ever seen him.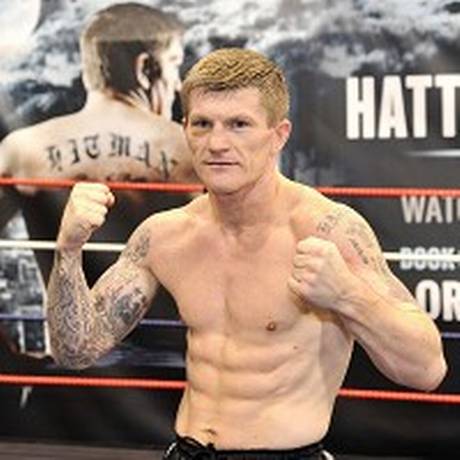 High profile celebs such as Brad and Angelina, David Beckham and more poignantly Sylvester Stallone – snapped up ringside seats in anticipation of the comeback fight of the decade.
We waited in eagerness for this modern day 'Rocky' fairytale and for The 'Hitman' to have one more moment of glory and for that tattooed arm to be held aloft one more time in victory.
Sadly, the Rocky moment wasn't to be and Ricky was knocked out at the end of the 9th round, in his home town of Manchester (and first defeat on British soil) by a beautiful body shot delivered by the giant in comparison, who he chose to fight head to head.
Or was it…?
For me it most certainly was a Rocky Balboa moment. In my opinion, the movie/s is much more than just a lad's film about boxing. To me, it's the personal/spiritual growth wet dream. That movie has taught me many lessons about life and my inner core and I'd like to reframe the whole Ricky Hatton situation for us to enrich our own lives.
In the final Rocky movie – the battered, old, 'Italian Stallion' affirms; "It ain't about how hard you hit; it's about how hard you can get hit, and keep moving forward. It's how much you can take, and keep moving forward. That's how winning is done."
Click below to see my favourite movie scene ever (yes, including the lesbian kiss in 'Cruel Intentions'). Rocky's son is being a bit of a wimp and making excuses for why his life isn't going well, and Rocky gives his some fatherly advice about manning up to life. Oh, to have Rocky as your dad!
Seriously, give it a few minutes and soak up every word of the advice. I watch it every time I'm on a downer and it shoots fire back into my veins.
Back to the Hatton story: I'm not going to kid myself that Ricky Hatton will be shrugging his shoulders and saying "oh well, at least I tried my best." He's a certain pedigree who believe that winning is the only option and anything else is a disaster. But I believe that we can all learn something from Ricky's story if we look at it from a more profound angle.
From a human spirit point of view – this is an enormous victory. The guy made some bad choices and let his life spiral to the lowest he has ever been. He had two options:
. Keep on going on the slippery slope and letting things get even worse.
. Fight, scrap and claw to get his life back on track and compete with the one person everyone should compete with – themselves.
He chose the second option. He could have fought a nobody or lesser rounds, but he chose to fight a really talented guy for ten gruelling rounds and to test his personal limits to as much as he possibly could. (And apparently Angeline Jolie came to console him in the dressing room after the fight – hell, I'd take a proper beating for that).
Afterwards an emotional Hatton called time on his career. "That's it for Ricky Hatton," he said. "I haven't got it any more. I had a good cry. But I'm a happy man. I don't feel like killing myself, I don't feel like slitting my wrists. I'm not going to put my loved ones through that again. I've put my demons to bed."
So, what's the moral of the story? I'm not suggesting going and purposefully screwing yourself up so you can see what you are made of. I'm not telling you to go get knocked out so you can get a boobie hug from Angelina Jolie, (but if you do manage to pull it off, I will pay very good money for the information to make this happen).
I'm asking demanding you to compete against yourself and to stop comparing yourself to others. This is absolutely paramount to personal happiness and growth from your inner core. As humans we have pack mentality and we want to better our personal quo.
And for the record, Ricky; the fact that you have the character to put yourself out there, bounce back from the pits and to care about your fans so much to the point of obvious heartache, whilst admitting you've hit your limits – you'll always be a champ in my eyes.
What about you? Are you comparing too much to your peers, acquaintances and loved ones? As much as I advocate hanging out with a tough crowd and competition – make the first person you want to beat be that man/woman in the mirror. Sweat, bleed, cry and make yourself your biggest competition.
Strip yourself down to the absolute core and see what you are made of. Don't bullshit yourself or make any excuses to why it's not possible. Find out what is possible – and try like a man/woman possessed to beat it. What's the point in even living, if you're not being the best you can possibly be?